April 13, 2023- Hopkins County Commissioners Court, the sheriff, chief deputy and jail administrator met with SEDALCO Construction Services to discuss progress and get some clarification for some items for construction of the facility.
In November, the Commissioners Court approved a guaranteed maximum price contract for $4,799,477 for a 48-bed trusty facility, which is still within the $4.9 million budget for the project. Funding for the building comes from the $7 million allocated to Hopkins County in American Rescue Plan funding to construct a building to house male inmates who have been designated as trusties, and as such go out into the community to work daily, including on precinct crews, at schools, the Civic Center and other locations.
SEDALCO superintendent Brad Huber spoke during the meeting and discussed SEDALCO's main focus on safety for the crew, explaining how the company wishes to instruct its employees to continue to be safe. Brad Huber also explained that the crews current working goal is the masonry portion of the exterior.
Material procurement is nearing its paper work completion meaning all materials needed for the building will be delivered without delay in due time. Temporary fencing will also be put in place along the frontage and the side to prevent trespassers from entering the property.
A temporary power pole has been installed next to the building to gain power to the interior, however the power pole is pending approval before any power can be given to the building. However at this time approval has not been given and as such the work of the interior will remain halted until approval has been received.
Concrete will be poured shortly for the last two sidewalks and to fill in the light poles. Steel will be erected and will take roughly three weeks, as reported by 3D Steel.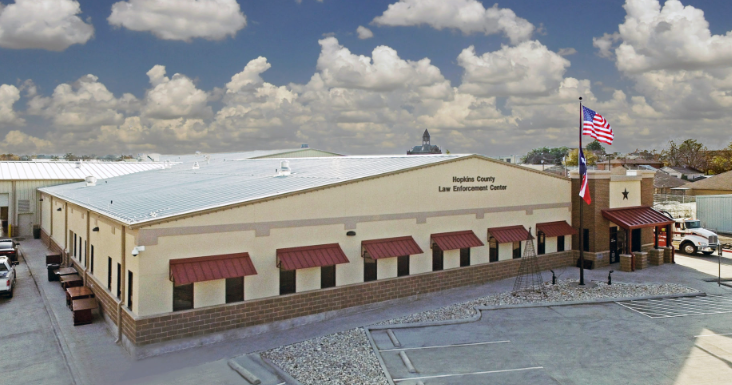 If you have an emergency, dial 9-1-1
The Hopkins County Sheriff's Office is located at 298 Rosemont Sulphur Springs, TX 75482. You can reach them for non-emergency matters at (903) 438-4040.