April 25, 2023- Dike Volunteer Firefighters received a donation of $50,000 to go toward the purchase of a Fire Engine apparatus. Hopkins County Fire Chief Andy Endsley and members of the Dike Volunteer Firefighters were on hand to receive the check.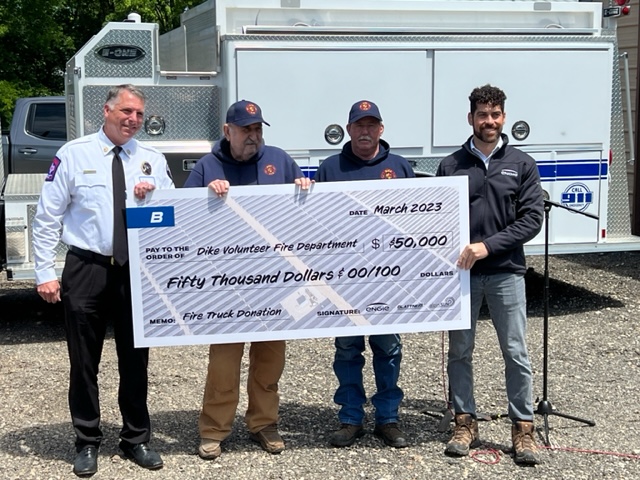 Engie Solar and Blattner Energy held a press conference at the Dike Community Center to announce their donation to the Dike Volunteer Fire Department. Food was catered for all those attended as the press conference. Speaking during this meeting was Ryan Economy the spokesperson for Engie Solar during the presentation.
With the $50,000 the Dike Volunteer Fire Department was able to purchase the truck, their only Engine Truck to date, thanks to the donations from ENGIE North America and Blattner Energy on behalf of the Hopkins Solar Project. The project investment is estimated to be $250 million.
To store the new fire truck Hopkins County donated a brand new storage barn for the truck to be properly stored when not in use. While the truck is new for the Fire station, the engine was previously in service in Farmersville, TX. Dike VFD Chief A.G. Sandifer said, "The engine will greatly help the community in our need for more equipment for this growing community. We have grown to four brush trucks over the years, but adding the engine apparatus will be a benefit to our equipment." Sandifer has been involved since the beginning of the Dike VFD in the early 1980's.