Brandon Gene White was born December 30, 1978, in Sulphur Springs, Texas, to Brenda Kay Farris and David White. He departed his earthly life on earth April 22, 2023. Growing up in Sulphur Springs, Brandon attended school at both Sulphur Springs ISD and moved to North Hopkins ISD where he met his friend/ brother of 30 years, DeMarco Johnson. Brandon worked for his mom at her restaurant at Sulphur Springs Sale Barn and later managed many convenience stores. His last job was at MaMa D's Restaurant in Sulphur Springs, Texas, where he was employed until his health completely failed.
Brandon leaves to cherish his memories; a loving and devoted daughter, Gabriell (Gabby) White, son Christian Stone, (4) brothers; David White, Don White, Rance Bennett, and Cole Bennett (Patricia), a nephew Coleson Bennett, nieces Rylee and Jayleigh Bennett, and an uncle, Alan Farris all of Sulphur Springs; a loving and special aunt, Betty Weir of Birthright, Texas, and his best friend of 30 years, DeMarco Johnson and special friend and sister, Christal Ford of Sulphur Springs, Texas. He also leaves behind his dog, Sugar, who was by his side until he was hospitalized. Brandon was preceded in death by both of his parents, David White and Brenda Kay Farris, paternal grandparents, Hubert and Billie White; maternal grandparents, Frank Alan Farris and Mary Evans Farris.
Services will be held on Saturday, April 29, 2023, at New Beginnings Healing and Deliverance Ministries at 1:00 pm with visiting hours beginning at 10:00 a.m. under the direction of Green Leaf Mortuary of Sulphur Springs, TX. Active Pallbearers will be DeMarco Johnson, Tracy Myers, Heath Colley, Keith Nicholson, Mardio Bottone, and Tim Hensley. Honorary pallbearers are Jackie Webb, William Johnson, David White, Rance Bennett, Cole Bennett, Alan Farris, and Cordaro Johnson.
The family would like to extend a special heartfelt "thank you" to family and friends who texted, called, and visited during Brandon's illness. Special thanks to Kacie Parris, RN, at Christus Sulphur Springs. Your kindness, patience, and gentleness will never be forgotten. Thank you to Pastor and Chaplain Deborah Sharper for your prayers, counseling, and assistance with Brandon throughout the years.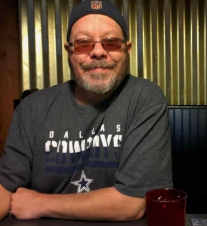 ---