March 6, 2023 – Pilots from Semper Fly Helicopter Tours, a woman and veteran owned business, stopped by the KSST Studios for an interview on Monday. Brandi Rector and Mike Sanford own and operate several flight related businesses that are based in Southern Oklahoma. They are both veterans of the armed forces. More details on their individual services in the armed forces are available on their website.

Bob Kerr, Judge Advocate of the Hopkins County Marine Corp League, recently took advantage of their services. Because Bob is a veteran, he received a discount. Kerr, who also does KSST's Veteran Voices program each Monday morning, enjoyed his flight so much, he wanted to help spread the word.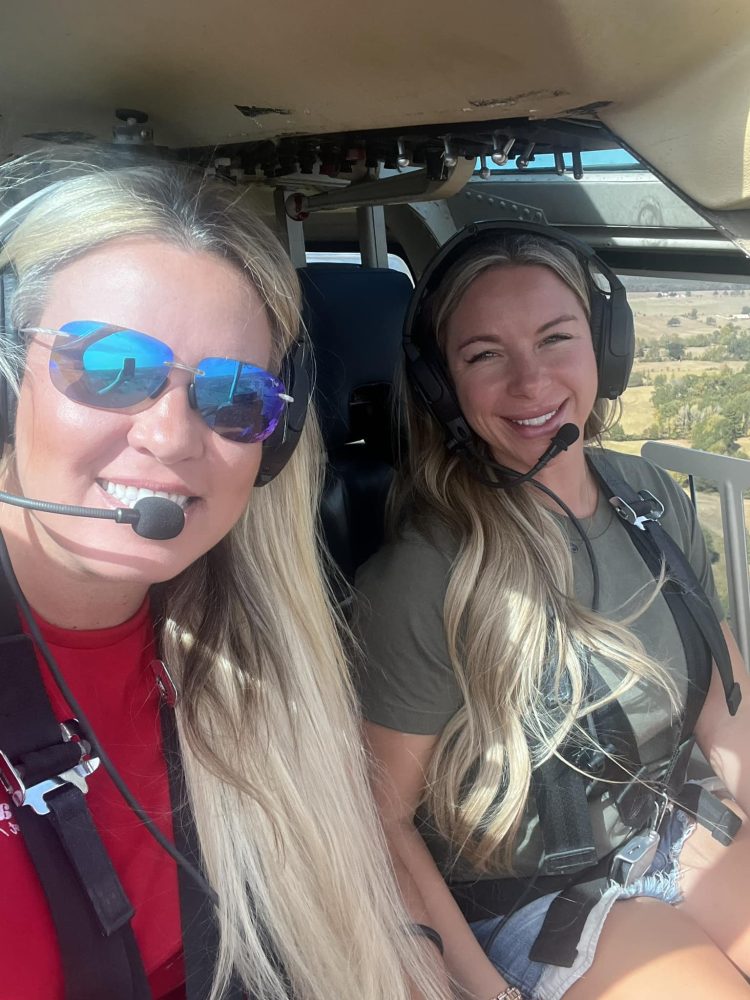 Brandi Rector, pictured above, wants to welcome everyone, especially veterans, to join her in the air. Semper fly tries to accommodate special requests such as high altitude marriage proposals and airtours of real estate for potential buyers and sellers.
Brandi and Mike's business is also expanding. Helicopter based skydiving is coming soon. They operate out of Mc Curtain County Regional Airport near Idabel, Ok. They own a hanger there, and currently have two helicopters. The airport's FAA Identifier: 4O4.
Semper Fly
The Helicopter Rides on Semper Fly Helicopters are the ultimate way to explore Oklahoma and Texas with Veteran pilots that have decades of experience. They fly a Bell 206 L3 on helicopter rides and offer customizable tours of Broken Bow Lake, Beavers Bend, Mountain Fork River, and more. Just tell them where you want to go!
Skyhunter Outfitters
Skyhunter Outfitters offer all-inclusive hog hunts. You have a choice of daytime aerial hunts, or night time hunts. Either way, all your party needs to do is show up. The packages are all inclusive (Rifles, Ammo, Thermal Scopes, etc). You can also bring your own hardware if you like. On the night hunts, be ready to do some walking. Processing of animals, harvested during night hunts only, is available.

If you would like to take a tour, or know a veteran that would enjoy a flight, contact Semper Fly at 903 870 8222.