Funeral service for Tiggin Aaron, 13, of Sulphur Springs, Texas, will be held at 2:00 p.m., Monday, March 20, 2023, at the Cross Spur Cowboy Church with Mike Eason officiating. Graveside will be at Pleasant Grove Cemetery in Sulphur Springs, Texas with Chris Penson, Hunter Stonaker, Garrett Williams, Tagus Horton, Ty Pate, Cooper Pate, Jeremy Sullivan, and Seth Layton serving as pallbearers. Honorary pallbearers will be Jaden Price, Layton Keller,Lane Keller, T.K. Kennington, and Kase Horton. Visitation will be held from 6:00 to 8:00 p.m.,Sunday, March 19, 2023, at West Oaks Funeral Home.
Tiggin passed away March 12, 2023, at Cooks Children's Hospital surrounded by family. He was born December 22, 2009, in Sulphur Springs, Texas to Jesse and Ashley Aaron.
Left to cherish his memory are his Mom and Dad of Sulphur Springs; Sisters, Isabella and Ellie; Grandparents, Larry and Susan Aaron of Sulphur Springs, Stacy Layton of Lehigh, OK; Great-grandparents, Bob and Mary Layton; Uncle, Seth Layton and cousins, Roick, Liam, and Holden; Uncle Jeremy Sullivan and wife Pam and cousin Afton; Aunt, Mandy Keller and husband
Jonathan and cousins Lane, Layton, and Abby; Aunt, Mendi Hurley and husband Johnny and cousins Macie, McKenzie and husband Alain, and T.K.; Aunt, Melissa Aaron and husband Jameson and cousins Jaden and Kinslei; Aunt, Sally Finch and husband Chuck and cousins, Tagus Horton and wife Megan, cousins Kase and Harper, Ty Pate and wife Katelynn, cousin
Beau, Cooper Pate and wife Tannah, cousin Parker; and numerous other aunts, uncles, and cousins.
He was preceded in death by Grandparent, Bobby Layton; Great-grandparents, Jess and Gloria Carder, Burt and Doris Aaron, Paul and Wanda Calver, and Barbra Layton; Great-great-grandparents, Ellis and Jaunita Calvert.
Special Thank you to Cook Children's Hospital and Life Gift, and Chaplain Topher Samons.
In lieu of flowers you can make donation's payable to Jesse and Ashley Aaron, 5376 FM 2285, Sulphur Springs, TX 75482.
Arrangements are under the direction of West Oaks Funeral Home.
www.westoaksfuneralhome.com
.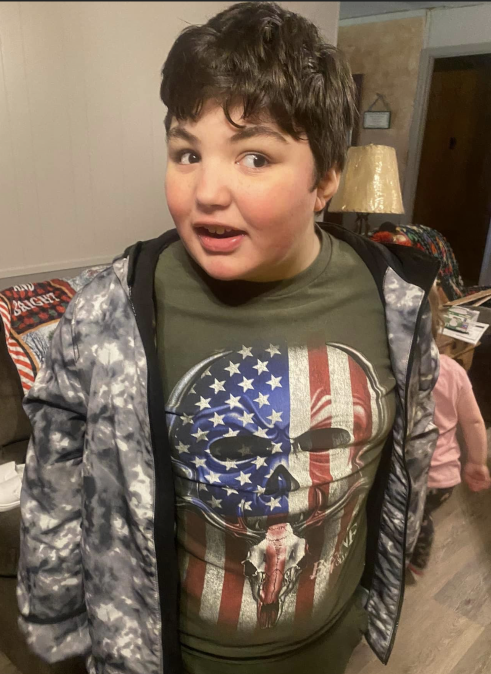 ---