Volunteers prepare meals at the Sulphur Springs Senior Citizens Center and deliver them five days a week to Meal A Day program recipients in Sulphur Springs and Hopkins County. The Meal A Day Menu for the week of Feb. 6-10, 2023 includes:

Monday, Feb. 6- Smoked Sausage, Black Eyed Peas and Red Potatoes
Tuesday, Feb. 7- Tuna Noodle Casserole, Carrots and a Rolls
Wednesday, Feb. 8- Chicken & Dumplings, Crackers and Salad
Thursday, Feb. 9- Sausage & Cheese Egg Bake, Raisin Bran Muffin and a Fruit Cup
Friday, Feb. 10- Hot Dogs, Baked Beans and Mixed Veggies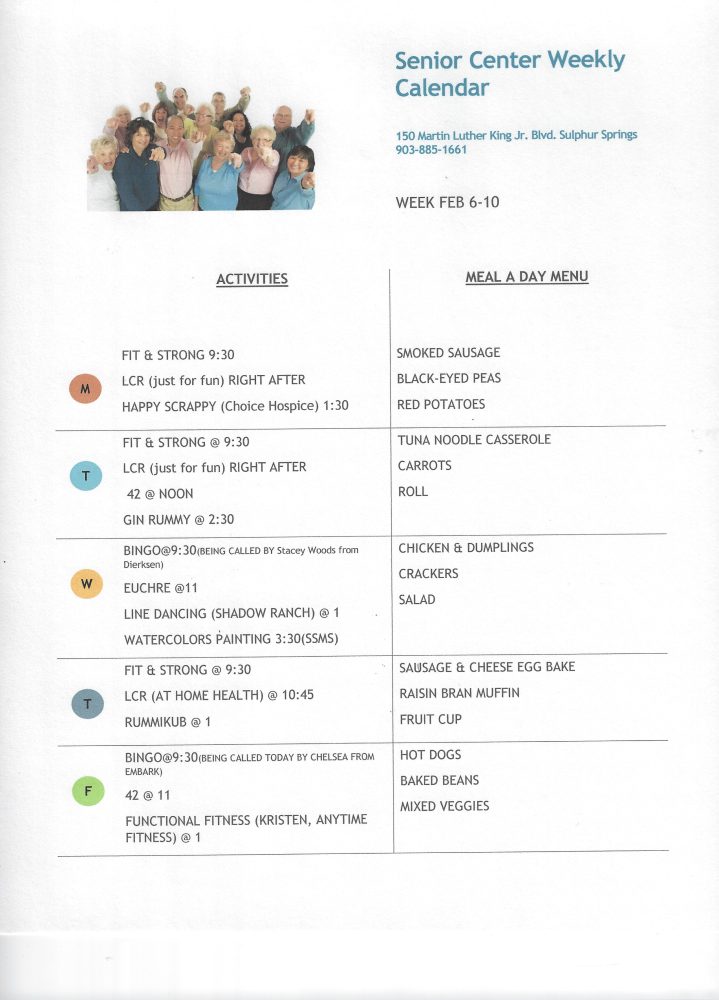 ---
The Sulphur Springs Senior Citizens Center is located in the heart of Sulphur Springs, Texas.  The City of Sulphur Springs has provided a place senior adults age 50 and over can go to for fun and fellowship. The Center offers a variety of activities for seniors citizens Monday-Friday from 8 a.m. to 3 p.m.  Several senior citizens clubs also meet in the evenings and on weekends at the SCC.