The Sulphur Springs Planning & Zoning Commission is slated to consider approving a final plat for Ladera RV Resort, and two rezoning requests during the regular monthly meeting, slated to begin at 6 p.m. Jan. 16, 2023, in Sulphur Springs Municipal Building, 201 North Davis St.

Ladera RV Resort
Cole Heitman is requesting approval of a final plat for Ladera RV Resort, to be located at 1229 Loop 301. A special use permit was approved for hte project. However, after getting a little further into the design and planning process, the developer determined the RV Resort would need to be turned. The entry is to be off of Loop 301, just down from the Paris Junior College-Sulphur Springs Center campus, and would wrap around behind it back toward Jefferson Street, where the original proposal called for an emergency-only exit was expected to be designated.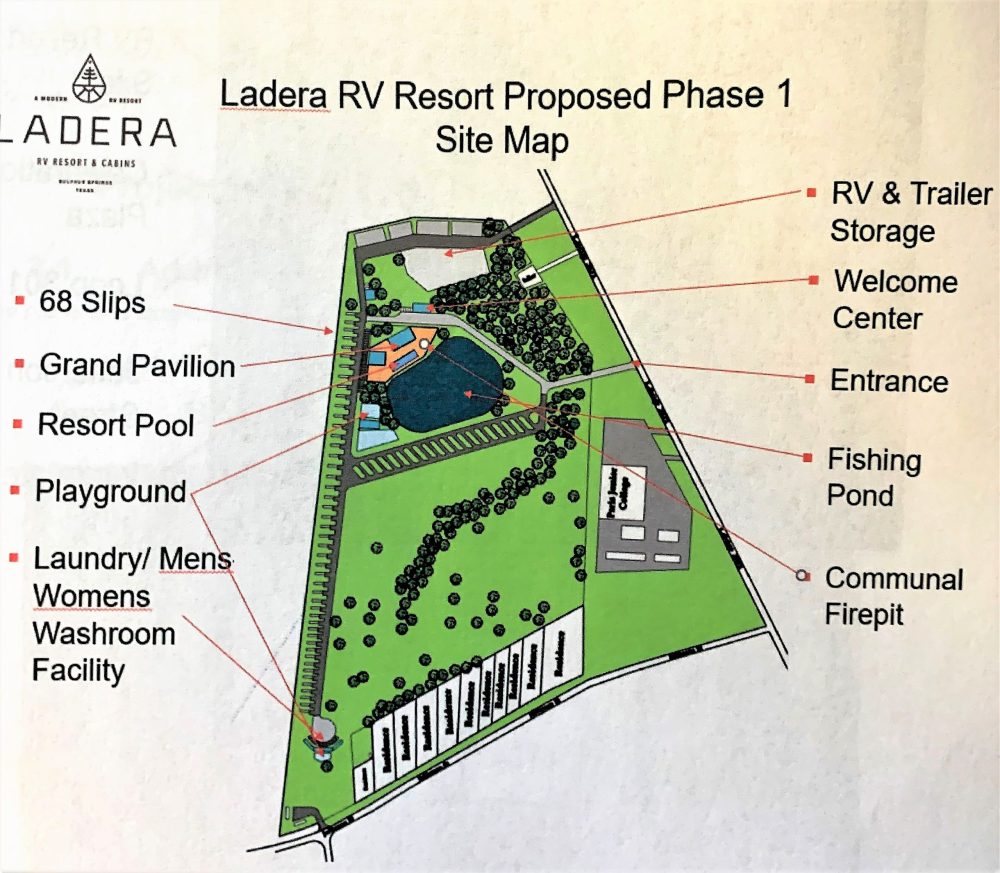 The plat combines several acres and lots across 48.476 acres of land. A special permit has been granted by the city to Heitman for the RV resort, which called for up to 128 RV sites, to be constructed in two phases.
The RV resort, as proposed, is expected to distinguish itself with a number of guest amenities. The facility would have a welcome center, pavilion, retention pond to manage storm-water runoff that will be surrounded by a walking track, pool and splash pad, playgrounds, cabins, laundry and washroom facility made from reconfigured rectangular containers (if they meet standards), a dog park, general store, free WiFi with a reservation, and RV and trailer storage, Heitman told the city's Zoning Board when submitting his initial concept design for the project along with the special use permit request in July 2021.
In November, engineered drawings of the site had been prepared, which required adjustments to the original concept plan approved by the city board, with conditions, including the requirement to reapply for a special use permit if adjustments were made.
The site layout changed. No longer are sites planned to be compacted in the middle of the property. The current proposal is to have a cul de sac along the west property line which would extend closer to Jefferson Street. The number of slips planned changed. Instead of a 100 total slips, the current plan is for 128 slips.
The size and type of fence changed as well. In July 2021, Heitman proposed a 6.5-foot tall masonry fence abutting residential properties and a 6-foot wooden fence around the rest of the property. The modification would be for an 8-foot tall wooden fence abutting residential properties. The overall design change puts more distance between the planned property use and abutting residential property. The increased height of the fence would also create more privacy for all. Heitman, in November 2022, to city officials. Heitman noted the wooden fence is better for drainage beneath it. Trees and vegetation will also provide a 5-6-foot buffer from the houses. Vegetation and a barbed wire fence which currently separate the Paris Junior College-Sulphur Springs Center property from the RV Resort will remain in place. Fencing on additional adjoining property would include 4 1/2 feet of barbed wire, which would allow those at the RV resort to enjoy seeing cattle across the fence in the nearby pasture.
The size of RV sites would be smaller to allow for the 28 additional slips. Previously, RV sites were planned at 35×65-feet, with pull-through slips averaging 75-feet, concrete pads that are 16×50 feet long and east site would accommodate a Class A vehicle 48-foot in length. The modification would reduce RV sites to 34×60-feet, with pull through slips an average of 5-feet smaller, concrete pads reduced to 10×40 feet long and will be able to accommodate a 40-foot RV.
 The restriction on long-term stays was changed in the modification request. Instead of limiting long-term stays to 40% of resort capacity, Heitman proposed having no restriction on percentage. Heitman said he plans to have only a certain number of long-term sites, and all RVs will be required to be 10 years or newer, and must be up to all utility and other codes (especially electrical), showing proof in photos and documentation prior to arrival.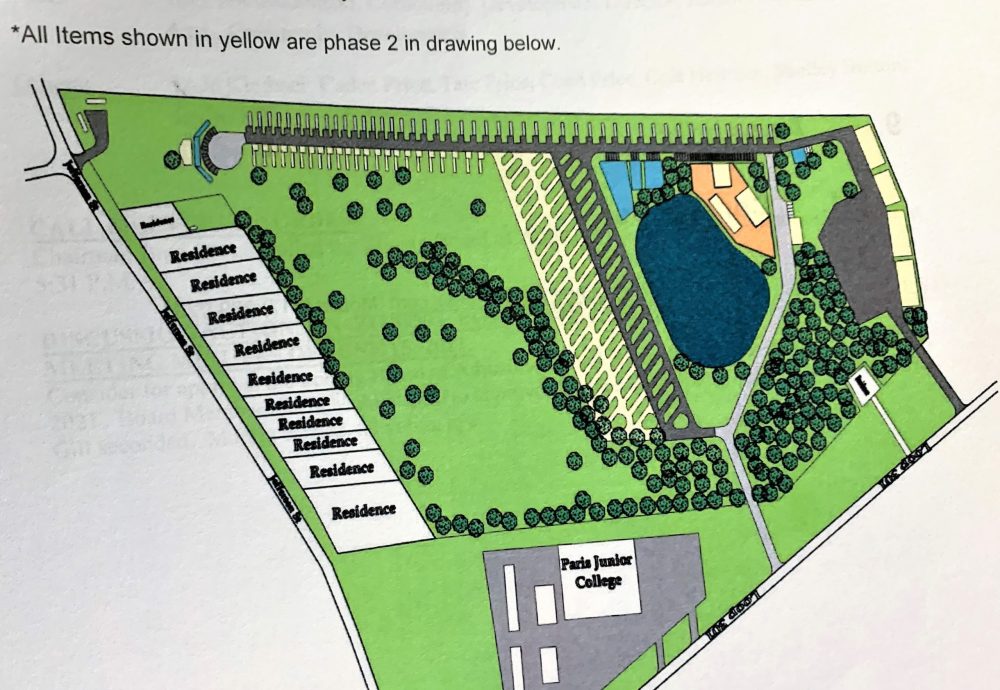 Staff hours are proposed to be expanded to have staff on site 7-days a week. Previously, the front desk was to open only from 8 a.m. to 6 p.m. Monday-Saturday. The new proposal would have someone on duty to work the front desk from 8 a.m. to 7 p.m. Monday-Wednesday and from 8 a.m. to 9 p.m. Thursday-Sunday.
The redesign for Ladera does not include a kids splash pad.  Eight 1-2 room cabins to be located around a retention pond also were removed from the revised proposal. Heitman noted changing up the design, moving things around, and removing some things would allow for 10 additional full hook up concrete slips and the focal point to become a swimming pool in the center of the property. The redesign plan also includes a fishing pond.
Phase 1 of construction expands the number of full hook up concrete slips from 50 to 68. Phase 1 of construction would no longer include a grand front entrance nor a gym. Instead, the proposal would include a temporary welcome center, workshop, recycled asphalt street, fencing and a playground. Phase 1 would still include all wet/dry utilities, a laundry, and restroom/shower facilities.
With the splash pad and 8 cabins removed, Phase 2 would include 60 full hook up concrete slips, 10 more than previously planned. Phase 2 would still include a Welcome Center Camp store, Grand event pavilion, a second playground on the other end of the complex and a RV trailer storage facility. Those who choose may also take advantage of a fishing pond incorporated in Phase 2.
Heitman said the plan includes adding a brick patio onto the concrete slips. The drive in would be concrete, then the roadway would be turn to recycled asphalt.
The Planning & Zoning Commission will be asked to consider approving the proposed final plat for the Ladera RV Resort during the Jan. 16, 2023 meeting.
Rezoning Requests
The P&Z Commission also will be asked to hear from two individuals who have applied for property to be rezoned. After discussion, the commission will be asked to consider whether or not to approve the two rezoning requests Monday evening. On approval, the requests would then be forwarded, with the P&Z Commission's recommendation, to the City Council at a future meeting.
Wayne Cooper of C&C Guardian LLC is asking that 10-acres of vacant property at 2113 Main Street be rezoned from light commercial to light industrial.
Scott Hemby also is requesting to rezone a vacant property. He would like to see property at the southeast corner of Hillcrest Drive and Azalea Lane, which contains 3 parcels be rezoned from professional office to light commercial. The request spans about 1.5-acres total.