County and district officials who were reelected in November 2022 in Hopkins County took the oath of office for another term Tuesday morning, Jan. 3, 2023, during a swearing in ceremony conducted in the second floor courtroom at Hopkins County Courthouse.

All local nine candidates were unchallenged in their bids for reelection to their district, county and precinct offices and were the certified unopposed incumbent candidates on the November 8, 2022 ballots.
"Thank you so much for letting me serve you, and I believe each official would say the same thing," County Judge Robert Newsom said, opening the meeting. "It's an honor to be part of something that is bigger than yourself. A lot of people all across Texas would like to be right here in Hopkins County. Actually things are going very, very well. We still stub our toes every so often but it is just part of the deal. You don't make progress if you're not going forward. We have to go forward."
Hopkins County Court-At-Law Judge Clay Harrison joined Newsom and his wife, Robbie, at the front of the courtroom. Robbie held the Bible, which Robert Newsom placed one hand on, then raised the other while Harrison administered the oath of office for county judge.
Judge Newsom then administered the oath of office for court-at-law judge to Clay Harrison, for commissioner to Greg Anglin and Joe Price, and for treasurer to Danny Davis. Each's wife participated by holding the Bible each swore on when taking their oath of office.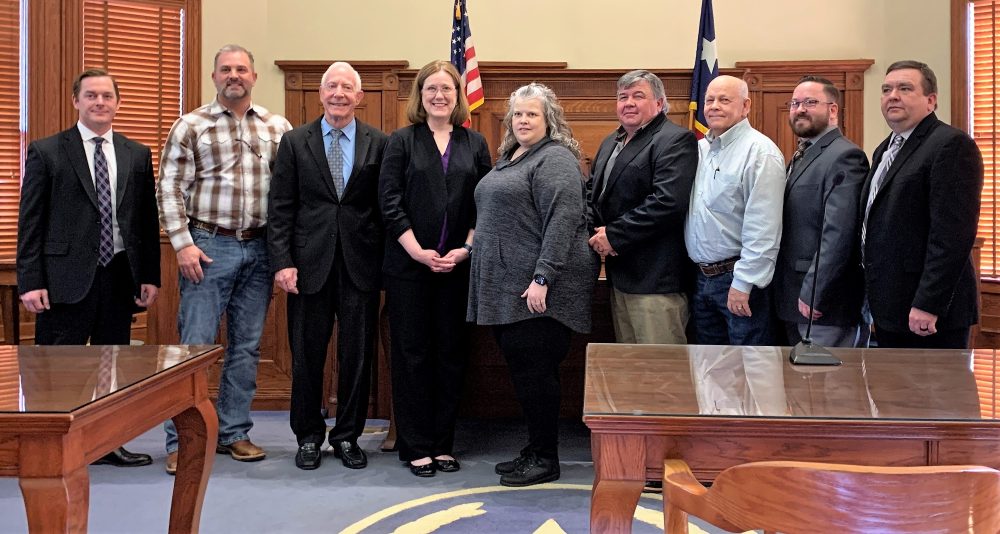 "I just want to thank you for being here," Judge Harrison said. "Thank you to my family, to everyone here to support your family."
Newsom said he officiated Clay and Tara Harrison's wedding, and he has enjoyed seeing the pair grow together and become parents, and to see Clay settle into his role as court-at-law judge. Being able to give the oath to him was an honor, the county judge said.
"Judge Harrison has done an amazing, outstanding job," Newsom said. "Things have changed for the better since you've been judge. We want to thank you for all your efforts, all your sacrifices."
"I appreciate each and every one of you. I thank you for bringing me your money every day, which is properly taken care of," Treasurer Danny Davis said.
"It was an agreeable four years. I've learned a lot. This is an eye-opening job and I've enjoyed it," said Precinct 4 Commissioner Joe Price.
"It's an honor to serve Hopkins County. I've enjoyed it also, and a good group of people to work with," Precinct 2 Commissioner Greg Anglin said.
Newsom said he is so proud of both District Clerk Cheryl Fulcher and County Clerk Tracy Smith. He worked with both for many years previously and have each now been reelected to office.
"I just want them to know how much I appreciate the good work they do, so, thank you so much," Newsom said.
"I just want to thank y'all for being here. I want to thank my staff for supporting me for the last 8 years. They've been wonderful. I don't know about y'all as elected officials, but I can't do it without their help. They support me and I support them. I just really appreciate it," Fulcher said.
"Thank y'all for being here, thank the voters for electing me for another term doing a job I love. Again, you can't do it without your staff so I want to thank all of my staff that I've got. I've got a good staff right now," Smith said.
The two justices of the peace administered the oath of office for each other, with each's wife also holding the Bible as he was sworn in.
Hopkins County Commissioners Court approved the bonds for the elected officials and a few appointed county officials — including the County Fire Marshal, Tax Assessor/Collector's Chief Deputy, and Deputy Treasurer — during the regular court meeting just before the ceremony.
Precinct 4 Commissioner Joe Price, Angela Price, County Judge Robert Newsom, Courtney Anglin and Precinct 2 Commissioner Greg Anglin

Hopkins County Precinct 4 Commissioner Joe Price, Angela Price, County Judge Robert Newsom, Courtney Anglin and Precinct 2 Commissioner Greg Anglin

County Judge Robert, Newsom District Clerk Cheryl Fulcher and County Clerk Tracy Smith

Precinct 2 Justice of the Peace Brad Cummings, Janice Teer and Precinct 1 Justice of the Peace BJ Teer

Precinct 1 Justice of the Peace BJ Teer, Amy Cummings and Precinct 2 Justice of the Peace Brad Cummings