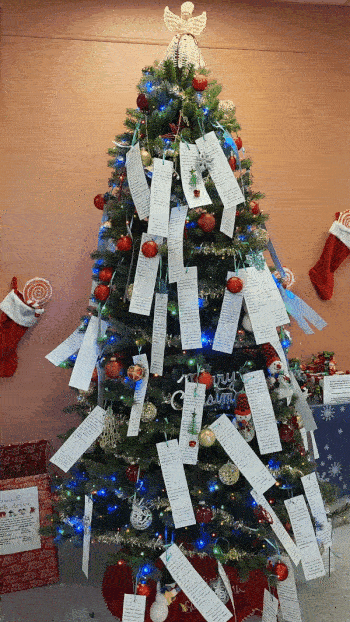 December 1st, 2022 – The Adopt a Golden Ager tree at the Sulphur Springs Senior Center still has around 30 people that still need to be adopted. The majority of applications have been sent and returned, but more trickle in each day. Examples of requests for the Seniors run from deodorant to 'take me fishing'.

"Seniors have real needs for basics like toiletries, warm clothes and sometimes companionship. Sometimes a chance to get out of the house is what they really want.", said Dawna Pryor Senior Citizen Center Coordinator. "One guy came in and wanted a Senior that he could take to eat hamburgers, so I fixed him, and the Senior up."
---
The Sulphur Springs Senior Citizens Center is located in the heart of Sulphur Springs, Texas.  The City of Sulphur Springs has provided a place senior adults age 50 and over can go to for fun and fellowship. The Center offers a variety of activities for seniors citizens Monday-Friday from 8 a.m. to 3 p.m.  Several senior citizens clubs also meet in the evenings and on weekends at the SCC.