Christus Mother Frances, a five time yearly partner, is the Community Partner for this week's meal. For the continued support of Christus for Dinner Bell we are greatly appreciative.

GRAB and GO with a meal from the distribution area under the covered driveway on the Northeast corner of the First United Methodist Church campus near 11:00 a.m. on Wednesday.
MENU
Mexican Lasagna
Seasoned Pinto Beans
Mexican Corn Salad
Tortillas
Sopapilla Cheesecake
WASH YOUR HANDS OFTEN! WEAR MASKS WHERE REQUIRED! KEEP DISTANCES! GET INOCULATED AND BOOSTED (FLU AND COVID) AS UPPER RESPIRATORY DISEASES ARE INCREASING DAILY!
DINNER BELL CARES ABOUT YOUR HEALTH!!!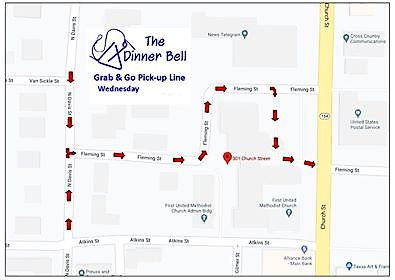 ---
The mission of the Dinner Bell is to end hunger in Hopkins County. Fresh, hot, nutritious meals are prepared by volunteers each Wednesday and served to our guests at the First United Methodist Church. Through the generous support of church and community members and corporate sponsors we have been able to serve over 20,000 meals to those in need since opening our kitchen in 2012.
If you or your business would like to sponsor a Dinner Bell meal, give them a call at 903.885.2185