The Cross Country Cowboy Church is the host Community Partner for the Christmas meal. Their continued support is greatly appreciated by the Dinner Bell Ministry.

GRAB and GO with a meal from the distribution area under the covered driveway (porte cochere) on the Northeast corner of the First United Methodist Church campus around 10:30 a.m. on Wednesday.
Menu
Cranberry Apple Stuffed Pork Loin
Mashed Potatoes
Roasted Carrots With Brown Sugar and Tarragon
Festive Christmas Salad
Yeast Rolls
Pecan Pie Cake
We say goodbye to 2022 and will welcome 2023 with a meal on January 4, 2023. Wishing you and your families a Merry Christmas and a Happy and Blessed New Year.
PROTECT YOURSELF FROM THE FLU AND COVID WITH INNOCULATIONS AND SAFE PRACTICES!
DINNER BELL CARES ABOUT YOUR HEALTH!
HOLIDAY BLESSINGS! SEE YOU JANUARY 4!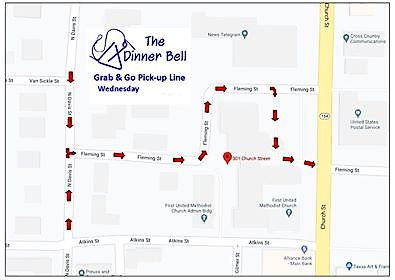 ---
The mission of the Dinner Bell is to end hunger in Hopkins County. Fresh, hot, nutritious meals are prepared by volunteers each Wednesday and served to our guests at the First United Methodist Church. Through the generous support of church and community members and corporate sponsors we have been able to serve over 20,000 meals to those in need since opening our kitchen in 2012.
If you or your business would like to sponsor a Dinner Bell meal, give them a call at 903.885.2185