The Sulphur Springs High School Chapter of Texas Association of Future Educators was well represented by 11 competitors at the Area 6 TAFE Leadership Conference, including 9 chapter members who are advancing to the state competition, to be held in March at the Kalahari Resort in Round Rock.

"All students worked very hard and are to be commended for their efforts," SSHS TAFE Advisor Debbie Stribling, said of the students' work preparing for and at the Dec. 2 Area 6 Conference contest at the University of Texas at Tyler.
  Stribling and Jenny Arledge, SSHS Director of College and Career Readiness, accompanied the students to the Area contest.
Created Materials Competition
Seniors Emery Clayton and Karis McGary, along with the team of Adriana Espinoza and Jolee Wilson, and team of Tenli Adair are advancing to state in the Created Materials competition.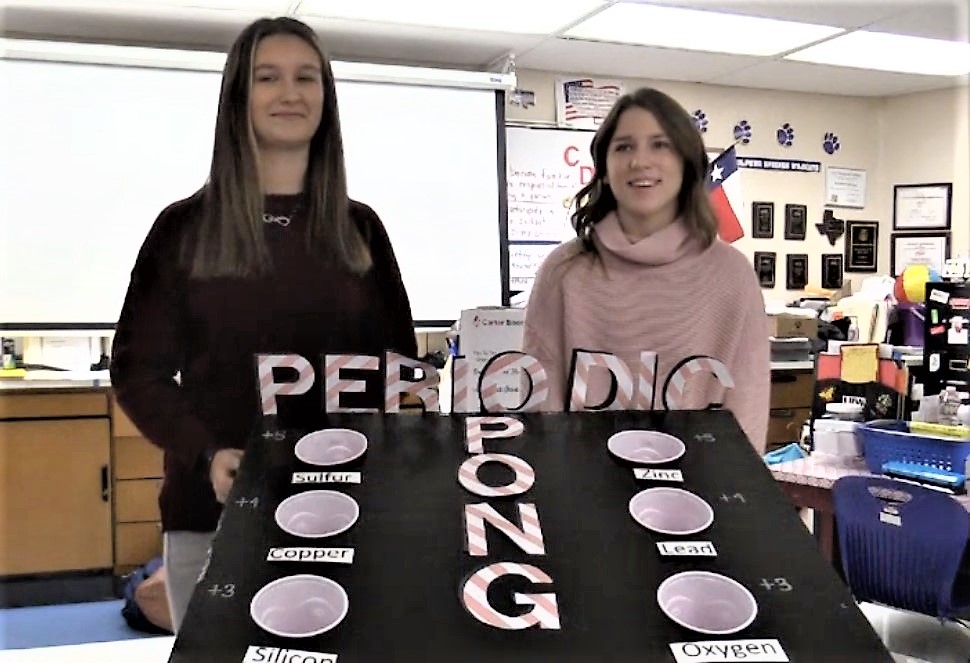 In the Created Materials event, students are tasked with creating their own materials to use to implement a lesson and facilitate the students' achievement of the objectives. This may include materials such as flip charts, board games, folder games, puppets, lap books, or other materials. Their presentation must display the materials created and explain how they will be used to enhance learning.
Or, as McGary puts it, Created Materials competitors "ditched a worksheet as they say, and turned it into a project."
Following a science TEK, Clayton and McGary adapted a SSHS science teacher's worksheets into a game to help 10th and 11th graders memorize the periodic table and the symbols that go with them. A game board features 10 cups with the name of an element assigned to each cup. Players toss ping pong balls labeled with the symbols into the cup for that element. They devised a point system for each element, to make it a bit more competitive for team competitions. To advance, teams were required to earn 90-100 points. McGary and Clayton received a 95.
Clayton wants to be an elementary math teacher. She said math is a subject she has done well in and feels it'd be relatively easy to teach to students through grade four. She plans to study at East Texas Baptist University. McGary said while she hasn't quite decided what career she will pursue, education is field she is considering. If she were to choose teaching, she thinks she'd like to teach fourth grade math. She plans to attend Stephen F. Austin University.
McGary said participating in TAFE has been a fun experience, which allowed students to experience the UT campus first hand. Both credit their "great teacher" as a contributing factor in their success.
Adriana Espinoza and Jolee Wilson's Teacher Created Materials project involves vocabulary word matching. Wilson said they talked to her mom, a third grade teacher, then adapted a worksheet into a "3-D Shape Sort."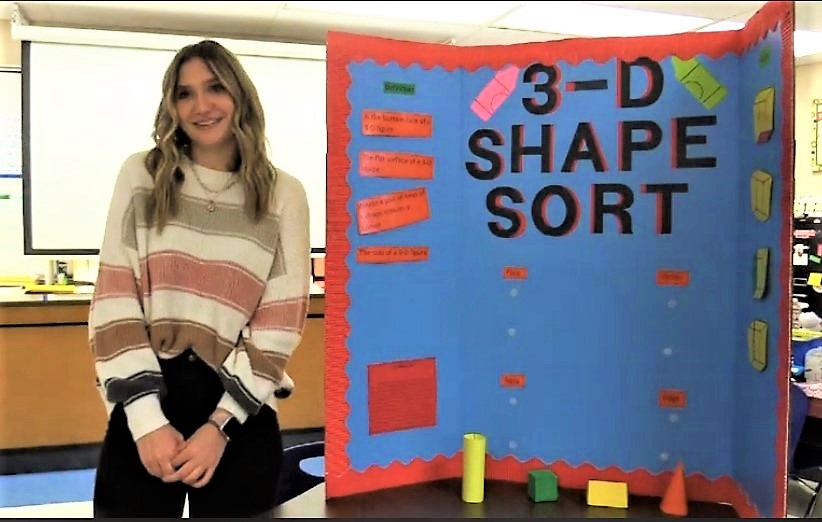 Students match definitions of 3-D math shapes with the shape, placing them beneath the appropriate word in the middle of the bulletin board. Then, students would select from the opposite side of the board the image of the shape and place it below below the name as well. The students would then continue sorting definitions and shapes until they get them all right, Wilson explained.
While nervous to be competing for the first time this year, Wilson said she is looking forward to competing in the state Teacher Created Materials competition. She and Espinoza spent a lot of time after school and put in a lot of work perfecting their project for competition.
Wilson, a junior, said she really likes working with little kids and plans to follow in the "family business" by becoming a kindergarten teacher. (Her dad is an educator as well.) She said her work partner, Espinoza also is planning a career in education.
Tenli Adair competed individually in the Teacher Created Materials category, and is also advancing to the State TAFE Competition in the category.
Ethical Dilemma Competition
Seniors Kamilah Martinez and Uriel Santacruz won first place honors in the Ethical Dilemma, a new contest category for SSHS, and are advancing to state. For this contest, each team considers the presented ethical issue and forms an opinion on how the situation should be handled. The give a presentation their decision and how the team reached the decision.
"It's a situation that school go through today," Santacruz said.
Martinez explained the competition is one very research based, and one of the harder TAFE competition. The scenario the SSHS students were tasked with find an outcome for included two kids involved with the yearbook committee who were experiencing bullying. The SSHS students set about defending their case as if preparing it for court, using teacher rules and Code of Ethics to reach a resolution they believed was the correct, ethical decision given the situation.
"We did have meetings with our principal, giving some incite on what it's like for him dealing with situations like these, and our great teacher Mrs. Stribling also helped us a lot," Santacruz said.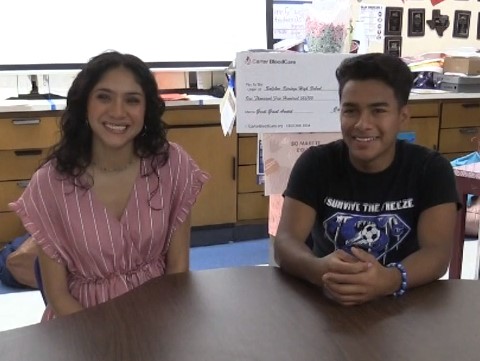 "Our solution was really based off of just what educators had told us, how they would handle the situation, really talking to the principal about it, how he would handle the situation helped a lot," Martinez noted.
They even took advantage of a meeting at a local coffee shop, approaching a campus educator who came to get his opinion on the matter as well.
Martinez and Santacruz used PowerPoint to deliver their presentation, using bullet points and in detail explaining how they would have handled the situation, then answered questions presented by judges at the TAFE competition.
Martinez admitted to being the more nervous of the two entering the Area TAFE competition. As for the State competition, Martinez said she's excited about it, but she doesn't think the full impact of a state competition has registered for her yet. Santacruz said he's not as worried; he was part of the Wildcat Marching Band that finished fourth overall in the state band competition.
She recommends students participate in TAFE and competition if the opportunity presents itself. Doing so, Martinez said, can be very rewarding.
Santacruz said the more they speak in front of others as part of the competition process, the better they've become at thinking through what they want to say and the more he's felt they are heard.
She plans to become an elementary teacher, possibly teaching special education.
"I want to teach maybe math or science, or maybe both. Math is one of those subjects that doesn't change. It stays the same. Reading it's or changing, how you teach it," Martinez said. "I just feel like something more concrete is what I want to teach, and science is fun to teach."
Santacruz said he had planned to become a teacher until a recent experience working with firefighters.
"Not only do I want to help students as a teacher, but I also would like to help my community and other people, and I think firefighter would be a really good career choice for that," he said. "My dad has a construction company and he worked for a firefighter. I got to talk to him. He talked to me about what he does, and he really convinced me."
Interactive Bulletin Board
In the Interactive Bulletin Board competition, two teams competed. The team of Jasmine Ramirez and Sky Shaw, and team of Keziah Sims and Kaycee Ivey will compete at state.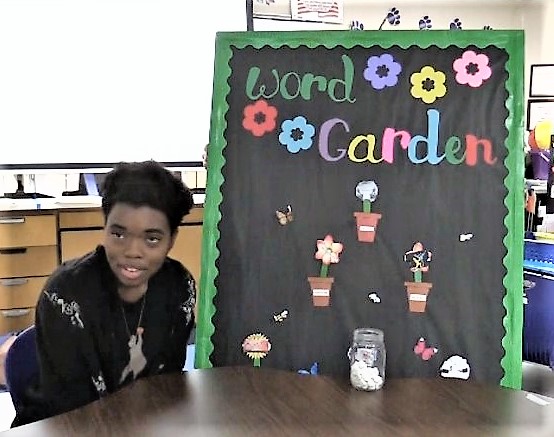 For the Interactive Bulletin Board event, students prepare an interactive display board and an oral presentation introducing the display and summarizing how it could be used in a classroom setting to teach a lesson.
Shaw and Ramirez chose to use their board to teach a 9th grade English Language Arts and Reading lesson in vocabulary. Their "Word Garden" board contains flowerpots with one word each, in a language other than English. They then created flowers with a definition for each word on their board on one side and a picture showing what the word means on the other side of the flower.
Students are given two words, then after reviewing the words, will be asked to match the flower the word it describes and place it in its pot. The words chosen came from a list in a packet they received for the competition. The project reflects not only the importance of recognizing each vocabulary word and it's meaning, but also proper pronunciation as well. To ensure they said each word correctly, Ramirez and Shaw used a computer resource, practicing that as well.
The TAFE Interactive Bulletin Board contest was a first for Shaw, who admitted to being a bit nervous, but mostly anxious, for the contest, and was glad to have it over with afterward. Shaw indicated a desire to participate again in the event.
Shaw plans to become a first grade science teacher, to share an interest in basic science, including the weather, with young students.
Keziah Sims and Kaycee Ivey's Interactive Bulletin Board was entitled "Math Under the Sea," which uses fish to present math problems for first graders, which students would match with colorful buckets. The SSHS seniors designed their board using erasable marker to write the math problems, so that it can be reused multiple times and adapted to engage students in learning.
Sims said they view it as a good way to "ditch the worksheets" and make math fun for students.
"I just remember it always being hard for me when they were teaching me math. I figured this is a good way to make it fun and for them to learn their math problems easily," Ivey said.
While Sims has competed in TAFE events since her sophomore year of school, this is Ivey's first year to compete. Sims not only enjoyed her prior involvement, but told Ivey "how great it was," leading Ivey to get involved this year too.
For this competition, students had to research TEKS curriculum. Sims and Ivey said they also spent many hours working after school, preparing their interactive bulletin board. While a lot of hard work, the students said it was worth it. It paid off in the end, because the pair is advancing to the state contest as well.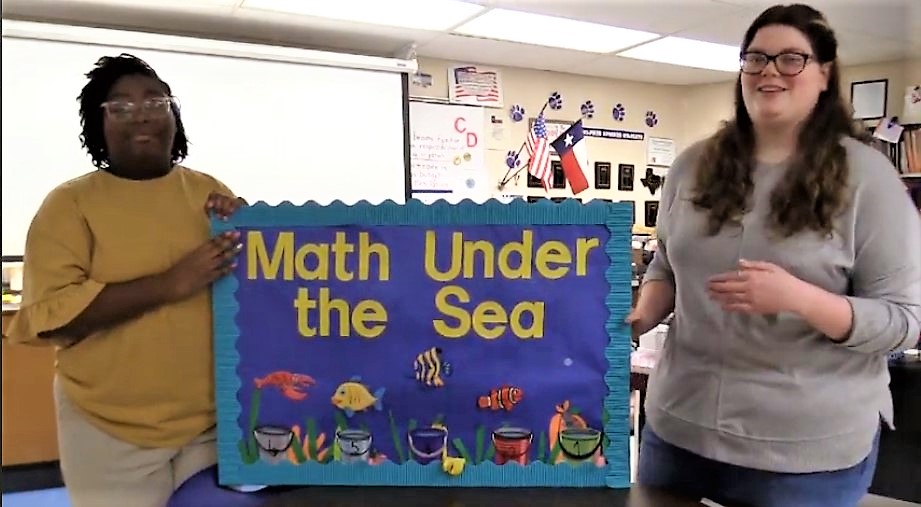 Both Sims and Ivey also recommend that students who are interested in being teachers become involved in TAFE. It's a great lesson in adapting to whatever the situation may arise, which classroom teachers face daily.
Sims wants to teach first grade math and science, especially math.
"Math is everything that is around us. Science you can make engaging for them," Sims said, noting that she was inspired by a second grade teacher to join the profession.
Ivey wants to teach kindergarten through third grade.
"I just want to do math. English just really doesn't make sense, to me but math always makes sense," Ivey said, adding her pursuit of education as a career is born of a desire to inspire students to reach their full potential. "I just thought about the kids that think they really can't do anything. I figure if you can be a teacher and inspire them to go and be the best they can be, that's rewarding."