Fifteen members of the Sulphur Springs High School Wildcat Band made the All-Region Band Friday, including eight whose auditions also qualified them for Area.
Students selected to the All-Region Band following auditions Dec. 9, 2022, in New Boston include Caroline Prickette, Laney Bankston, Mika Petty, Justin Chen, Isaac Stanley, Anthony Small, Levi Caton, Valeria Garcia, Cat Starzyk, Kate Hurley, Hannah Hughes, Aubrey Wiliams, Lucy McKenzie, Lauren Maynard, and Sadie Barnett; and Kami White was named a first alternate. Of those Prickette, Bankston, Petty, Chen, Stanley, Small, Caton and Garcia are also area qualifiers.
Congratulations to these hard working band students on their musical accomplishments.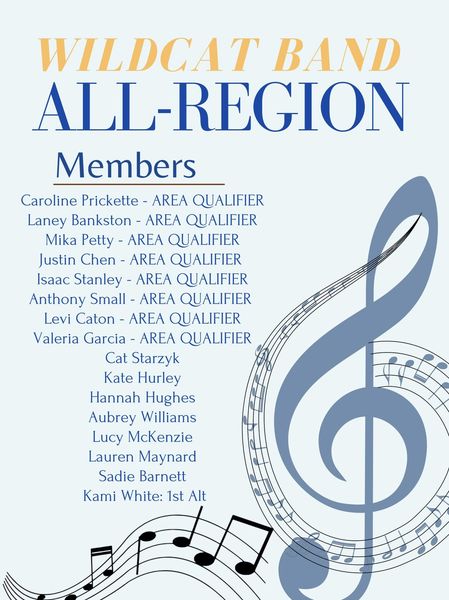 High School isn't the only band group playing at area. Middle School students who made the region band at that level will participate in a clinic and concert in Paris Saturday, Dec. 10, 2022.
The SSHS Marching Band is scheduled to be honored at 10 a.m. Monday, Dec. 12, 2022, by Judge Robert Newsom and the Hopkins County Commissioners Court with a proclamation recognizing them for their fourth place finish at state this season. The presentation will be read at Hopkins County Courthouse.
The SSHS Band also is slated to be honored during the 6 p.m. Sulphur Springs ISD Board of Trustees meeting at the Administration Building.
Band Classes are scheduled to have individual pictures made on Dec. 15-16.
Also on Dec. 16, the SSHS Jazz Band is slated to play at 1 p.m. during the High School staff lunch.
Winter Guard rehearsal will be conducted Dec. 19-20.