The Geral Kennedy Chapter of the National Technical Honor Society inducted 42 new members during a special ceremony conducted Monday evening, Dec. 5, 2022, in Sulphur Springs High School cafeteria.
After Chapter President Kamilah Martinez welcomed everyone to the induction program, Vice President Isabelle Thesing lead the pledges to the US and Texas flags. Chapter Secretary Olivia Worth explained the history of NTHS, while Treasurer Natalie Negrete explained the purpose.
The SSHS NTHS is named in honor of Geral Kennedy, the first vocational director at SSHS during the 1966-1967 school year, and was responsible for getting the machine shop, vocational office education, marketing and distributive education, industrial cooperative training and vocational education for the handicapped. He retired in 1985 after 37 years in education, 19 with SSISD and 18 in Lamar County.
NTHS honors student achievement and leadership, promotes educational excellence, award scholarships, and enhances career opportunities members. The motto is "Excellence in America's Workforce Begins with Excellence in Workforce Education."
SSHS Director of College and Career Readiness/CTE Jenny Arledge explained the minimum criteria each student must meet in order to apply for membership in NTHS. The applicant must be classified as a junior or senior and have a cumulative grade point average of at least 3.5. The candidate must also have been enrolled and/or completed a minimum of three Career & Technical Education courses, and be a current member of a Career & Technical Student Organization.
Martinez, Thesing, Worth and Negrete lit candles to symbolize the eight attributes of NTHS: knowledge, skill, honesty, service, responsibility, scholarship, citizenship and leadership.
SSHS students under consideration as candidates for NTHS regularly exhibit the characteristics which have been observed by his/her instructor(s):
a desire to pursue a career in his/her course of study,
scholastic achievement,
honesty,
dependability,
responsibility,
high quality task performance and pride in work performed,
cooperation and ability to work well with others,
interest in learning,
initiative,
leadership, and
citizenship
Family and Consumer Sciences Teacher and NTHS advisor Debbie Stribling then called the name of each new member, who received a certificate of membership. Each then was asked to join Martinez in reciting the pledge of membership. New member inducted Dec. 5, 2022, include:
Josleline Arenas
Jayden Arledge
Madelynn Bailey
Peyton Ball
Kody Barclay
Coen Bell
Makieya Boren
Chloe Cameron
Rylie Carroll
Levi Caton
Betzy Chacon
Austin Chaney
Celeste Chavarria
Asia Chen
Kylie Clarke
Juan Garcia
Maria Garning
Lily Glenn
Jaci Haire
Hector Hernandez
Payton Hooks
Lorelai Lilley
Ryan Mitchell
Kathryn Monk
Jacqueline Monroy
Ivan Mora
Holden Moss
Katlyn Noe
Emerson Penny
Tomi Pirtle
Annaston Price
Emmi Price
Osvaldo Rodriguez
Brook Seagraves
Catherine Starzyk
Alexis Tanton
Alan Tellez
Daphne Valles
Anna Williams
Macey Williams
Peyton Willis
Jolee Wilson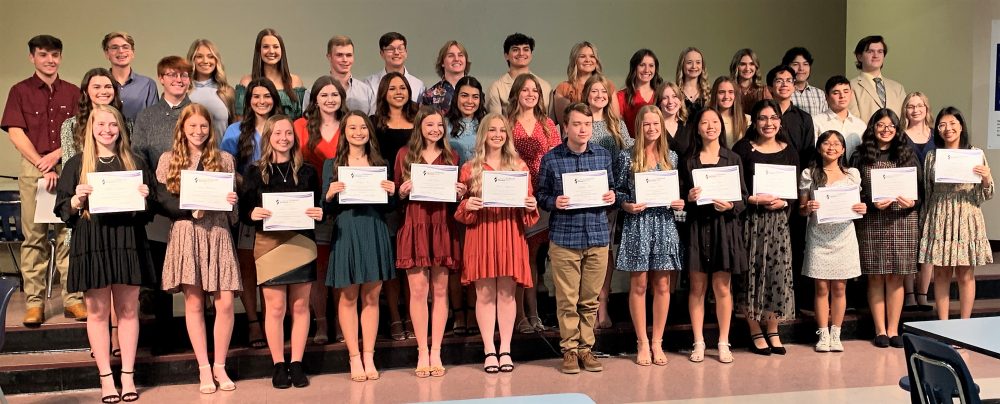 Also recognized were 44 students who are 2-year members of the Geral Kennedy Chapter of National Technical Honor Society. They include:
Jayla Abron
Mali Maeker
Carlos Alba
Kamilah Martinez
Lithzy Alvarez
Trentin McKinney
Jack Bain
Mykylie Meador
Brylee Brock
Matthew Mitchell
Mattie Bridges
Natalie Negrete
Luke Caton
Lausen Ost
Matthew Clarke
Ella Ray
Alexander Cooper
Alfredo Renteria
Catherine De La Rosa
Jose Manuel Rodriguez
Daniel Elam
Mattye Schmidt
Andres Flores
Brooklynn Shackelford
Jonah Foster
Brooklynn Shelton
Kinley Friddle
Robert Lynn Smith III Smith
Colbie Glenn
Emily Soto
Martha Gonzalez
Rebekah Stanley
Makayla Grinnan
Isabelle Thesing
Cole Haney
Briley Vice
Jadyn Harper
Addisyn Wall
Zoe Haywood
Merrin Williams
Laney Hurst
Olivia Worth
Jillian Jumper
Khira Young
Afterward, NTHS members and those attending the induction cermeony were invited to stay, take photos and enjoy refreshments provided by the Culinary students, courtesy of Senior NHS members, while the room was being reconfigured for the National Honor Society meeting that followed.