Yantis Masonic Lodge # 382 will host a Turkey Shoot this Saturday, Nov. 19, 2022, with chances for people to win a turkey. This is the Lodge's main annual fundraiser, which helps support Lodge operations.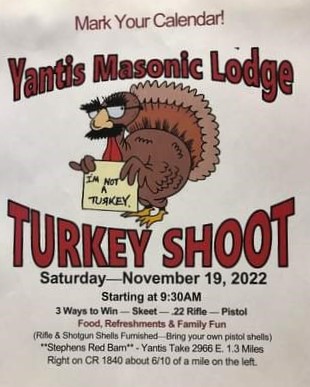 The Turkey Shoot begins at 9:30 a.m., with shooting beginning around 10 a.m. and continuing until people quit shooting — usually around 4 p.m. There will be three shooting events consisting of trap/skeet clay shotgun shooting, .22 rifle target shooting, and pistol target shooting. Best out of five shots wins or the vent goes until a tie is broken. The Lodge plans to start out with 45 turkeys to be won.
Rifle and shotgun shells will be furnished. Bring your own pistol and shells for it. A .22 LR rifle will be furnished, otherwise bring your own.
Concessions will be offered on site for purchase, so bring your pocketbook so you can partake of the food and refreshments.
The Yantis Masons will serve chili, hot dogs, soft drinks at the concession area.
To get there, just look for the Stephens Red Barn; in Yantis, take FM 2966 east for 1.3 miles; take a right on County Road 1840. Continue for about 0.6 of a mile. Event will be on the left.