By Jennifer Heitman, Senior Market Development, CHRISTUS Mother Frances Hospital – Sulphur Springs,

[email protected]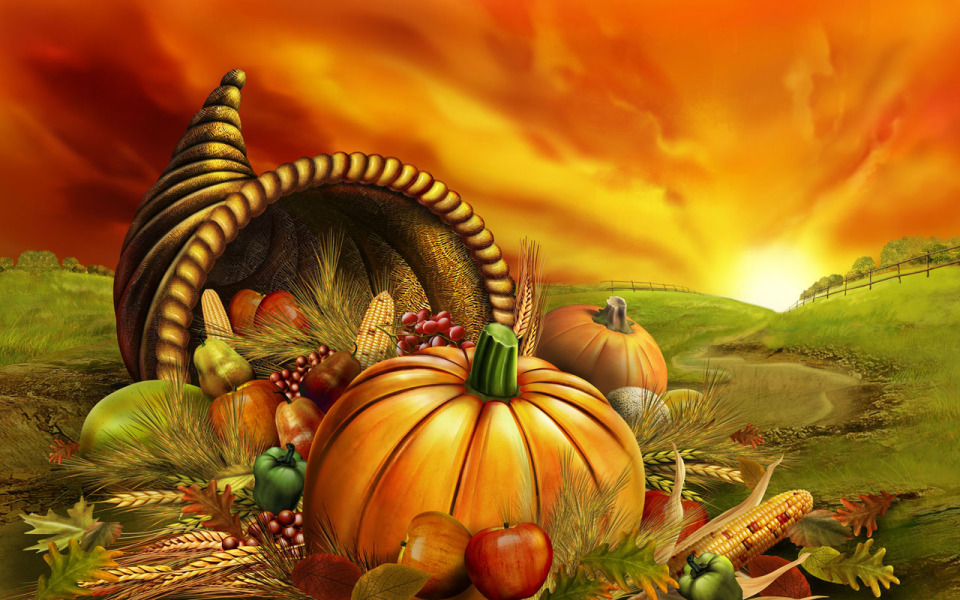 Happy Thanksgiving
From our CHRISTUS Mother Frances Hospital family to yours, we wish you a happy Thanksgiving! We are thankful to serve this great community and be able to extend the healing ministry of Jesus Christ. It is our honor and privilege, every single day.
Hopkins County Turkey Trot
The CHRISTUS Mobile Athletic Training Room and Athletic Training staff will be onsite at the annual Hopkins County Turkey Trot this year to assist with any injuries. We will also have CHRISTUS associates that have graciously volunteered to help pass out water there as well.
The Hopkins County Turkey Trot race is on Thanksgiving morning at 8 a.m. and CHRISTUS will be set up on the square near Corner Grub House. Please come by the purple tent and say hello!
Good luck to everyone that has entered the race!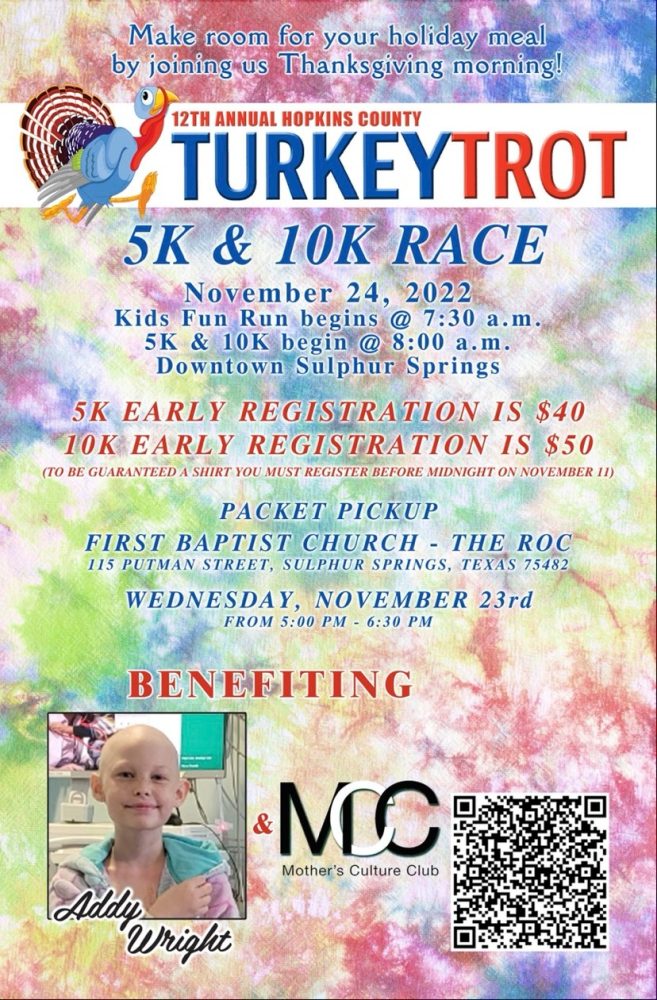 Annie's Room
The Hopkins County Health Care Foundation in partnership with CHRISTUS Mother Frances Hospital Sulphur Springs held a reception last Tuesday, November 15, to celebrate the opening of Annie's Room at CHRISTUS Trinity Clinic Medical Plaza. This special room was made possible through a generous gift from Leesa and Brian Toliver in honor of their granddaughter, Annie.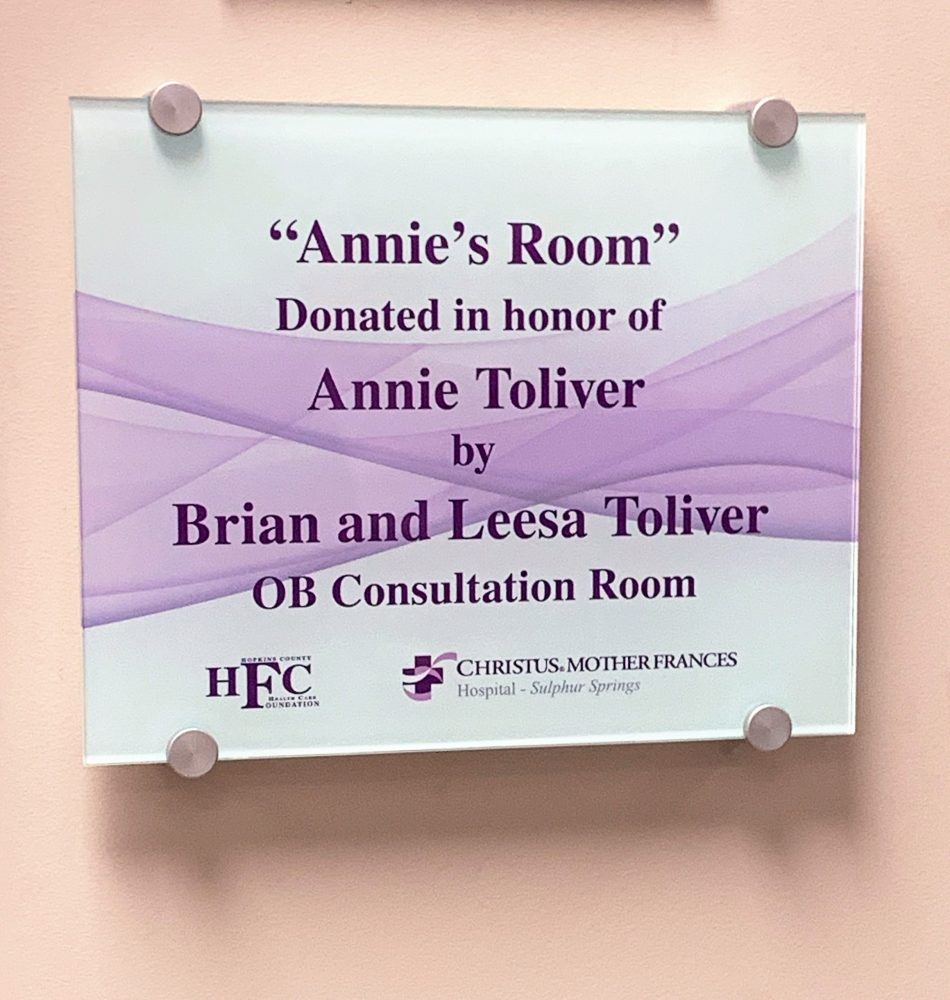 Annie's parents, Jonathan and Sally, learned while they were pregnant with Annie, that the then unborn baby had a congenital heart defect. This necessitated Sally to make frequent trips out of town to visit a team of specialists for checkups.
Through the 2022 Lights of Life Gala, the Hopkins County Health Care Foundation was able to purchase a 4D Video Sonogram machine to be used by patients in this same situation to benefit from telemedicine and to mitigate the stress, hardship and expense of frequent out of town trips for doctors' appointments. This allows a Sulphur Springs doctor to coordinate care with the CHRISTUS Maternal – Fetal Medicine Program, located in Tyler, all while keeping the pregnant mom from having to travel.
When the doctors from the CHRISTUS Maternal – Fetal Medicine Program need to discuss a diagnosis, treatment or follow-up with parents, a room is needed for the doctor's tele visit. This room needs a large monitor, comfortable seating, and the ability for the room to be private so parents can converse with the doctors without interruption. The Tolivers, realizing what a benefit this would be for Hopkins County parents, graciously offered to fund the room and name it in tribute to young Annie. We are thankful for this generous gift to our community.
Flu Shots: Do Not Delay, Get Yours Today!
Flu shots are available at CHRISTUS Trinity Clinic, 105 Medical Plaza. Schedule an appointment with your provider today at 903.885.3181. If your provider has seen you in the last six months, you may walk in for a flu shot weekdays between 1 p.m. and 3 p.m.
---
CHRISTUS Trinity Mother Frances Health System includes CHRISTUS Mother Frances Hospitals – Tyler, South Tyler, Jacksonville, Winnsboro and Sulphur Springs, the CHRISTUS Trinity Mother Frances Louis and Peaches Owen Heart Hospital – Tyler, CHRISTUS Trinity Mother Frances Rehabilitation Hospital a partner of Encompass Health, Tyler Continue CARE Hospital at CHRISTUS Mother Frances Hospital, a long-term acute care facility, and CHRISTUS Trinity Clinic. CHRISTUS Trinity Clinic is the area's preferred multi-specialty medical group, with more than 400 Physicians and Advanced Practice Providers representing 36 specialties in 34 locations serving Northeast Texas across 41 counties. For more information on services available through CHRISTUS Trinity Mother Frances Health System, visit christustmf.org
Bed count – 402 – CHRISTUS Mother Frances Hospital – Tyler
Bed count – 8 – CHRISTUS Mother Frances Hospital – South Tyler
Bed count – 25 – CHRISTUS Mother Frances Hospital – Jacksonville
Bed Count – 96 – CHRISTUS Mother Frances Hospital – Sulphur Springs
Bed count – 25 – CHRISTUS Mother Frances Hospital – Winnsboro
Bed count – 94 – CHRISTUS Trinity Mother Frances Rehabilitation Hospital
Bed count – 96 – CHRISTUS Trinity Mother Frances Louis and Peaches Owen Heart – Tyler
Bed count – 51 – Tyler Continue CARE Hospital at CHRISTUS Mother Frances Hospital