A Hopkins County teen was taken into custody early Tuesday morning after making a social media post authorities treated as a school threat Monday night, Nov. 7, 2022.
The juvenile, reported to be a Sulphur Springs ISD student, reportedly sent a picture of what appeared to be firearms, which was labeled "school supplies,' and "bro what. . ." via a social media app, to a person who has a connection to law enforcement.
Hopkins County Sheriff's Office was alerted at 11:24 p.m. Nov. 7, 2022, and deputies immediately began investigating what they perceived to be a school threat, Tatum reported.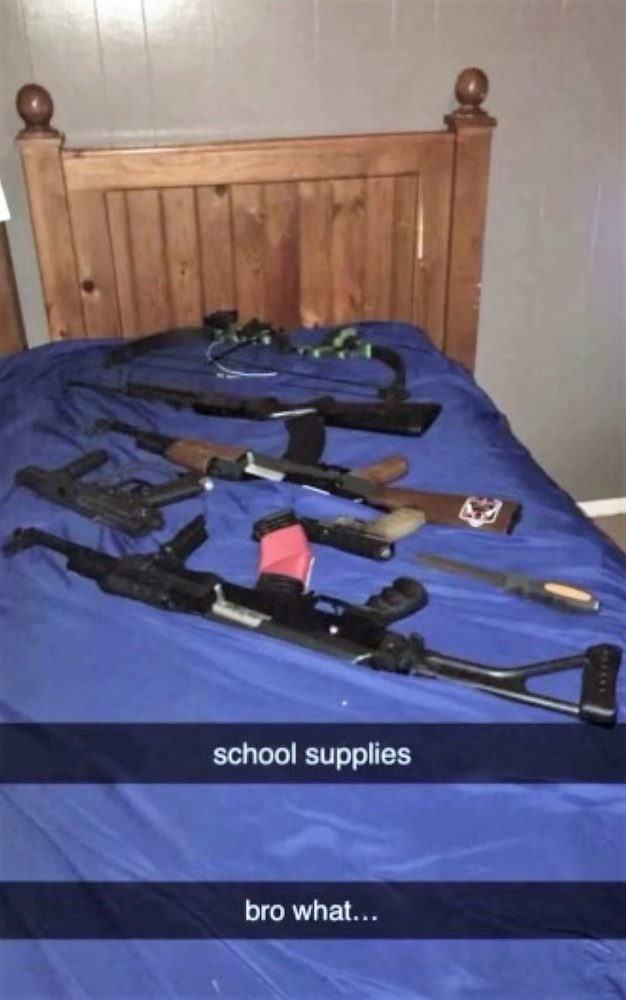 Initially, the sheriff said, no one knew who or where the photo came from, only the first name on the account it was sent from. Deputies reached out to others and continued investigating, and were able to identify a suspect by first and last name, then tracked down the youth. They took the juvenile, reported to be a 15-year-old male, into custody and found the evidence shown in the image. Sulphur Springs ISD officials were notified. The youth was taken before a magistrate, then transferred to a Gregg County facility.
"The offense came in at 11:24 last night. The subject was in custody by 1:35 a.m. and transported to a juvenile detention center," Tatum said. "Deputies did a great and fast job"
Tatum again stressed the sheriff's office takes such acts seriously and begin immediately working the cases, continuing until they make contact with the person or individuals responsible, wherever they are, even if that means waking everyone up at 2 a.m. at residence.
The goal is to keep students and school employees safe by addressing any potential threats to children or schools swiftly and seriously with law enforcement action, preventing potential threats from entering any school campus, the sheriff added.