A send-off is planned Nov. 8 for the state-bound Wildcat Band, who will be providing a Community Performance of the show which has earned recognition at several competitions last month.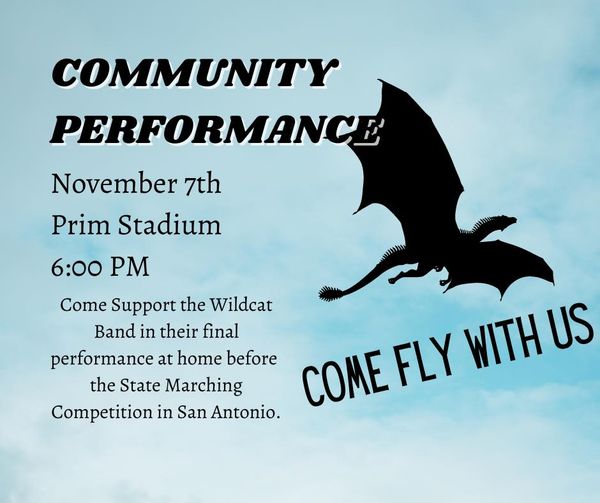 First, the Sulphur Springs Wildcat Band invites the community to "Come Fly With Us" at 6 p.m. Monday, Nov. 7, 2022. This is a great opportunity for local fans to catch the Sulphur Springs High School Wildcat Band in the students' final home performance at Gerald Prim Stadium before heading off to state.
Then, those who wish to show their support for the Wildcat Band are invited to meet in the SSHS student parking lot at 7:45 a.m. Tuesday, Nov. 8, to give the band a big send-off with well wishes. Encouraging posters, signs, cheering and clapping are encouraged as the band bus departs for San Antonio.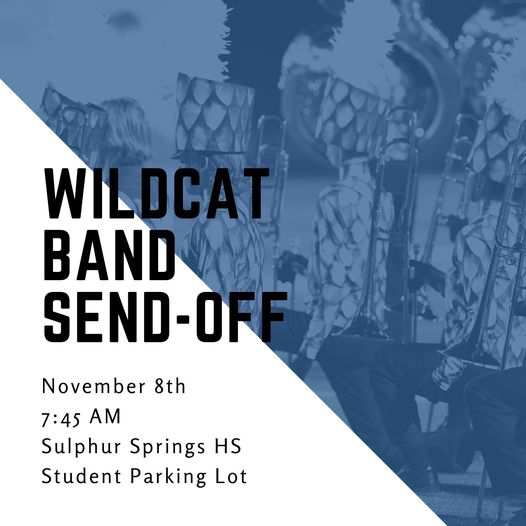 The SSHS Wildcat Band is then slated to take the Alamodome field at 10:45 a.m. Wednesday, Nov. 9, 2022, to perform in the preliminary round of competition at the UIL State Marching Competition in San Antonio. The top teams will then advance to the finals to compete for the state marching title.
These musician have been working since summer, striving to get better with each performance, on their show.
The Wildcat Band advanced to state first by earning straight first division ratings from all judges at the District UIL Marching Contest, then by finishing second at the UIL Area Marching contest.
They hope the most recent improvements will allow them to "fly" atop the state marching list.
NOTICE OF SCHEDULE CHANGES
SSHS Administrative Assistant Johna Shipley Friday morning noted that the Wildcat Band will still be in San Antonio on Veteran's Day so SSHS' annual Veteran's Day program has been moved to Monday, November 14.
Absences for students who wish to attend the Wildcat Band's state performance in San Antonio on Wednesday and Thursday will be excused as well.