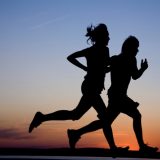 Coach Bill Giles and his squad had themselves a day at the 1A state meet.
The boys varsity cross country team won the 1A State Championship.
Four seniors led the way for the Lions.
First up came Gunner Tarver, finishing fourth at 17:28. The second senior, and second to finish for Saltillo, Coy Collins, came 15 seconds after Tarver and placed 12th at the state meet.
Another senior, Luke Ritter, finished 19th with a time of 17:50. All three of the aforementioned runners qualified as All-State.
The fourth and final senior to cross the line for Saltillo, Jacob Sexton, finished at 17:57, good enough for 22nd.
Christian Trejo had a time of 18:40. The junior runner placed 42nd.
The final two runners for Saltillo XC, Adrian Don Juan and Tobin Potter got 75th and 88th, respectively.
Coach Bill Giles's team (73) edged out Miller Grove (75) for their second state title in the coach's tenure. Lion cross country won state in 2016.
Saltillo finished runner-up at the state meet the last three seasons prior to the 2022 state championship. On top of that, the Lions have qualified for the state meet 11 of the last 13 seasons.
Congratulations to Saltillo's boys cross country team for securing a second state title in seven seasons.