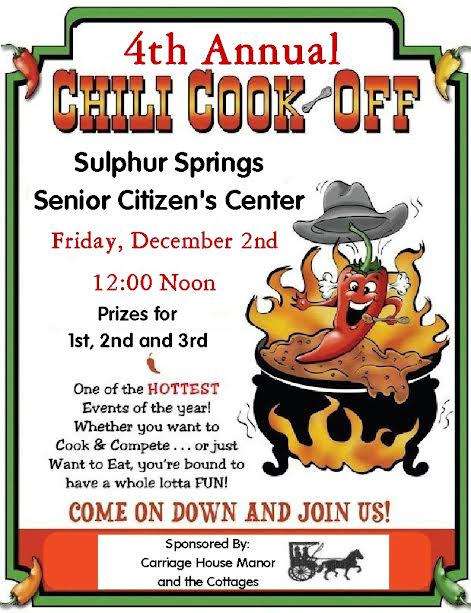 The deadline to register for the Senior Citizens Center's 4th Annual Chili Cook-Off is quickly approaching. Although the event is still 2 weeks away, those planning to enter the contest are asked to register as soon as possible.
"I need to know how many would like to participate by Wednesday, Nov 23. They can fill out registration, or just call or email me and I will sign them up," said Senior Citizen Center Coordinator Dawna M. Pryor.
To register simply submit your name, address, phone number and email to the Senior Citizens Center at 150 MLK in Sulphur Springs, by phone at 903-885-1661 or by email to [email protected].
The Chili Cook-Off, sponsored by Carriage House Manor and the Cottages, will be at noon Friday, Dec. 2, 2022, at the Senior Citizens Center. All are invited to enter their best chili or just stop by to sample the entries and have fun fellowshipping.