By Jennifer Heitman, Senior Market Development, CHRISTUS Mother Frances Hospital – Sulphur Springs,

[email protected]
If you have been in our hospital lobby recently, you may have noticed the snowflakes adorning the windows alongside our elegant Christmas tree. These beautiful memorial snowflakes are in honor or memoriam of loved ones. The Hopkins County Health Care Foundation recently kicked-off their annual snowflake campaign.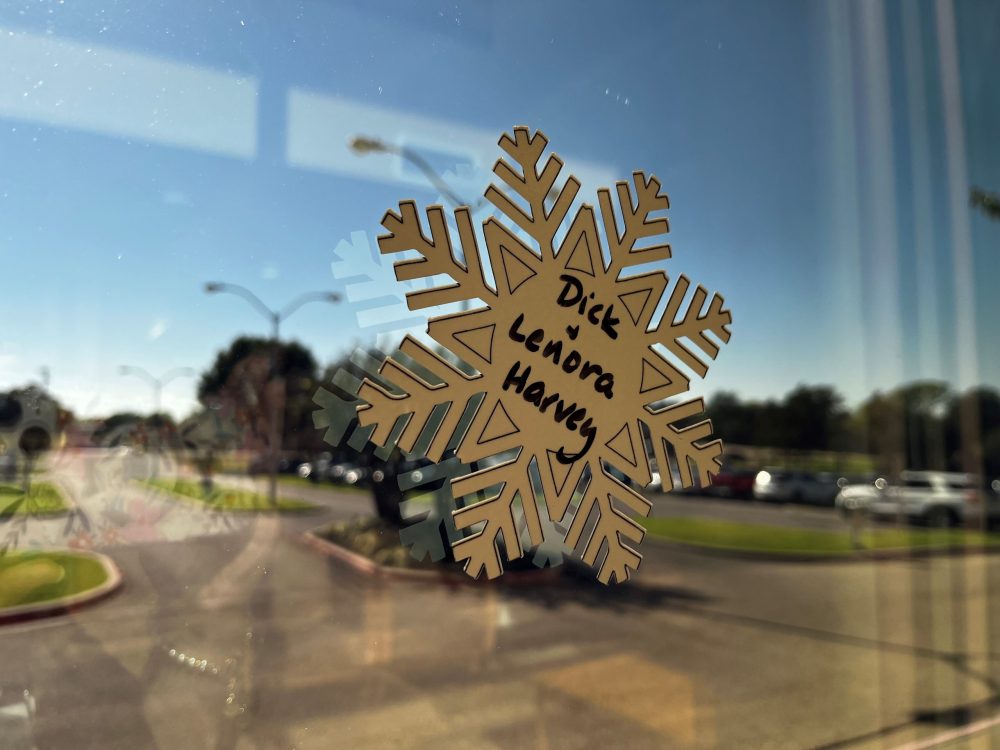 The community is invited to pay tribute to friends or family members with a gift in their honor or memory. The Foundation will then send a notification to the honorees or designated contact to make them aware of the gift. In addition, a beautiful snowflake bearing the name of the honoree is displayed in our main lobby. This offering of the Foundation has become an annual tradition that is warmly received by donors and honorees alike. The recommended donation for each person honored is $25. Recognition of individuals makes a lovely seasonal gift.
For more information, you may visit the Foundation's webpage, or call 903.438.4799.
CHRISTUS Comprehensive Wound Healing Center At Sulphur Springs
Under the direction of Dr. Scott McDearmont, our wound healing team provides specialized treatment of complicated, non-healing wounds of any kind. Our goal is to heal wounds, promote early recovery, prevent hospitalization, and avoid prolonged or permanent disability and amputations restoring your quality of life through individualized plans.
Advanced healing therapies such as Hyperbaric Oxygenation are available as well. To reach our Wound Care team, please call 903.438.4670.
Flu Shots: Do not Delay, Get Yours Today!
Flu shots are available at CHRISTUS Trinity Clinic, 105 Medical Plaza. Schedule an appointment with your provider today at 903.885.3181. If your provider has seen you in the last six months, you may walk in for a flu shot weekdays between 1 p.m. and 3 p.m.
---
CHRISTUS Trinity Mother Frances Health System includes CHRISTUS Mother Frances Hospitals – Tyler, South Tyler, Jacksonville, Winnsboro and Sulphur Springs, the CHRISTUS Trinity Mother Frances Louis and Peaches Owen Heart Hospital – Tyler, CHRISTUS Trinity Mother Frances Rehabilitation Hospital a partner of Encompass Health, Tyler Continue CARE Hospital at CHRISTUS Mother Frances Hospital, a long-term acute care facility, and CHRISTUS Trinity Clinic. CHRISTUS Trinity Clinic is the area's preferred multi-specialty medical group, with more than 400 Physicians and Advanced Practice Providers representing 36 specialties in 34 locations serving Northeast Texas across 41 counties. For more information on services available through CHRISTUS Trinity Mother Frances Health System, visit christustmf.org
Bed count – 402 – CHRISTUS Mother Frances Hospital – Tyler
Bed count – 8 – CHRISTUS Mother Frances Hospital – South Tyler
Bed count – 25 – CHRISTUS Mother Frances Hospital – Jacksonville
Bed Count – 96 – CHRISTUS Mother Frances Hospital – Sulphur Springs
Bed count – 25 – CHRISTUS Mother Frances Hospital – Winnsboro
Bed count – 94 – CHRISTUS Trinity Mother Frances Rehabilitation Hospital
Bed count – 96 – CHRISTUS Trinity Mother Frances Louis and Peaches Owen Heart – Tyler
Bed count – 51 – Tyler Continue CARE Hospital at CHRISTUS Mother Frances Hospital