Hopkins County Commissioners Court renewed one local disaster declaration for the damages resulting from Nov. 4 tornadoes, and enacted another due to "threat of disaster from the unprecedented levels of illegal immigration, human trafficking, and drug smuggling coming across the U.S. border from Mexico."
New Disaster Declaration
Hopkins County Commissioners Court was asked during the regular court session Monday, Nov. 14, 2022, to approve a declaration of local state of disaster due to illegal immigration, human trafficking and drug smuggling across the border from Mexico.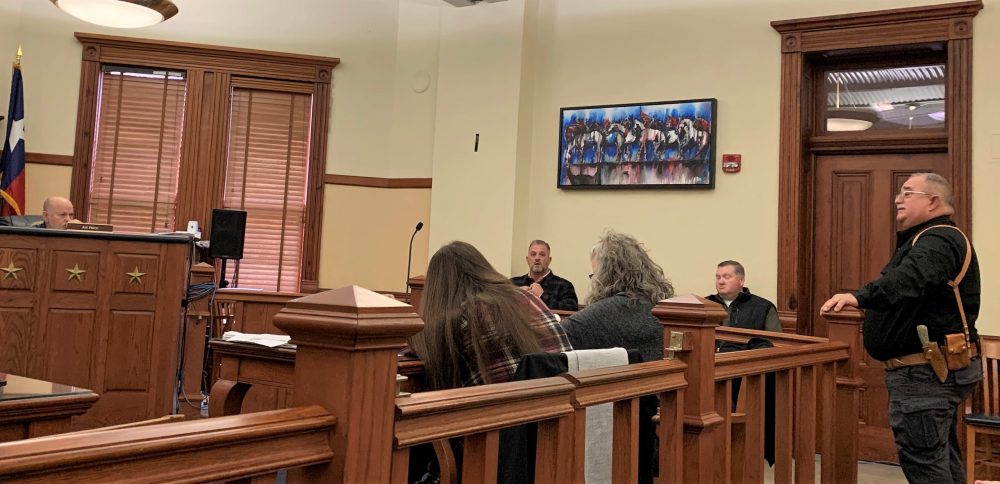 "Basically, what this is it's a declaration of a local state disaster and I might ask the sheriff for his input on this. According to what I have before me today, since January 2021, more than 3.2 million illegal aliens apprehended after unlawfully entering the United States, and more than 800,000 illegal aliens have avoided apprehension while unlawfully entering the United States and remain unaccounted for within our nation," County Judge Robert Newsom said. "Basically, the proclamations calls for simply a proclamation that we are under a very serious situation in Texas, in Hopkins County as well as the United States. We ask that this declaration be noted to our state and to our nation, that we have a very serious situation across the state."
The disaster declaration, citing the Centers for Disease Control statistics, states that "the unprecedented amount of human trafficking, combined with the smuggling of fentanyl and other opioids infiltrating our border with Mexico had killed over 71,238 American citizens." According to the declaration, Customs and Border Protection have identified more than 50 known terrorists who have unlawfully entered the US through an unsecured border with Mexico. It claims sophisticated international human and drug trafficking organizations spearheaded by "violent international drug cartels" have operational control over the unsecured US-Mexico border. The document declares "the ongoing immigration crisis" an unacceptable security threat and humanitarian disaster, the consequences of which impact Hopkins County residents.
"Along with the immigrants coming across undocumented, we have had a large influx of drugs. Drugs are so plentiful now they are free now basically," Sheriff Lewis Tatum said. "It's just causing all kinds of havoc. We've had two ODs (over-doses) in this county recently, and one of them came back with fentanyl and we're not sure about the most recent one; the tests aren't back. We've got to get a handle on it. I spoke with the Sheriff's Association this morning and they're asking for help on the border states. They're overwhelmed and officers and sheriff's down there are just give out. They can't handle the deceased bodies that they are finding let alone stop the immigrants coming across illegally."
The disaster declaration noted the county judge has "determined that extraordinary measures must be taken to ensure the protection of the health, safety, and welfare of county residents." It calls on Texas Governor to "declare the existence of an invasion on its border with Mexico and taken necessary actions to preserve and protect the sovereignty and territorial integrity of Texas." Citing Article 4, Section 7 of the Texas Constitution and Article 1, Section 10, Clause 3 of the US Constitution, the declaration asks the governor to use constitutional authority to immediately prevent and remove all people invading Texas and the US.
The local disaster declaration authorizes the use of "all lawfully available resources and authority" granted by both the Texas and US Constitution. The declaration is to remain in effect until the county judge terminates it, and grants the judge authority to issue additional directives related to the issue at any time necessary or relevant.
Precinct 4 Commissioner Joe Price made a motion, which Precinct 3 Commissioner Wade Bartley seconded, approving the local disaster declaration "regarding Texas invasion." The declaration was issued with full approval of the Commissioners Court.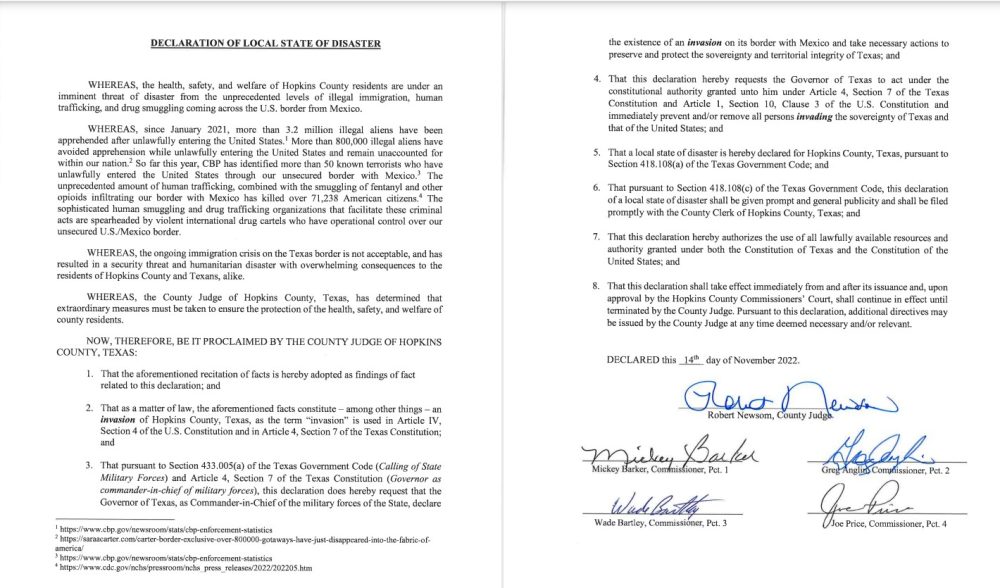 Renewed Disaster Declaration
The Commissioners Court also considered renewing the disaster declaration the county judge issued last week for damages caused by the tornadoes, high winds, fallen trees and water from the storm cells which spread through Northeast Texas and Oklahoma on Nov. 4, 2022.
Two tornadoes were confirmed by the National Weather Service to have touched down within a 2-mile radius in Hopkins County, primarily in Precinct 1, although one dairy barn was damaged in Precinct 2 in the Pickton area as well In Precinct 1, four buildings — three residences and a shop — were completely destroyed and two sustained heavy damage, according to Hopkins County Fire Marshal Andy Endsley.
"There's a lot of damage. I know most of the commissioners have been out there that night helping with that. We appreciate everyone out there, including the sheriff's office. We could not have done what we done that night without everyone's help. It is greatly appreciated," Endsley said.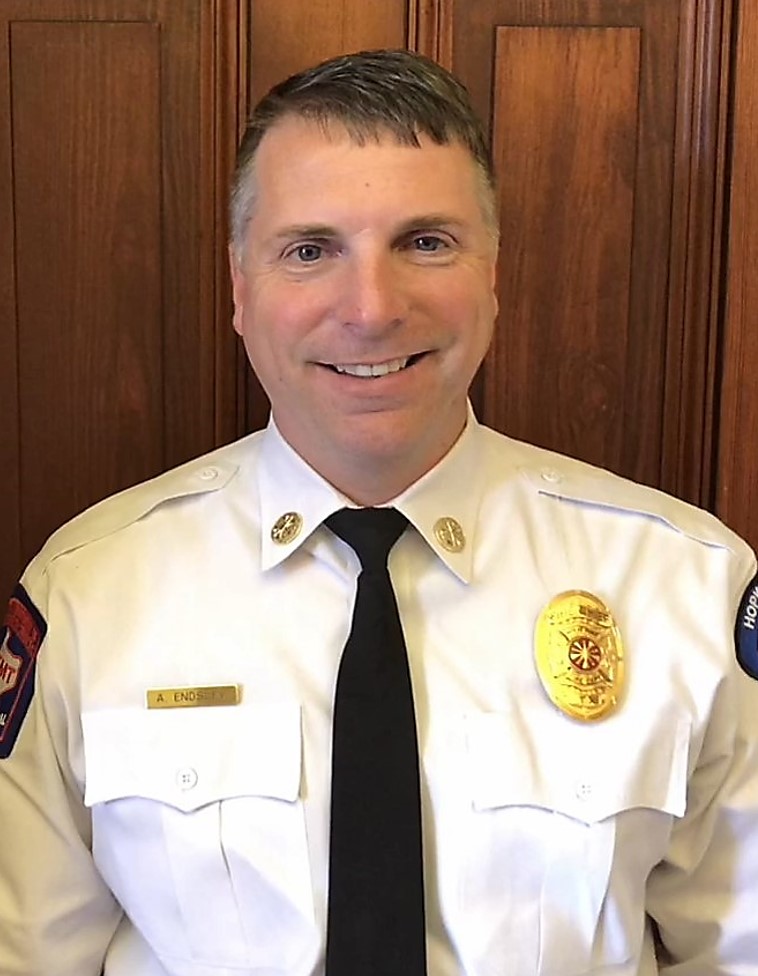 Precinct 1 Commissioner Mickey Barker extended thanks to Endsley and the fire department personnel for their work in a chaotic situation.
"We have about three houses totaled this go-round and several houses and barns and other properties damaged. We will be getting some information out about how they can ask for assistance," Barker said.
Endsley said Hopkins County was very blessed in the limited loss sustained, compared to that of neighboring Lamar and Red River counties. Hopkins County officials, after things were more or less settled Nov. 4 in Hopkins County sent fire department personnel to Lamar County and Red River County to assist. In Lamar County, where a tornado was on the ground for 22 miles Nov. 4, 37 homes were completely destroyed and over 40 heavily damaged just outside of Paris. In Red River County, a tornado was one the ground for 46 miles and destroyed 12 residences on Nov. 4.
Endsley said he has flown in a Texas Department of Public Safety helicopter since the tornadoes swept through the area, observing the path the twisters took over the Red River, then touched back down in Idabel, Oklahoma, where one person was killed, and a lot of destruction was reported. He said from the sky he was also able to see where a tornado touched down after going over Highway 82 in Clarksville, covering a wide path.
County Judge Robert Newsom issued a local disaster declaration on Nov. 8, which would allow the county to apply for financial assistance if it become available. The disaster declaration has to be approved by the Commissioners Court within 7 days or it expires.
"This will help us if there's any back side to mitigation grants, things like that. We won't see anything on the front side, but possibility of grants and things like that that come in later as soon as the governor declares — and I anticipate pretty sooner because we had seven tornadoes through our area right here around us. Since we touch the very bottom tip of Lamar County, we will be included in that," Endsley said.
Endsley said there are links on social media platforms where people access links to report damage. This helps give local and state officials an account of loss and damages. Damages have to reach a certain level for an area before FEMA funding becomes available, the fire marshal noted.
According to Extension Agent Mario Villarino, Texans impacted by the severe weather are encouraged to fill out an Individual State of Texas Assessment Tool (iSTAT) survey. The information provided in the survey helps emergency management officials gain an understanding of damages that have occurred and aids officials in determining if the state meets federally-required thresholds for various forms of disaster assistance, as well as identify any immediate resource needs. The iSTAT damage survey can be filled out in multiple languages online by visiting damage.tdem.texas.gov and clicking on November 3-5, 2022: Severe Weather Event.
Precinct 1 Commissioners Mickey Barker made a motion, which Precinct 2 Commissioner Greg Anglin, seconded approving the renewal of the local disaster declaration due to damages from the tornadoes on Nov. 4, 2022. The motion was unanimously approved by the court.