Official Toy Drive Slated Dec. 1-2 At Walmart
Hopkins County, Texas — The 2022 Blue Santa Toy Drive has already kicked into high gear. 
Working together with CANHelp, the Sulphur Springs Police Department, Hopkins County Sheriff's Office, the Sulphur Springs and Hopkins County Fire Departments, CJ Duffey, Choice Hospice, and members of numerous ministries, businesses, organizations, and individuals work to provide toys for children ages 1 to 14 years who currently reside in Hopkins County.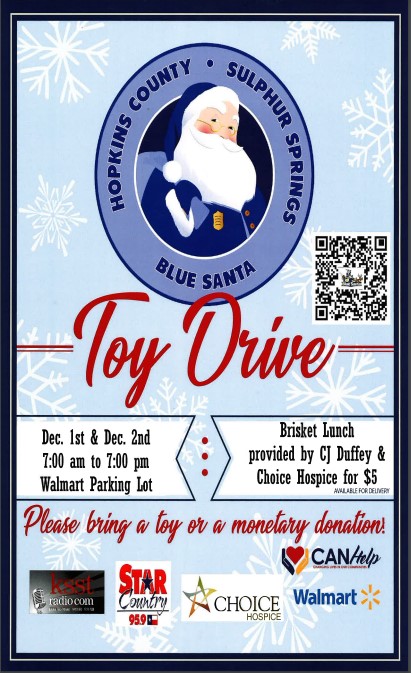 Sign up applications are available online at www.canhelponline.org until December 2. Distribution will be December 10 from 1 to 3 p.m. at First United Methodist Church, located at 301 Church Street in Sulphur Springs.
This year's official Blue Santa Toy Drive will be held on December 1 and 2 from 7 a.m. to 7 p.m. in the Walmart parking lot located on 1750 South Broadway Street in Sulphur Springs.
Beginning at 9:30 a.m. on December 1, CJ Duffey and Choice Hospice will be selling brisket lunches for $5 each and all of the proceeds will be donated to Blue Santa. These lunches will include a barbeque sandwich, a bag of chips, dessert, and a bottle of water. If you purchase five or more lunches and live within the city limits of Sulphur Springs, the Hopkins County Sheriff's Posse, Sulphur Springs Police and Fire Department, and the Hopkins County Sheriff's Deputies and Fire Department will deliver them.
Word is the Cowboy Grinch will also be making his appearance too … somewhere, who knows where! 
The Blue Santa Toy Program has also placed blue barrels around the community to receive new unwrapped donated toys. These blue barrels will have the Blue Santa seal and a Blue Santa QR code if you would like to make a monetary donation. Locations of these barrels are the following:
Dollar General Stores:

Como
Birthright
Highway 154
Main Street in Sulphur Springs

Grocery Supply
Burgers and Fries
Hopkins House
Atwoods
Guaranty Bank & Trust (919 S Broadway St)
Fix and Feed
City National Bank (201 Connally St)
Alliance Bank (308 Church St)
Cash Saver
Jay Hodge Chevrolet (478 Wildcat Way)
Brian Toliver Ford (1040 Gilmer St)
Fire Side BBQ
West Oaks Funeral Home
Rock Creek Nursing Home
Sunny Spring Nursing Home
Soulman BBQ
First Baptist Church
The One Church
State Farm Insurance (530 North Hillcrest)
Professional Land and Title
Red River Credit Union
Head 2 Toe Nutrition
County Club
Cody Drug
For additional information, contact CANHelp at 903-885-9797, ext. 3, or the Hopkins County Sheriff's Office at 903-438-4044.
Because of everyone's generous support, we all help a child receive a toy for Christmas.