Blue Santa Toy Drive Slated Dec. 1-2, At Walmart
Registration is currently under way for the Hopkins County-Sulphur Springs Blue Santa Toy Program, a partnership of city and county law enforcement and CANHelp, in cooperation with local businesses and community members.
How To Apply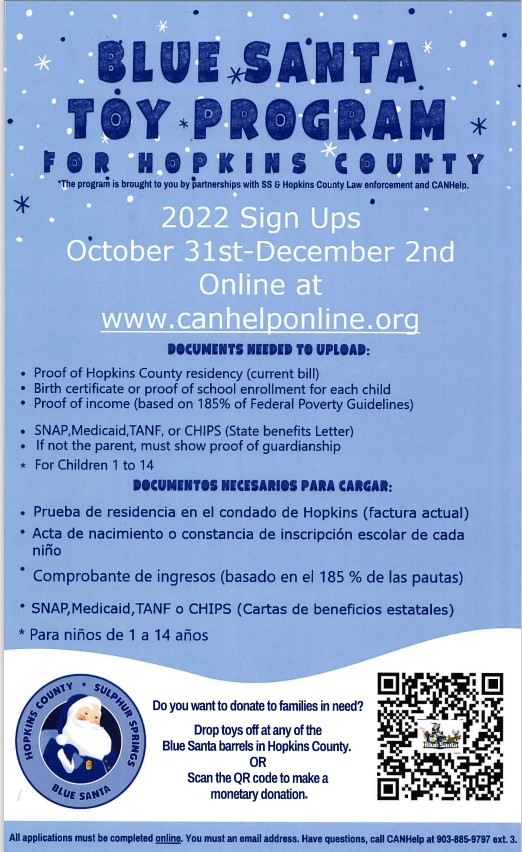 Hopkins County families with a financial need may apply to the local Blue Santa program for assistance in providing toys for their children, ages 1-14 this Christmas. Registration began on Halloween and will end on Dec. 2, 2022. To apply for assistance, go online to the CANHelp website, canhelponline.org, and select "Click here to register" under the Blue Santa logo when it appears on the main banner. Then, follow the instructions to complete the application.
When signing up online, families will need to provide:
Proof of Hopkins County residence, such as a current utility bill;
Birth certificate or proof of school enrollment for each child;
Proof of income (help is based on 185% of the Federal Poverty Guidelines);
Proof of SNAP, Medicaid, TANF or CHIPS (a state benefits letter), if applicable; and
If not the child's parent, proof of guardianship must be shown.
All applications must be completed online and an email address is required for the parent/guardian applying for toy assistance for the children in their care. CANHelp is helping to screen applicants, and will be communicating with registered families through email. Families may also receive text reminders about the pick up, so a cell phone number is needed.
Toy distribution will be Saturday, Dec. 10, from 1 to 3 p.m. at First United Methodist Church. Everyone will line up in their vehicle starting at the City National Bank drive-through at 201 Connally Street, then follow the officers' directions to pick up location. Sulphur Springs Police officers will control the traffic, Hopkins County Sheriff's deputies and Sheriff's Posse will provide security. CANHelp will be set up to distribute assigned numbers as the vehicles drive through the designated location at FUMC.
Any additional questions about registration may be directed to CANHelp at 903-885-9797.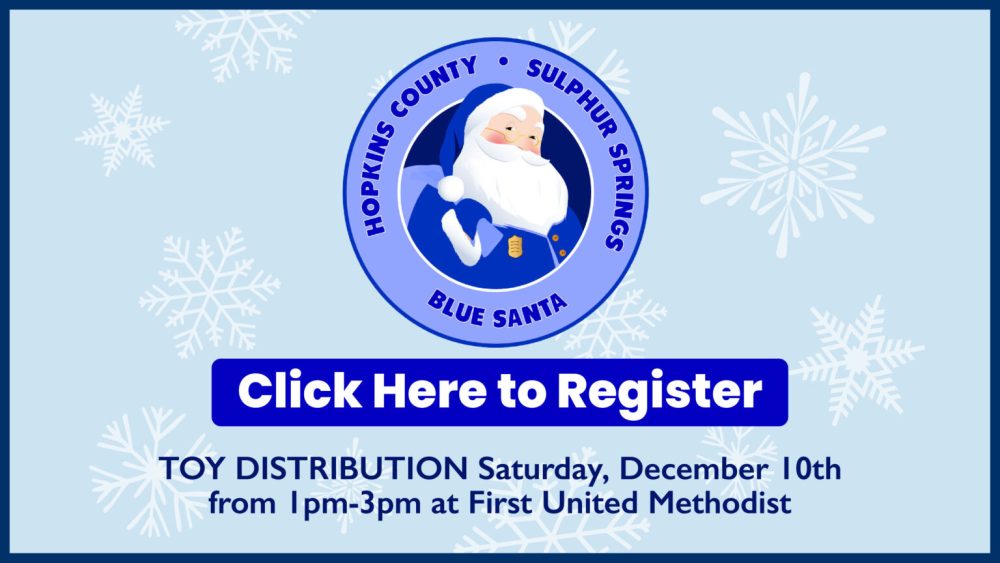 How To Help
Blue Santa has been a holiday tradition in Hopkins County for decades. Sulphur Springs and Hopkins County law enforcement work together to see that no child goes without gifts at Christmas. The officials, however, depend on the community to help bless Hopkins County children by contributing toys and monetary donations to apply toward toys.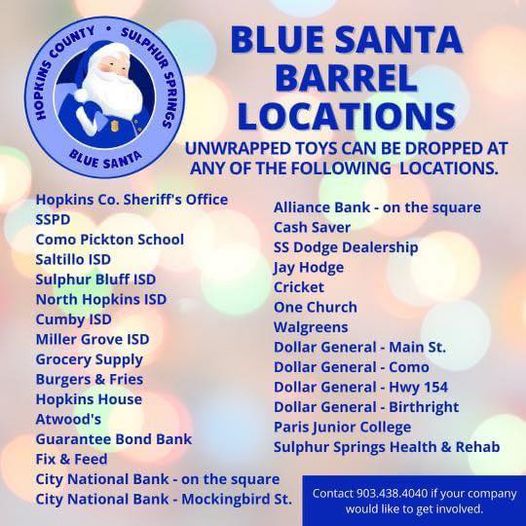 Toy donations may be made in the labeled Blue Santa barrels being distributed at locations throughout Hopkins County, at the annual 2-day Toy Drive or handed to Santa's Helpers (look for the people wearing blue Christmas hats alongside Blue Santa's ride) during the Lions Club Lighted Christmas Parade.
Look for Blue Santa barrels (or other designated Blue Santa containers) at the following and other locations throughout the county:
Monetary donations to benefit the Blue Santa program may be made at the Blue Santa Toy Drive, electronically by scanning a QR code on or beside Blue Santa barrels, on the Hopkins County/Sulphur Springs Blue Santa Facebook page and on flyers on this page.
Toy Drive
The Blue Santa Toy Drive is an annual event the community looks forward to every year.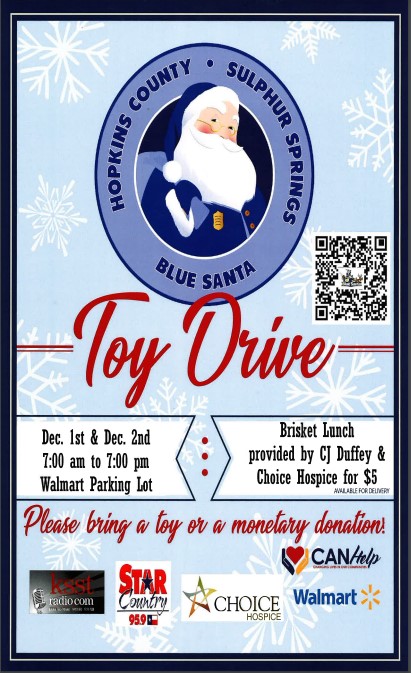 Businesses, offices, agencies and sometimes even friends or families have fun challenging each other to contribute to Blue Santa. Kids enjoy going to the store, selecting items they would like or that they think kids of other ages would like, then taking them to drive to children who aren't as financially fortunate as their families.
Children have been known to bring change they've saved up in their piggy banks to donate, because they can't stand the thought of another kid not having presents to open and enjoy on Christmas. All amounts, big or small are appreciated and will be used to provide toys for Hopkins County children.
This year's annual two-day Blue Santa Toy Drive will be held from 7 a.m. to 7 p.m. Dec. 1-2, 2022, in the corner of Wal-Mart parking lot closest to Super Handy. Look for the law enforcement tents and Blue Santa.
Another annual part of the Toy Drive is the brisket lunch, provided by CJ Duffey and Choice Hospice. Pull up, ask for a lunch, make a $5 donation (or more if you are feeling generous) and someone will bring it to you. Delivery will be available in town for those ordering a minimum of five lunches per location. To reserve a lunch or schedule delivery for 5 or more brisket lunches Dec. 1-2 during lunch time (or until they run out) call 903-366-6629.
Bring the kids to the Toy Drive. The Grinch will be making his appearance with Blue Santa himself at the Toy Drive. A QR Code will be available for purchasing lunches and making donations.