2022 Hopkins County Christmas CASA Cookie Walk Will Feature Treats From Local Bakers
Will Your Church Observe Stand Sunday? Did You Know You Can Generate Money For Lake Country CASA While Shopping Online
An annual Hopkins County Christmas tradition, the CASA Cookie Walk, is returning this year and will feature some special treats. Another event a little soon, Stand Sunday, will happen Nov. 13. And, there are option for those who wish to donate to or become involved with CASA.
CASA Cookie Walk
The fundraiser for the organization for more than 25 years was canceled the last couple of years due to COVID and replaced with Miracles Made on Connally Street, where people were invited to purchase tickets for $25 each to win one of 12 small decorated Christmas trees.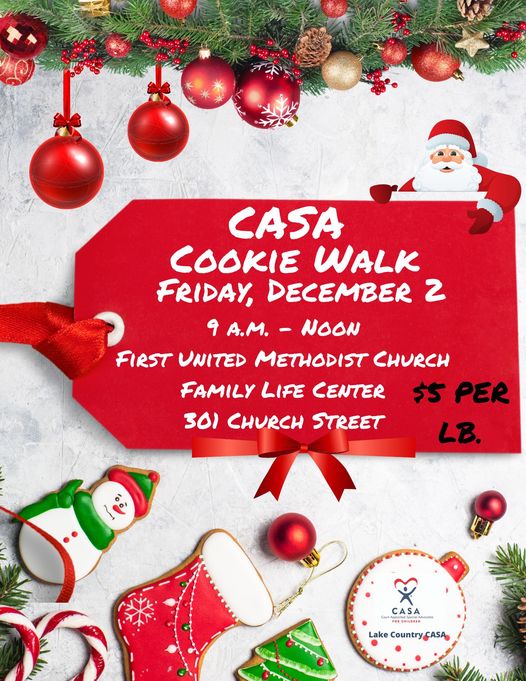 CASA announced this month, however, that the annual Christmas tradition, the CASA Cookie Walk, will be held in 2022. It is scheduled as is tradition on the first Friday in December from 9 a.m. to noon (or until all the cookies are gone).
"We are excited to announce there will be yummy treats from some fabulous local bakers so plan to join us for some Christmas goodness! Sweets & Sunshine Shelly's Sweets, Cinnamon Bear's Bakery, Christy's Piece of cake," local CASA representatives noted.
A variety of cookies and other sweet eats will be offered for a $5 per pound donation (or more if you are feeling generous) Dec. 2, 2022, at First United Methodist Church Family Life Center, 301 Church St. (across from the Post Office).
All proceeds from the Cookie Walk will benefit the children Lake Country CASA serves in Hopkins, Rains, and Franklin counties. Lake Country CASA served 60 children in Hopkins County alone in 2021.
Stand Sunday
Before the CASA Cookie Walk will be an other event, Stand Sunday. On Nov. 13, 2022, people are asked to stand together to show support for children and families in foster care.
Stand Sunday began in 2004, when Bishop Aaron Blake Sr. called for the families of Brownwood to stand up to care for children and families impacted by the child welfare system. Since then, churches across the country have begun joining forces on Stand Sunday to declare war on inaction when it comes to children and families facing abuse, abandonment and neglect. Stand Sunday, traditionally, is a time when people of all faiths stand as one voice on the second Sunday in November for this one purpose — showing support for children and families involved in the foster care system.
As of June 2022, there are 12,128 children in Texas foster care system. Across the US, there are approximately 424,000  children in foster care, StandSunday.org reports.
Lake CASA encourages everyone to take time Sunday to pray for children in foster care and stand up for children who have suffered abuse or neglect.
Check with you church to see if Stand Sunday will be observed on Nov. 13. And, its not restricted to churches; a group or individual can take a stand through advocacy, prayer and finding out ways in the local community they can support. Families may even want to become foster families, make contributions to charitable organizations such as CASA that are dedicated to helping these children who have been removed from their homes and placed into the foster care system, or consider become a CASA volunteer.
In cases where children enter the foster system because their homes are deemed or alleged to be unsafe, a judge may appoint a committed volunteer whose only focus is on that child, giving hope and help in guiding the child to a safe, permanent home.
CASAs work to ensure that every child who needs an advocate to speak for his or her best interests before the courts has a caring, trained adult to help them during this difficult time in their life.
For more information about Lake County CASA, call 903-885-1173.
Donating to CASA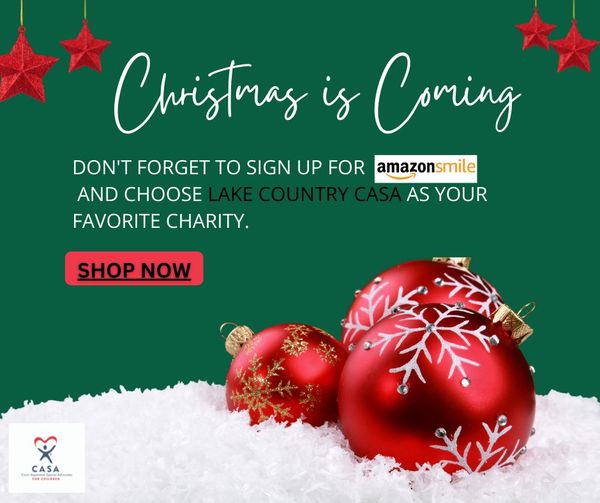 Donations are also accepted to help support the CASA program, to provide funding for advocacy efforts and things the children CASA is entrusted to represent wouldn't have if not for the organization. Donations may be made:
At the Cookie Walk;
By PayPal or a debit or credit card online on
By selecting Lake Country CASA as the charity of choice at AmazonSmile, to have 0.5% of purchases you make while shopping the site go to CASA to help the children the organization serves.