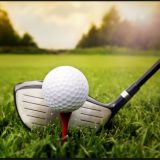 Coach Jeremy DeLorge and his squad had a fantastic outing Monday, Oct. 10 in Mt. Pleasant.
Sulphur Springs won the invitational, shooting 327 as a team.
Monday's win came thanks in large part due to Caleb Kesting, who took home 1st place with a score of 70 (-2).
From there, men's golf more or less shot as a team.
Nick Burney was next up at 83, followed closely by Noah Newsom (No. 4 golfer for Sulphur Springs) coming in at 86 and finishing third for the team.
Monday had two golfers finish just one stroke apart; Tripp Smith, at 88 and Luke White at 89.
Sulphur Springs shot 327 as a team, 10 stokes ahead of second place Pleasant Grove.
Monday's course at Mt. Pleasant CC is where men's golf has their district competition come spring time.
To finish first in only their second invitational of the year is big, but beating several former district foes Monday, as well as new district competition Pleasant Grove is huge.
Next up, both golf squads play in their final competition of the fall season as they host an invitational.
That begins Monday, Oct. right here in town at Sulphur Springs CC at 9 A.M.

---
KSST is proud to be the official Wildcat and Lady Cat Station. We broadcast Sulphur Springs ISD games year round live on radio. When allowed, we also broadcast games via our YouTube channel.