Hopkins County United Way campaign workers turned in another $16,346.42 in donations and pledges, which were applied toward this year's overall $150,000 goal to benefit 18 local non-profit agencies. Overall, that makes $70,181.69 HCUW had received as of the fourth weekly campaign workers' report meeting this week, which put the campaign at just shy of 50% of the goal, with only 2 weeks left in the campaign.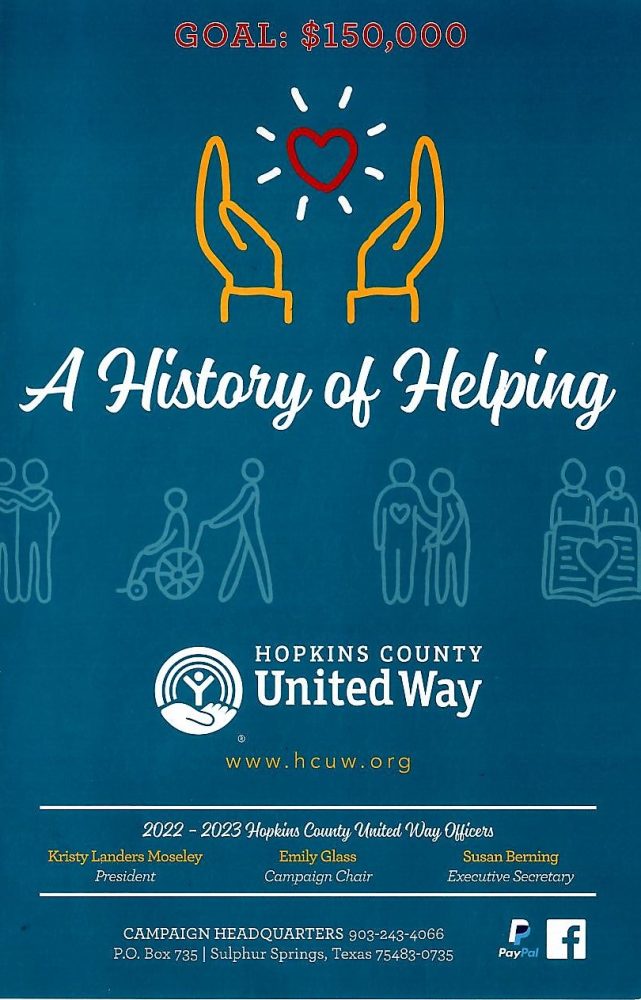 "Every week, I am just blown away," HCUW Campaign Chair Emily Glass said of the generosity shown by the community in the faithful giving, and offered thanks to each contributor for their donation to help HCUW meet the goal to provide the allocated funding to 18 local nonprofits that serve every facet of the community, from meeting basic needs to enrichment and educational programming.
Glass at the Oct. 25 meeting encouraged the many volunteers who serve as campaign workers to follow up with businesses and organizations they left donation packets with to try to get those back in over the next 2 weeks if possible, so their donations can be counted toward this year's campaign as well.
HCUW Executive Secretary Susan Berning noted that there are still packets still out at lots of businesses, some that have traditionally been among the lead donors, that they know are being worked, but aren't yet ready to be turned in.
For instance, one volunteer noted donations from clinics have yet to be picked up. Local banks are reported to be finishing up their campaigns and should be finished within the next 2 weeks, as should a few schools and industries.
"We are standing very strong and are so appreciative. Lots of good will be done with it," Glass said.
While most campaign donations and pledges are made through workplaces and civic organizations, Glass reminded at Tuesday's meeting that anyone who is not contributing through one of the traditional channels may still make a contribution to help support HCUW. Check donations may be mailed to Hopkins County United Way campaign headquarters, PO Box 735, Sulphur Springs, TX 75483. Donations may also be made by debit or credit card or PayPal on the the United Way website, hcuw.org, by clicking "Make a Donation", or via the Hopkins County United Way Facebook Page by clicking "Shop on Website."
Campaign workers who have received packets but are not able to attend the weekly meetings can contact Berning by phone or text message at 903-243-4066, or by email, to arrange to get the pledges and contributions to her, contact Glass or drop them by Landers Creek Outfitters on Main Street.
Glass reported on donations turned in to her by other campaign volunteers. Andrew Yoder turned in a donation from Texas Farm Credit. Amy Glenn turned in donations from Water Oak pre-school and Water Oak Elementary. Lyndsay Palmer, a first time campaign worker, turned in donations from Sulphur Springs Vet, Broadway Vet Clinic and Hopkins County Vet Clinic. Glass picked up funds from Chad's Media and Catacon.
Kayla Mitchell turned in donations from Hopkins County Appraisal District, Hopkins County Chamber of Commerce and Balkcom Insurance.
Debra Evans brought in contributions from Giles Insurance, Feeders Supply, Johnson Law Firm, Craig Johnson/Ed Jones. Danny and Debra also made a personal donation.
Among the contributions Amy Griggs turned in from the Hopkins County offices of Kelly Caslon, Human Resources; Precinct 3 Commissioner Wade Bartley; Treasurer Danny Davis; Precinct 1 Justice of the Peace BJ Teer; Precinct 1 Constable Norman Colyer; County Court At Law Judge Clay Harrison; ; Precinct 2 Constable John Brian Beadle; Precinct 2 Justice of the Peace Brad Cummings; and County Judge Robert Newsom. She too noted contributions from 8th Judicial District Attorney Will Ramsay Judge Eddie Northcutt.
Donations HCUW President Kristy Moseley reported turning in included those from Babe on the square, Price Pawn Shops, Marlene's, Saltillo ISD, North Hopkins ISD.
The hospital's contest, allowing staff to bid on a reserved parking space for a year, is ongoing. Certain departments are also allowed to pay a cash donation to be able to wear jeans to work.
Carolyn McKinney reported the Extension office staff made a contribution. Not only does Extension benefit from the fund drive through funding allocated to the 4-H program, but Extension staff also serve as campaign workers.
Mary Ferguson turned in packets for All State and Pizza Inn.
Susan Berning reported among donations picked up by Sara Goggans were Hampton House, Sulphur Springs Muffler, Blacklands Railroad Inc., Apex Supply, The Pawn Shop.
Mike Jumped turned in contributions from Dr. Will Longino and Dr. Matth Johnson's offices.
Tina Phillips turned in packets from at least 3 different businesses, including Julia Wilhite State Farm.
Helen Sapaugh made a generous personal donation; she faithfully gives annually..
Larry and Carrie Crowson reported on contributions from Lou Nell's and Sulta Manufacturing.
The last two campaign report meetings are slated for 9 a.m. Tuesday, Nov. 1, and 9 a.m. Wednesday, Nov. 9, 2022, at Hopkins County AgriLife Extension.