Venda "Vender" Wright recently was named 2022 Ms. Texas Senior Classic in Tyler, making her at least the third Hopkins County resident to earn the state title. The pageant winner is excited for the new adventures that being the pageant winner will afford her, and plans to use it to help lift others spirits.

Wright not only won the title of Ms. Texas Senior Classic, but also received recognition at state for her Philosophy of Life. Also recognized during the 2022 pageant were competitors Stella Bagley, the very first Ms. Hopkins County Senior 2010, and Kylene Claypool, the 2022 Ms. Hopkins County Senior.
Those ladies earning lop ratings at their local pageant advance to the state contest. Wright earned the right to advance by winning the Ms. Hopkins County Senior Classic pageant in 2019.
She was very much aware of the Ms. Senior Classic pageant hosted annually in Hopkins County and was excited the year she turned 60, because that meant she too was finally eligible to compete in the fun she saw so many other ladies enjoying as contestants. And, in 2019, she want the whole enchilada as far as the local pageant is concerned.
"Whenever we have competed in the Ms. Hopkins County Senior Queen for Sulphur Springs, Texas, we have a chance go and compete for this," Wright said of the Ms. Texas Senior Classic pageant.
She did advance to state, eligible to compete at that level for the past four years. Wright finished as second runner up for the Ms. Texas Senior Classic title in 2021, and at the end of September 2022 came home with a new crown and title.
"Always believe in yourself. Always your dream go for it. No matter what, we may fall or whatever. Still, go forth. We'll succeed," Wright said. "Don't give up in any kind of way. Don't talk negative. Anybody who's negative, get them out of your way … and say I'm going for it and, yes, it will be."
The Ms. Texas Senior Classic Pageant contestants met in Tyler Thursday, to get acquainted and get a good night's rest. On Friday, they registered and soon began competing, first in a judges interview. They rested for a short time, then hit it hard to be ready for the pageant. Wright said while the work was hard, it was a blast.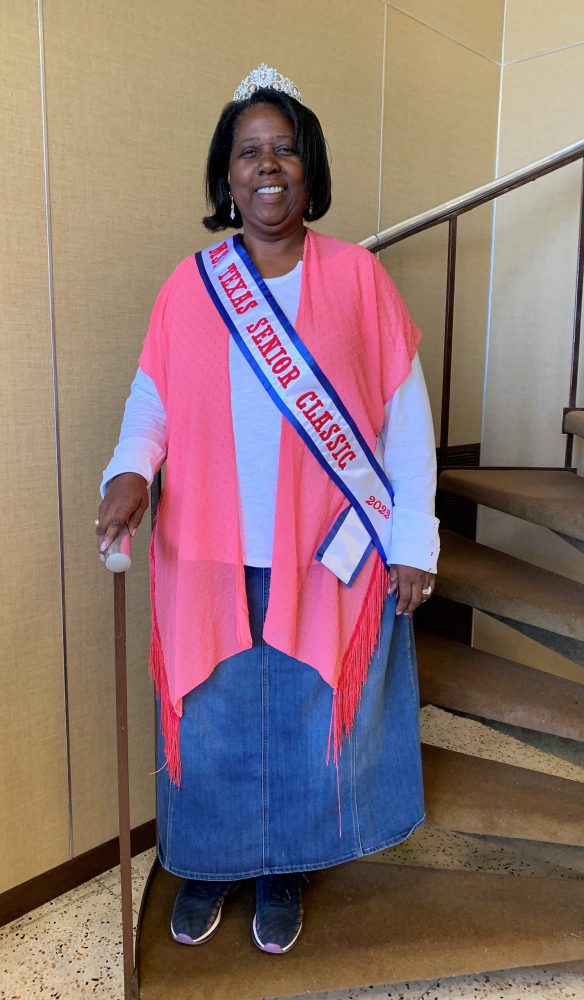 The pageant consists of four phases: philosophy of life, judges interview, evening gown and talent competitions, with different judges for each.
"It was fun, so much fun. That's the most important part. It's a sisterhood. We gather together each year to have fun. We pray — everything, learn our routines," Wright said of the preparation for the talent portion of the Ms. Texas Senior pageant. "It comes fast and it ends fast."
She said it's so much fun to be a part of the pageant that contestants forget about how tiring it is and just have fun among friends.
"I will never forget it. It changes your whole entire life. It changes it all. It's amazing. We are queens. We are all queens. My it just does something to you," Wright said of her experiences competing in and serving as a Ms. Senior Classic queen.
The weekend concludes with a Sunday morning breakfast, where they talk with the queen, who takes her walk and share. She said the roses and trophy were beautiful. She's looking forward to participating in the Rose Parade in Tyler, along with some of the other contestants. She also plans to get a list of upcoming activities from Hopkins County Chamber of Commerce so she can represent ladies age 60 and older across the state as Ms. Texas Senior Classic 2022 at the different functions, festivals and activities over the course of the year. She said she's looking forward to traveling a little bit around the area some too to be involved in events in other cities and counties as well.
"Whatever they send towards me, hey, lets go!" Wright said.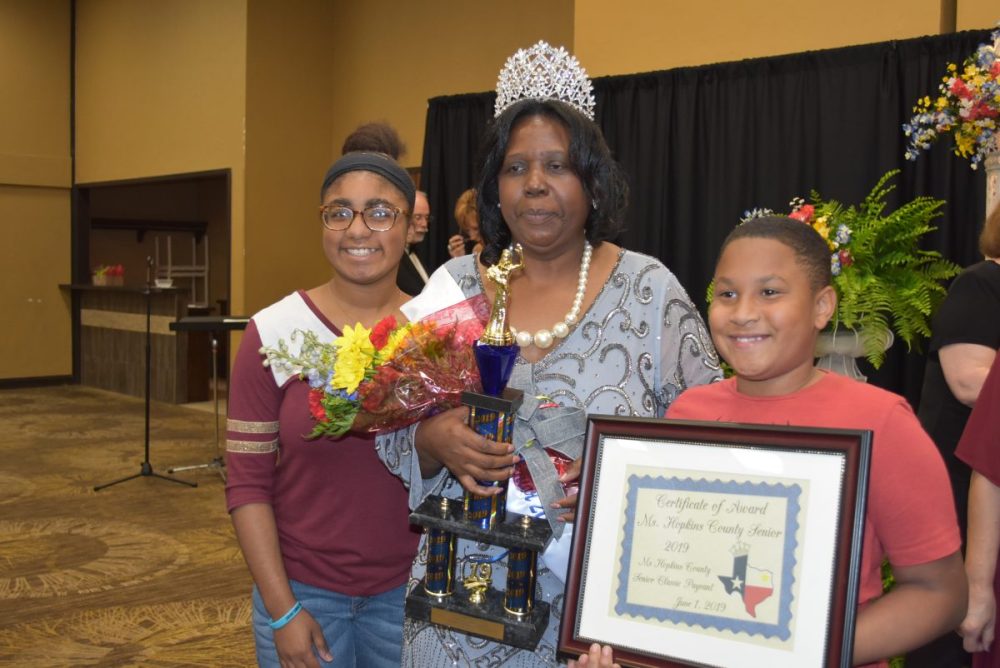 Wright said the pageant was fun, but they sure missed their friend Sherry Macauley, who has been part of the pageant for 16 years but was unable to compete or take part in the 2022 pageant because of health reasons. So, before Wright sang during her turn in the talent competition, she dedicated the song to Sherry, and dedicated the pageant to her.
Several other ladies with several years of involvement in the pageant last week took the pageant to Sherry Macaulty, letting her know how much they missed her sweet spirit. At Macauley's home, they began as if starting the pageant over, then announced a special award. They recognized Macauley for always bringing laughter and joy to the pageant, and cheering for everyone. They presented her with a "Rappin' Granny G" crown, sash, spray of flowers and trophy.
"It was so precious," Wright said. "She is such a beautiful person. We love her so much."
Although she wears the crown and sash, Wright said she also shares the state title shares with the residents at local nursing facilities. Last week, when she visited Carriage House, the facility she frequents most often, she did so with her roses, sash and crown.
"I told them what went on and we sang. They were so happy," Wright said. "It was for them too."
A woman with a servant's heart, Wright will still be doing plenty of volunteer work around the Sulphur Springs community, especially at local nursing homes.
"I love my nursing homes. That's my pick right there," Wright said "We are out here to serve. That's what we are. We are all servants. Everything that happens, we are still servants."
Not even COVID could stopped her from lifting up the people in local nursing facilities, including singing for residents. She and staff at the facilities simply fond thought outside the box to come up with creative ways to do so during the pandemic.
"I said let's go and do the singing, but lets do it outside. So everybody got to wear their masks and then we still went and had a ball," Wright said. "I am so glad the Lord put that on my mind like that."