Pursuit of a stolen vehicle spanned two counties before concluded Tuesday morning with a collision in Commerce, according to arrest reports.
Hopkins County Sheriff's Office deputies were notified at 4:44 a.m. Tuesday, Oct. 4, 2022, that a stolen vehicle was believed to be traveling west on Interstate 30. Deputies reported spotting and getting behind a silver Toyota Corolla they believed to be the stolen car in question at mile marker 127 on I-30, and attempted to stop the driver. Instead of pulling over, however, the driver accelerated and continued west on I-30 to exit 116 in Brashear.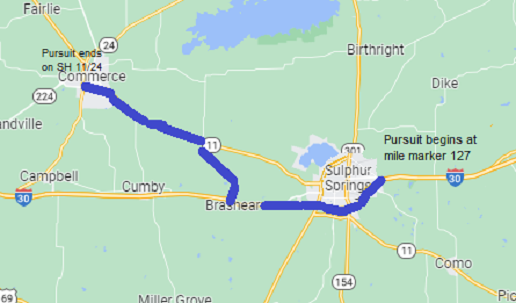 Deputies pursued the car as it turned north onto FM 2653. The car continued north until it reached State Highway 11, then turned west. The car continued west on SH 11 west into Hunt County, where it swerved into oncoming traffic, disregarded traffic lights and, at one point traveled into oncoming traffic on a one-way road. During the pursuit, the car lost a rear tire and, upon turning onto SH 11, lost control of the vehicle, causing the officer leading the pursuit to crash into the car, disabling both the car and deputy's patrol vehicle, ending the chase on State Highway 24 at SH 11 in Commerce.
The driver, identified in arrest reports as 38-year-old Joshua Lamar Rigsby Sr. of Wylie, was taken into custody at 5:25 a.m. Oct. 4, 2022. Records checks confirmed the car had been reported as stolen and Rigsby was wanted by Texarkana, Texas and Texarkana, Arkansas authorities on seven warrants, according to arrest reports.
Rigsby was transported to the county jail, where he was discovered to have concealed a baggy containing a small amount of marijuana and another bag with five tabs which field-tested positive as MDMA and weighed 1.1 grams, deputies alleged in arrest reports.
The Wylie man was booked into Hopkins County jail at 8:06 a.m. Tuesday on four Hopkins County felony charges — unauthorized use of a vehicle, evading arrest or detention in a vehicle, criminal mischief resulting in $2,500 worth or more but less than $30,000 worth of damages and possession of 1 gram or more but less than 4 grams of a Penalty Group 1 controlled substance — as well Texarkana, Texas warrants for engaging in organized criminal activity, unauthorized use of a vehicle and burglary of a building; and Texarkana, Arkansas warrants for a commercial burglary, breaking and entering, theft of property valued at less than $5,000 and first-degree criminal mischief.
Jail records show Rigsby is also known to use the names Christopher Jones, Hog Lil, Josh Lil, Boy Texas, Jason White and Richard Demon Williams. The 38-year-old remained in Hopkins County jail on all 11 charges late Wednesday morning, Oct. 5, 2022, according to arrest reports.
Hopkins County Sheriff's Deputies Josh Davis, Colt Patterson and Justin Wilkerson,and Sgt. Scott Davis were all credited with participating in the pursuit and arrest.
---
The Hopkins County Sheriff's Office is located at 298 Rosemont St., Sulphur Springs, TX 75482. Non-emergency calls can be made to (903) 438-4040.