A 52-year-old Sulphur Springs man was accused of injuring his mother during a disturbance at their rural residence Monday morning. A Como couple was jailed Sunday night on assault charges following what was reported as a rolling disturbance on State Highway 11 east.
Injury to An Elderly Complaint
Hopkins County Sheriff's Office Deputies Elijah Fite and Kevin Lester, and Sgt. Richard Greer responded at 9:47 a.m. Oct. 17, 2022, at a State Highway 19 south residence, where a son was reported to have physically picked up his mother and pushed her out of their RV, according to dispatch reports. When deputies arrived at 10 a.m. Monday, they were told the woman's son, Trenis Newman Turner, had wrapped her up and physically removed her from her residence, then refused to allow her back in. When she tried to re-enter her residence, Turner intentionally pushed his 74-year-old mother back onto the porch, causing her to fall on her knees, causing visible injuries and bruising, deputies were told.
Deputies called to the 52-year-old to try to get him to come out of the residence. Turner failed to come out or respond to the deputies' prompts after what was reported to be an ample amount of time. The woman wanted her biological son removed from the residence and charges pressed, so the deputies forced entry into the residence, where they found Turner lying on a bed, according to arrest reports.
Turner reportedly complied with deputies' commands without further incident, was taken into custody for injuring his mother at 10:53 a.m. and transported to Hopkins County jail. The 52-year-old Sulphur Springs man was booked into jail a 12:01 p.m. Monday, Oct. 17, 2022, on an injury to an elderly charge, according to arrest reports. He remained in the county jail Tuesday, Sept. 18, 2022 on the third-degree felony charge, according to jail reports.
Rolling Domestic Disturbance
Hopkins County Sheriff's Office Deputy Drew Fisher and Sgt. Tanner Steward responded at 9:21 p.m. Sunday, Oct. 16, 2022, to a report of a domestic disturbance in which the pair in question had reportedly pulled over on the side of State Highway 11 east near County Road 2401, and were fighting. Mail and miscellaneous other items were found on the side of the road where the pair was believed to have tussled.
Familiar with the involved parties due to past calls at their residence, deputies then drove to their address to try to locate them. While there, the deputies reported seeing the pair, noted in arrest reports to be common-law spouses who share at lease one child, drive by, continuing down the road instead of returning home. The pair allegedly sped away in a white Dodge Ram until deputies activated the lights on their patrol vehicle, then pulled over on County Road 2329.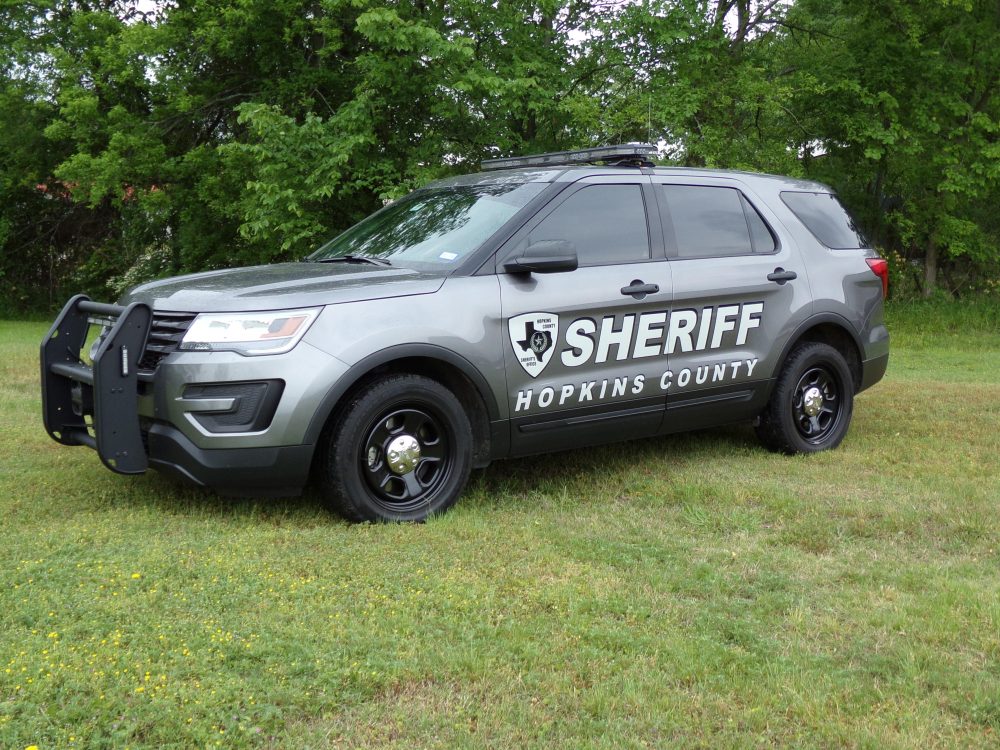 After talking to both common-law spouses in the truck, deputies determined the rolling disturbance initiated from West Main Street in Como and each had assaulted the other. Consequently, the 40-year-old Como man and 34-year-old Como woman were both arrested at 10:48 p.m. Oct. 16, and jailed around midnight on County Road 2329 for family violence assault.
The Como woman was released from Hopkins County jail Monday, Oct. 17, 2022, on a $2,000 bond on the Class A misdemeanor assault causing bodily injury to a family member charge. The Como man, however, remained in Hopkins County jail Tuesday, Oct. 18, 2022, in lieu of the $5,000 bond set on the Class A misdemeanor assault charge, according to jail reports.
---
KSST does not publish the names of people charged with misdemeanor crimes in staff-generated reports, only those accused of felony offenses.
---
---
The Hopkins County Sheriff's Office is located at 298 Rosemont St., Sulphur Springs, TX 75482. Non-emergency calls can be made to (903) 438-4040.