The Hopkins County United Way 2022-2023 campaign is off to a great start, with most donation packets delivered and $11,503.89 of the $150,000 goal raised over the past week, Hopkins County United Way campaign chair and officers reported during the first campaign workers report meeting Tuesday.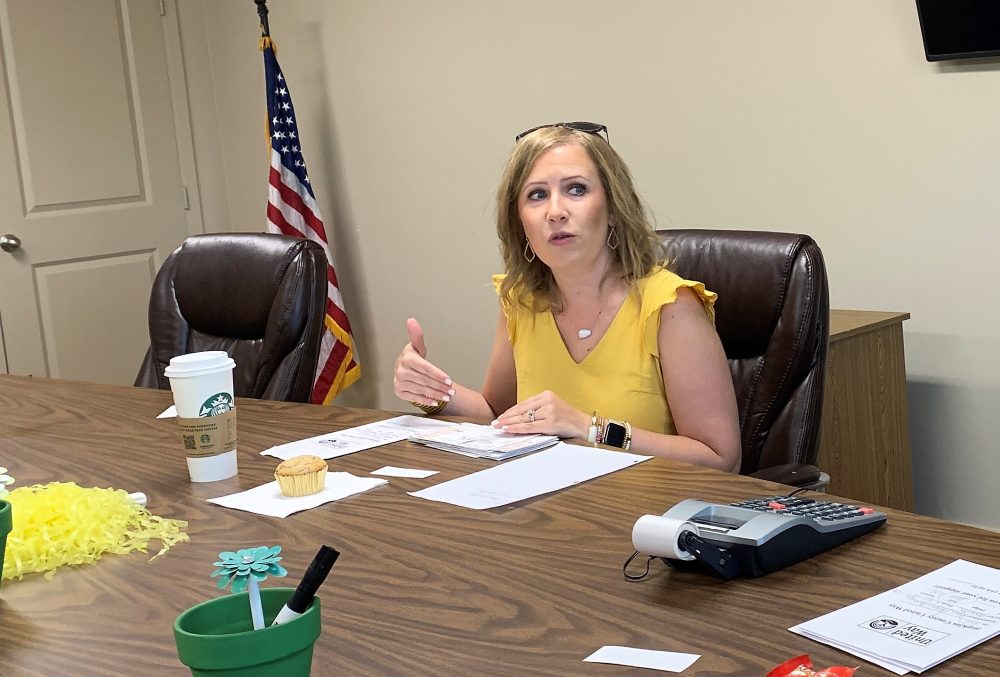 Donations have been made by private citizens, governmental entities, businesses and civic organizations to help the 18 local non-profits that have been allocated funding from this year's campaign. Among this week's contributors were Professional Land Title, Outdoor Power, Farmers Electric Cooperative, Judy and Chuck Jones, and the City of Sulphur Springs.
There have even been a few business people who told HCUW officers they have not been contacted yet and wanted to make sure their business is not overlooked for pledges and campaigns.
So far, the total is only about $2,500 behind last year's tally at the first campaign workers report meeting. Last year, the total included three notable donations, those of FEC Charitable Foundation, the City of Sulphur Springs and UPS. This year, HCUW has yet to receive a UPS donation. Minus that amount, the Oct. 4, 2022 total is very close to the amount that'd been donated to HCUW as of the first workers report meeting of 2021.
"That's amazing. We are off to a really good start," said HCUW 2022-23 President Kristy Moseley.
Donations are typically made by either a set amount or a set pledge per paycheck to be paid through payroll deductions over the next year, which are then sent on by the contributors' employer. Not all businesses that participate in HCUW offer payroll deductions. Some businesses match their employees' contributions and some offer incentives, such as a prime parking spot, being allowed to wear jeans, and drawings for cash or gift cards procured by the business for the occasion.
Those not affiliated with or who choose not to make a contribution through their place employment may do so individually, and even given in honor or memory of others. Individual contributions may be mailed to Hopkins County United Way Campaign Headquarters, PO Box 735, Sulphur Springs, TX 75483. Donations may also be made through HCUW's Facebook page and website, via paypal. Simply click the shop on website link on Facebook or Make A Donation button at https://hcuw.org/.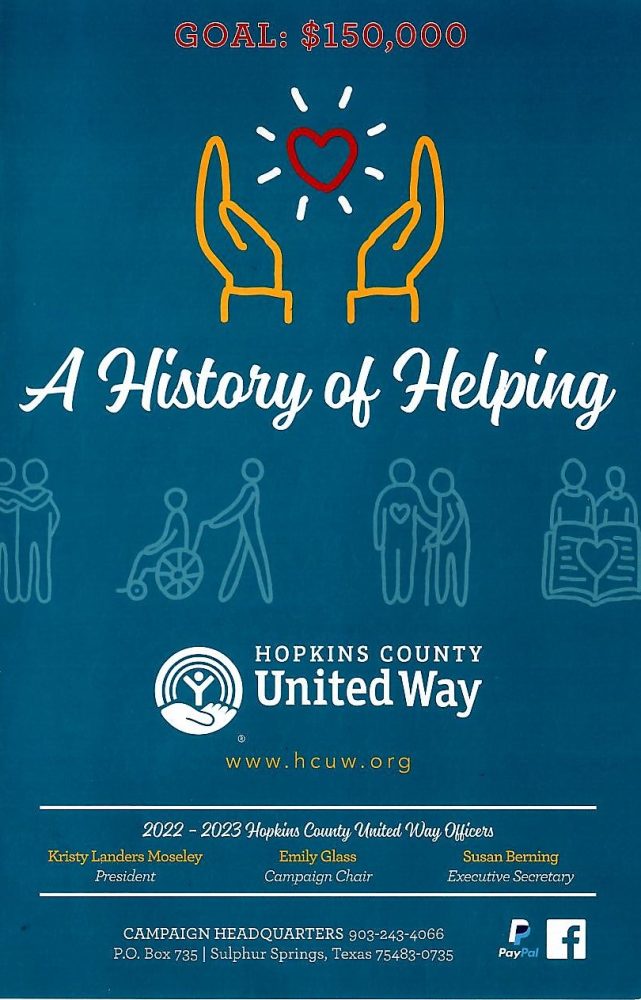 Campaign workers are encouraged to attend the weekly HCUW report meeting to turn in any contributions they've collected thus far, and join in the fun. A drawing is held at each meeting, with the workers whose names are selected to choose a prize from among the donated items. Occasionally, HCUW members and officers bring edible treats for any who care to partake. Those who attended this week's meeting also received a "100 Grand" to enjoy. And, some even bring pom poms to cheer each donation that is turned in, as every donation, no matter how big or small, counts in the overall total.
The weekly meetings provide fellowship of like-minded individuals working together to help as many residents as possible through the agencies that are supported by HCUW. This year, 18 agencies have each been designated a portion of the $150,000 campaign goal, which will reach all age groups and sections of the population offering services that vary from helping meet basic needs, to offering counseling, support and enrichment activities.
Campaign volunteers who are unable to attend the weekly meetings may send them with another campaign worker, drop them off at Landers Creek on Main Street, or contact HCUW Campaign Chair Emily Glass or Executive Secretary Susan Berning at 903-243-4066 to arrange to have them picked up. Requests to have a HCUW campaign official speak at a business or organization, may also be directed to Glass or Berning.
Hopkins County United Way is a leadership and support organization for local nonprofit organizations based in Hopkins County, Texas. All funding decisions are made with the input of local leaders and community stakeholders.
HCUW is part of United Way Worldwide, found in nearly 1,800 communities across more than 40 countries and territories around the world.  United Way is focused on creating community-based and community-led solutions that strengthen the cornerstones for a good quality of life: education, financial stability and health.
United Way engages people and organizations in innovative solutions to help transform every community around the world into a strong one, with jobs that pay a livable wage, good schools and a healthy environment.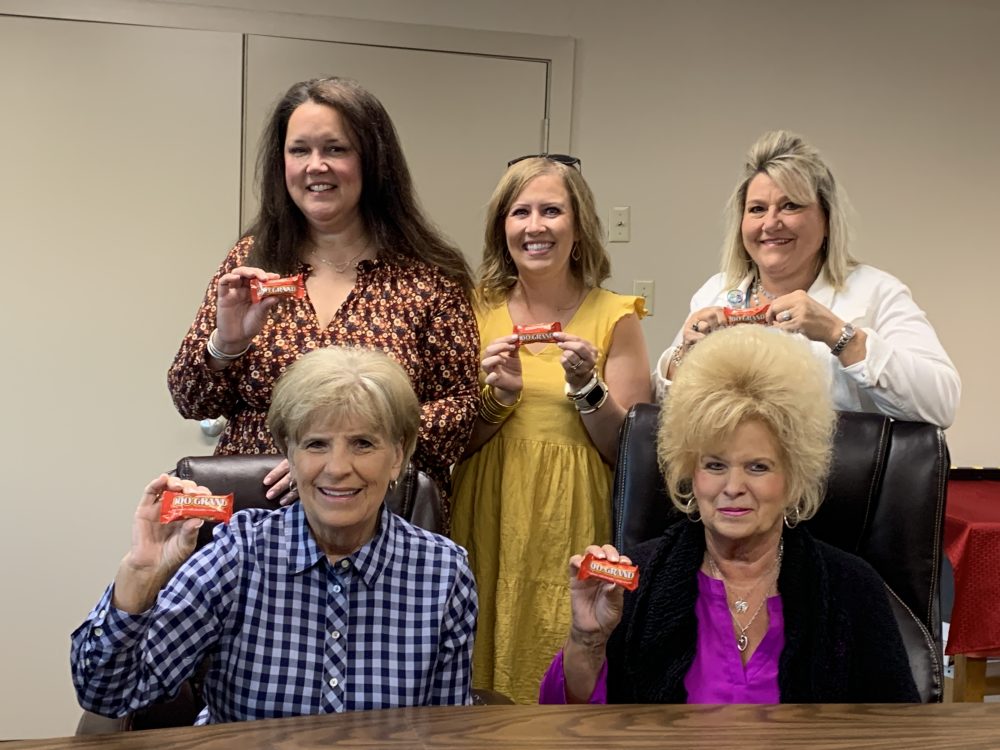 Additional information about Hopkins County United Way, including to view videos from campaign workers and about the recipient organizations, can be found on groups Facebook page and website, by contacting any volunteer campaign worker, Glass or Berning.
Be sure to watch as the HCUW thermometer (located on Gilmer Street by Sulphur Springs Fire Station at Gilmer, Bill Bradford and Tennessee Road) rises as the campaign heats up, reflecting the donations collected each week of the campaign.