Residents Reminded To Change Batteries In Smoke Detectors, Have A Fire Escape Plan
Hopkins County Commissioners Court and Hopkins County Fire Department are joining agencies across the country in observing Oct. 9-15, 2022, as Fire Prevention Week, and encourage others to do the same.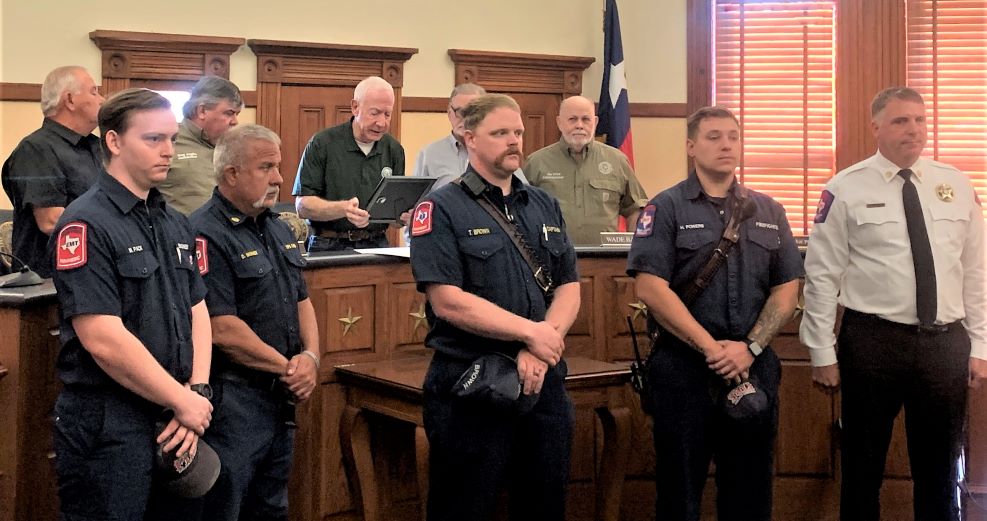 Hopkins County Fire Marshal Andy Endsley said while October is Fire Prevention Month, Fire Prevention Week has been observed since the 1920s.
Hopkins County Judge Robert Newsom, reading a Fire Prevention Week proclamation during Commissioners Court Oct. 10, noted that Fire Prevention Week is the longest running public health and safety observation on record at the National Archives and Records Administration Library Information Center. President Woodrow Wilson issued the first National Fire Prevention Day declaration in 1920. Each United States President has signed a proclamation for the national observance annually every year since 1925.
Since 1922, Fire Prevention Week has been observed Sunday-Saturday of the week in which Oct. 9 falls, this coincides with the Great Chicago Fire, which began on Oct. 8, 1871, but most of its damage occurred on Oct. 9, 1871. The blaze killed more than 250 people, destroyed more than 17,400 structures across more than 2,000 acres, and left an estimated 100,000 homeless.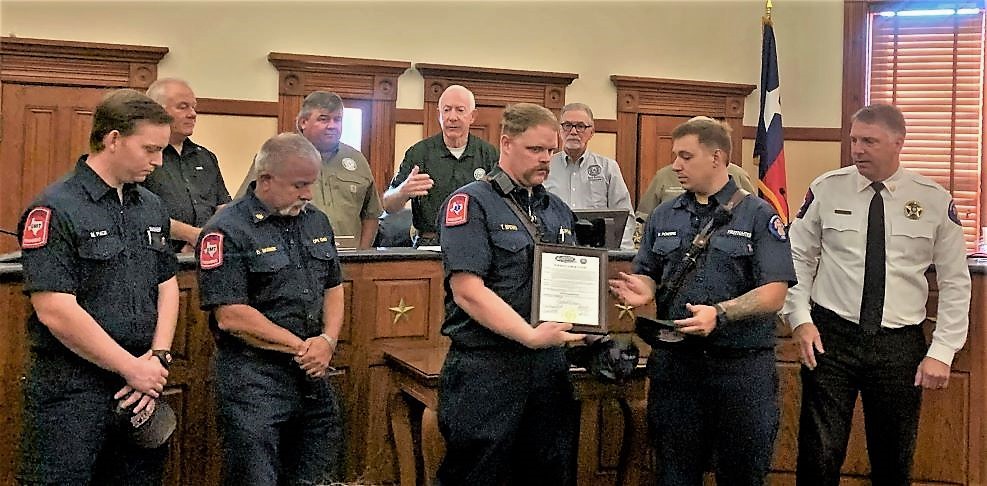 Fire Prevention Week, Newsom noted, is also observed "to save lives and protect property by keeping the public informed about the importance of fire prevention." The 2022 Fire Prevention Week theme is "Fire won't wait. Plan your escape."
Endsley said essentially, it's a time to remind everyone "the importance of having a home fire escape plan." It's also a good time to remind residents of the potentially life-saving value of having a fire extinguisher in the home, and the importance of checking functionality and changing batteries in smoke detectors (and, if in use, CO or carbon monoxide) regularly.
Smoke detectors have been proven to provide the necessary warning to save lives, but can only function properly if they are functioning properly. One easy way to remember to change and check smoke detector batteries at least twice a year, is to do so the day each fall and spring of local time change between Standard and Day Light Savings Times.
Newsom presented a framed copy of the proclamation to Hopkins County firefighters to display at HCFD Station 20.
Many fire departments, both paid and volunteer, designate time during the Fire Prevention Week and Fire Prevention (Safety) Month to host or visit children and groups at schools and where they otherwise meet, to provide fire safety education lessons and reminders. This helps younger children become familiar with the sounds and attire firefighters use, so they won't be as afraid if firefighters are called upon to respond at their location to offer assistance, and to help prepare kids to take appropriate action if a fire occurs in their home, school or other location.