Hopkins County United Way received another $27,313 in donations and pledges during the third week of the 2022-2023 fundraising campaign. Overall, that makes $53,835.27 of the $150,000 campaign goal to raise $150,000 to benefit 18 local agencies.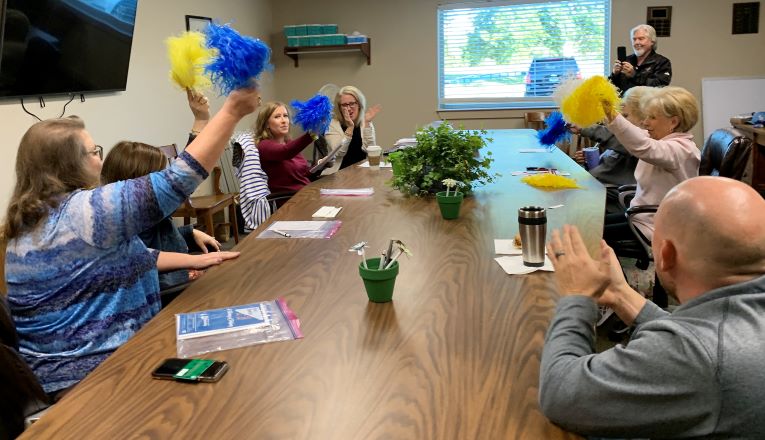 While a little behind last year's pace, when approximately 40% of the overall goal had been donated as of the third campaign workers' weekly report meeting, the $27,313 turned in on Oct. 18, 2022 was only slightly less than the $27,786 turned in on Oct. 19, 2021.
HCUW officers and workers are encouraged by the reports that are coming in that the goal will be met by the conclusion of the campaign through the faithful and generous giving of local industries, schools, organizations and individuals.
As has been the case for years, HCUW workers and officers cheered, excited and appreciative Tuesday for each contribution, regardless of how big or small, as every penny get the campaign closer to the goal of helping so many in need of the services or provisions each agency provides and providing enrichment activities the HCUW recipient agency offer. Some even bring pompoms to add a bit more fun for the occasion.
While not are able to attend the weekly meetings, held at 9 a.m. Tuesday at Hopkins County AgriLife Extension Office except on Election Day, most send donation packets either with another campaign volunteer or get them to Campaign Chair Emily Glass, Executive Secretary Susan Berning or Campaign President Kristy Moseley ahead of time, so those amounts can be counted weekly.
Natalie White turned in a donation for Corner Grub. Meredith Longino, a new HCUW volunteer has gotten all of her packets in already. Among the donors announced were East Texas Physical Therapy, Southwest Dairy Center and Janet Martin Realty.
Glass reported a donation received from Sulphur Springs Sign Shop. Hillary Young turned in a contribution from Spot Nutrition and M&W Feed, Echo Publishing Co. Laura Jones turned in contributions from Everything Unique and Miss Behavin'.
Sharla Campbell sent in contributions from A&S Air Conditioning, Fieldhouse Sports, The Shoe Inn and Carriage House Manor. Among the donations Kayla Price sent in was one from Gloria Mitchell Germania.
Beverley Owens reported donations were received from Texas Trading Company, Bel Amie Spa, Joy Wilson at Flippin Printing and Millennium Shopper, Brumley Uniform and Briley Barker Shop. Linda Christian turned a contribution from Dr. Daniel Lawrence. Beverley reported she still has packets out to collect.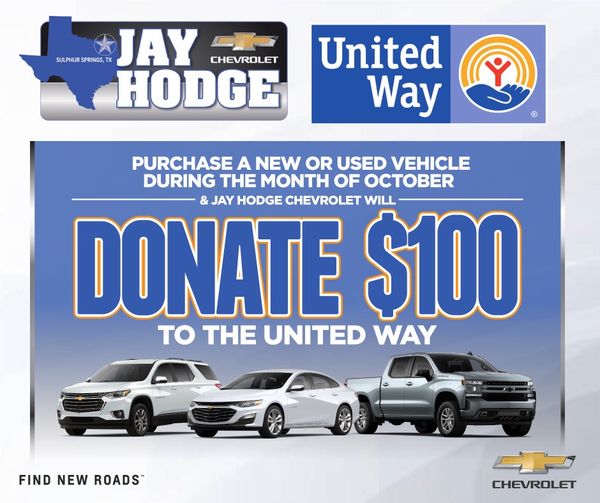 Bill Owens also brought in what he calls "a down payment" from Jay Hodge Chevrolet. Owens brings checks with him to campaign meetings, each another donation from Jay Hodge Chevrolet-Sulphur Springs. Each year, the dealership designates October as HCUW giveback month. This year, the dealership has pledged to donate to United Way $100 from every vehicle sold, used or new, during the month of October. The business also will accept donations to go to HCUW too, should anyone wish to do so. The HCUW campaign is also promoted on the business' social media pages as well.
Bill Owns also reported a donation was received from Dickies BBQ.
Donations also were turned in from Discount Wheel and Tire, Cody Drug, Freedom Realty, Rick's Oil Depot, Wayne Cooper Construction and Bell Concrete.
Mike Horne reported contributions have been turned in for Bodacious, Mattison Insurance Agency, Century 21 First Group and the Rotary Club.
Charlotte Henderson reported on donations made by Joe Bob's Stores and Offices. She reported one business expected to have a donation ready in a couple of weeks and the superintendent at a local school reported the district would continue collecting funds for HCUW through the end of the month.
Mary Ferguson turned in three donation packets, including from Danna's and Venus Nails. She anticipates returning Friday to three additional businesses to see if they have donation packets ready to be picked up and counted.
Berning noted Price Orwosky turned in donations from Murray-Orwosky Funeral Home, Bear Littleton State Farm which includes a corporate match, Tapp Funeral Home, Farm Country, Northeast Texas Farmers Coop, Toliver Ford and the CANHelp Thrift Store.
John Berning turned in donations from Smith McDowell & Ginn, Kiwanis Club, Joe's Exxon and Mobile, and Farmers Insurance-John Berning.
Larry Willis turned in an Oncor Corporate contribution, while Larry Crowson turned in donations form Saputo, AK Gillis and Clayton Homes.
All of these donations and others received by HCUW campaign volunteers over the last week totaled $27,313. Added to the previous total, that brings the overall total of contributions made so far to the HCUW 2022-23 campaign to $53,835.27.