4-Way Stop Signs At City Intersection; Thermo Ag Licenses; Ashoka Tax Abatement, Water Sales On Nov. 1 Agenda
Sulphur Springs City Council will consider two items related to 4 city streets, Thermo ag licenses, a tax abatement for Ashoka Steel and a water district's sales request, among others during the regular monthly meeting Tuesday, Nov. 1, 2022.
Ashoka Steel/Thermo Property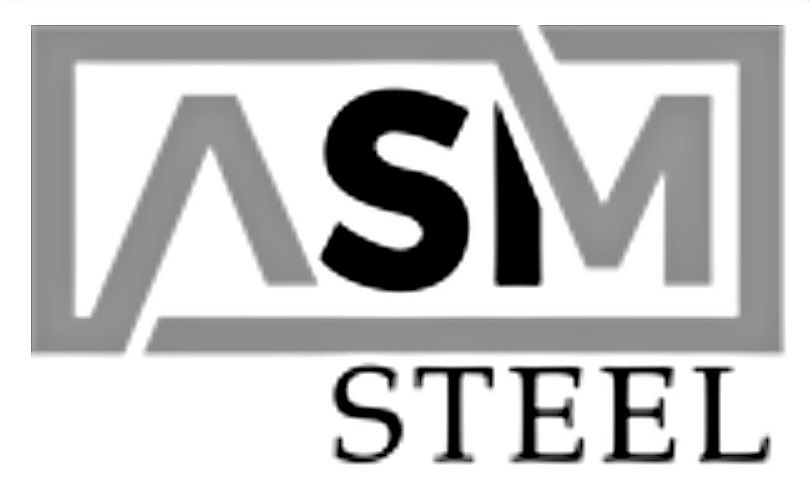 The City Council will first meet at 6:30 p.m. in executive session to consult with an attorney and deliberations regarding economic development for Ashoka Steel. The City Council will then reconvene at 7 p.m. in regular session for the rest of the meeting, including any action coming out of the closed session.
The elected city board is also scheduled to consider passing a resolution authorizing a tax abatement with Ashoka Steel, an incentive the business has requested to invest a minimum of $245 million in the city-owned old Thermo property to establish the business' first plant in the USA, a facility that will use scrap metal to produce rebar. The business anticipates the project will create 315 jobs, which it will maintain at the new facility, and is expected with a couple of years to result in an expansion of the production facility as well.
Ashoka Steel Mills received tax abatements of 70% for the first five years of the agreements and 50% for the second five-years of the agreements with Hopkins County and Hopkins County Hospital District Board of Directors earlier this month.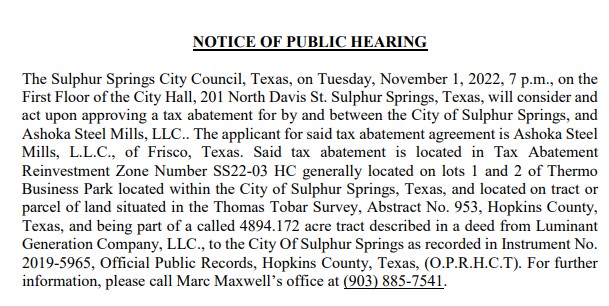 Also presented for City Council consideration are five agricultural license agreements for use of property at the Thermo property, and giving the city manger authority to sign the agreements. The city has continued to allow leases of certain sections of the property for agricultural use since attaining the property from the utility provider
City Streets
Sulphur Springs City Council is also scheduled to consider approving an ordinance which would amend Chapter 25 in the code of ordinances, adding to section 25-35, setting a prima facie speed limit on Mockingbird Lane from East Shannon Road to Posey Lane (from I-30 south to Posey/State Highway 11 east).
Also proposed is a resolution authorizing four-way stop signs where Jackson Street, J.D. Franklin Street and College Street intersect.
Other Agenda Items
The City Council will also be asked to consider approving resolutions for:
Sale of water to Upper Trinity Regional Water District;
Re-adopting civil rights policies for Community Development Block Grant #70800001008 and all future federally funded projects;
Authorizing the city manager to execute a contract, after its reviewed by the city attorney, to hire Ark-Tex Council of Governments (North East Texas Economic Development District) to provide Professional Grant Administration and Management Services for the Economic Adjustment Assistance American Rescue Plan Act (EAAARPA) Disaster Assistance under the Public Works Grant Funding Project Number 08-79-05698.
The 7 p.m. Nov. 1, 2022, Agenda also includes for City Council consideration:
Using Sourcewell to purchase a Volvo Wheel Loader from Romco Eqipment Co., Inc.; and
the consent agenda which a request for a 380 agreement for 133 Goodman Street and 604 Putman Street, in addition to meeting minutes from past council, city committee and EDC board meetings.
The city manager is slated to give his monthly reports and time will be allocated during public forum for any visitors or citizens who wish to address the council.
The regular City Council meeting is conducted at 7 p.m. the first Tuesday of each month (Nov. 1, 2022) in the Council Chambers at the City Municipal Building on Davis Street.