By Jennifer Heitman, Senior Market Development, CHRISTUS Mother Frances Hospital – Sulphur Springs,

[email protected]
Go Pink for Breast Cancer Awareness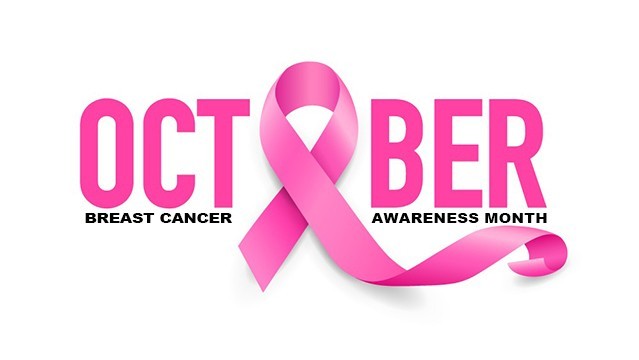 This past Friday night, I was pleased to see many of our local Northeast Texas high schools "going pink" for Breast Cancer Awareness Month. We even see the pink accents from socks to mouth guards that the NFL football players are wearing.
This is with good reason. Breast cancer affects almost 1 in 8 women in the United States and is a curable disease if detected early enough. The American Cancer Society estimates that 287,850 new cases of invasive breast cancer will be diagnosed this year. These alarming statistics come with a plea for women to understand the importance of scheduling an annual mammogram.
The Ruth & Jack Gillis Women's Center inside of the CHRISTUS Mother Frances Hospital in Sulphur Springs provides compassionate care and services needed with the most innovative technology available. This includes Digital 3D mammography, which has proven to increase the detection of breast cancer. A 3D mammogram captures multiple images, or slices, of the breast from several angles, creating a multi-directional image in which masses and breast cancer are easier to see. It benefits women with dense breast tissue by allowing for a more sensitive evaluation. It also reduces the chances of unnecessary screenings due to false alarms.
We encourage you to wear pink, and let it be a reminder to you and your loved ones to be proactive about your health. Schedule your mammogram here today by speaking with your physician, or call 903.438.4325.
Give Back through AmazonSmile
Did you know that you can do nothing other than your regular online shopping at Amazon and give back to our Hopkins County Health Care Foundation? The program is easy and does not cost anything to the Amazon customer.

All a person needs to do is shop through smile.amazon.com instead of amazon.com. Once on smile.amazon.com or the app, be sure to denote the Hopkins County Health Care Foundation as the beneficiary. Do this by going to "Account &Lists" then "Your Account" drop down. Click on Amazon Smile. From there a charity (Hopkins County Health Care Foundation, please) may be designated or changed. If using the app, select "Change your Charity" under Settings.
Purchase of certain products will generate a donation of 0.5% of the sale to the HCHC Foundation. It will cost nothing extra to the Amazon customer, but will be helpful to the Foundation, allowing it to do even more to promote health care initiatives in Hopkins County. Thank you for your contribution!
Free Student Athlete Injury Clinic Continues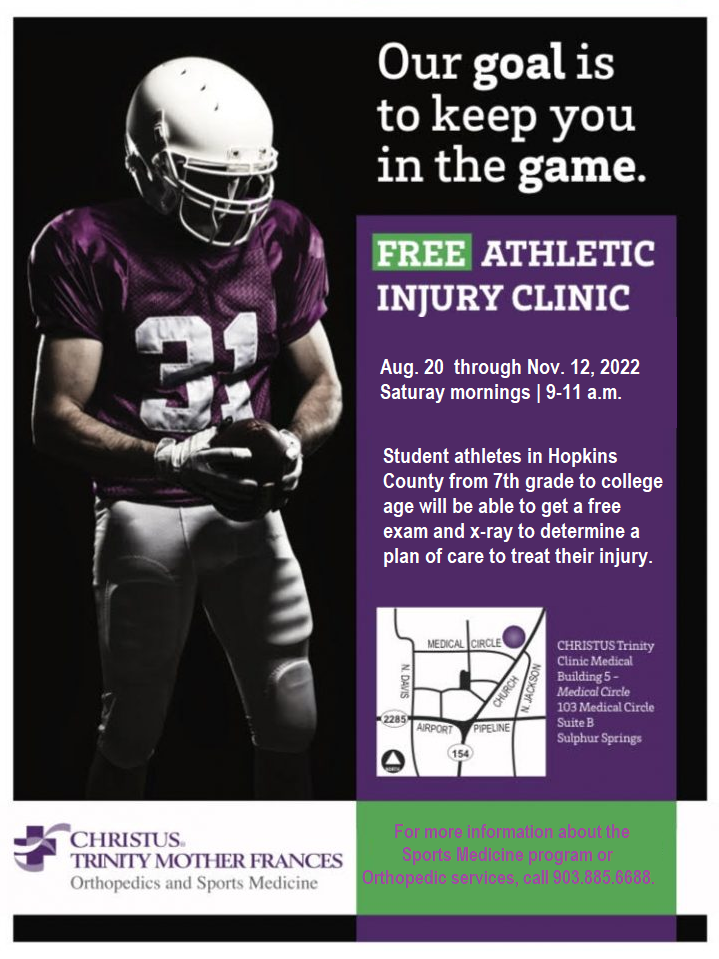 CHRISTUS Orthopedics and Sports Medicine of Sulphur Springs continues to offer a FREE Saturday Athletic Injury Clinic for all student athletes, all sports included.
The clinic is open every Saturday from 9 a.m. to 11 a.m. through Nov. 12. Student athletes from 7th grade to college age will be able to get a free exam and x-ray to determine a plan of care to treat their injury.
The clinic will be held at our CHRISTUS Trinity Clinic Orthopedics, Medical Building 5, at 103B Medical Circle in Sulphur Springs.
For more information about our Sports Medicine program or Orthopedic services, please call 903.885.6688.
---
CHRISTUS Trinity Mother Frances Health System includes CHRISTUS Mother Frances Hospitals – Tyler, South Tyler, Jacksonville, Winnsboro and Sulphur Springs, the CHRISTUS Trinity Mother Frances Louis and Peaches Owen Heart Hospital – Tyler, CHRISTUS Trinity Mother Frances Rehabilitation Hospital a partner of Encompass Health, Tyler Continue CARE Hospital at CHRISTUS Mother Frances Hospital, a long-term acute care facility, and CHRISTUS Trinity Clinic. CHRISTUS Trinity Clinic is the area's preferred multi-specialty medical group, with more than 400 Physicians and Advanced Practice Providers representing 36 specialties in 34 locations serving Northeast Texas across 41 counties. For more information on services available through CHRISTUS Trinity Mother Frances Health System, visit christustmf.org
Bed count – 402 – CHRISTUS Mother Frances Hospital – Tyler
Bed count – 8 – CHRISTUS Mother Frances Hospital – South Tyler
Bed count – 25 – CHRISTUS Mother Frances Hospital – Jacksonville
Bed Count – 96 – CHRISTUS Mother Frances Hospital – Sulphur Springs
Bed count – 25 – CHRISTUS Mother Frances Hospital – Winnsboro
Bed count – 94 – CHRISTUS Trinity Mother Frances Rehabilitation Hospital
Bed count – 96 – CHRISTUS Trinity Mother Frances Louis and Peaches Owen Heart – Tyler
Bed count – 51 – Tyler Continue CARE Hospital at CHRISTUS Mother Frances Hospital