A funeral service for Barbara Cockrum, age 75, of Birthright, Texas, will be held at 2 p.m. Tuesday, October 4, 2022, at Cooper Church of Christ with Cade Kennedy, Carson Kennedy, Brock Kennedy, John Pat Kennedy, Brad Wood and Alford Echols serving as pallbearers. Honorary pallbearers include Tommy Long, Danny Evans, Tim Menke, Steve Drummond, Joe Smiddy and Ken James. Visitation will be held from 6 to 8 p.m. Monday, October 3, at Murray-Orwosky Funeral Home.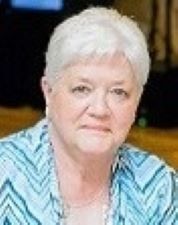 Mrs. Cockrum passed away on September 30, 2022. Barbara was born in Paris, Texas, on October 12, 1946, to W.B. Gunter and Helen Jo (Toon) Gunter
She married Kenneth Cockrum in Cooper, Texas, on March 31, 1967.
She was a graduate of Cooper High School and East Texas State University, where she obtained her Bachelor of Science degree. She taught Business, English and Computer Science classes at North Hopkins ISD for 35 years.
Barbara was a member of Cooper Church of Christ, Retired Teachers Association, Daughters of the American Revolution (DAR) and The Lee Society of Virginia.
She enjoyed traveling with her sister, Debra, and had visited all but 5 states in the country. She was an excellent cook and loved preparing meals for her family. This gave her great joy. She even made several college trips to cook for her grandsons and their friends, and was an avid sports fan.
She loved the students of North Hopkins ISD, where she continued her passion for education by substituting many years after her retirement. During this time, she also worked as a UIL competition judge for prose, poetry and speaking competitions.
She attended the Cooper Church of Christ for her entire life, a faithful member for 75 years.
She is survived by her husband, Kenneth; daughter, Stephanie Kennedy and husband, John; grandchildren Cade Kennedy, Carson Kennedy, Brock Kennedy, John Pat Kennedy and wife Michelle; sister, Debra Wood; sisters-in-law, Elvira Echols and Sharlene Brice; and a host of nieces and nephews she loved dearly.
Barbara was preceded in death by her parents and her twin infant daughters.
Arrangements under the direction of Murray-Orwosky Funeral Home.
The online register can be signed at www.murrayorwosky.com
---