Two people were arrested and a search warrant was executed at a Fisher Street residence last week, according to arrest reports.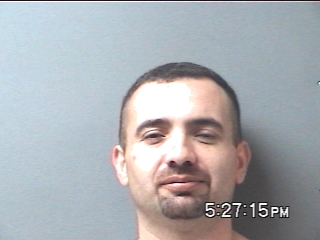 Sulphur Springs-Hopkins County Special Crimes Unit Lt. Mark Estes reported taking Fernando Montes De Oca and Malissa Louise "Nana" Larey into custody upon arrival at 10:03 a.m. Thursday, Oct. 13, 2022, at their Fisher Street residence.
Estes reported multiple undercover purchases of methamphetamine were made from Montes De Oca. Overall, officials reported seizing just under 30 grams of meth. The purchases are all alleged to have occurred within a drug-free zone. Officers obtained warrants for Montes De Oca's arrest on two manufacture or delivery of 4 grams or more but less than 200 grams of a Penalty Group 1 controlled substance in a drug-free zone and took the 47-year-old man into custody Thursday at his residence. A search warrant also executed Oct. 13 at the pair's residence Thursday allegedly resulted in additional evidence being gathered and the man's truck being seized, Estes alleged in arrest reports. The 44-year-old Sulphur Springs resident allegedly claimed ownership of less than 1 gram of suspected meth located and was taken to jail for possession of less than 1 gram of a Penalty Group 1 controlled substance in a drug-free zone, Estes noted in arrest reports.
Montes De Oca remained in Hopkins County jail Monday, Oct. 17, 2022, in lieu of $200,000 bond — $100,000 per first degree felony manufacture/delivery charge. Larey was released from Hopkins County jail Friday, Oct. 14, 2022, on a $5,000 bond on the third-degree felony possession charge, according to jail reports.
KSSTRadio.com publishes Sulphur Springs Police Department reports and news. The Police Department is located at 125 Davis St., Sulphur Springs, Texas. Non-emergency calls can be made to (903) 885-7602.
If you have an emergency dial 9-1-1.
The Sulphur Springs Police Department continues to serve its citizens with pride in its overall mission and will strive to provide the best possible police force in the 21st century.
---
The Hopkins County Sheriff's Office is located at 298 Rosemont St., Sulphur Springs, TX 75482. Non-emergency calls can be made to (903) 438-4040.