A venue change has been announced for the Hopkins County Genealogical Society's Annual Fall Seminar. The Oct. 15, 2022 event will now be held in the Genealogical Society's Research Library, located just inside Sulphur Springs Public Library, at 611 North Davis St. in Sulphur Springs.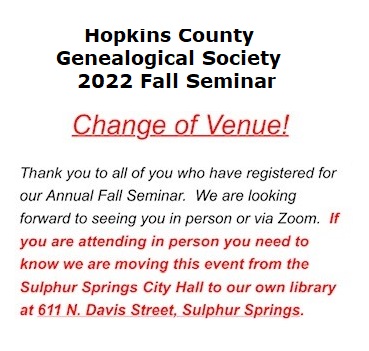 The 2022 Fall Seminar will be held from 8:30 a.m. to 3:30 p.m. with John A. Sellers, 5th generation Hopkins County native HCCGS President since 2017, as the featured speaker. Sellers will hold four sessions each covering one of the following topics:
Learning Where Your Ancestors Played, Prayed, Lived and Died
To Be, To We, To Pass
The ABCs and Double S of Census Research
Was Grandpa "His Brother's Keeper?"
There's still time for any who have yet to register for the fall seminar. Cost is $30. Attend in person or virtually by Zoom. A link will be provided for those indicating they will be attending virtually via Zoom.
"We have worked hard this past year to improve our virtual experience and feel sure you will enjoy that experience almost as much as being with us in person!" Rhonda Bechhold, HCGS 1st Vice President of Programs, said in a release.
To register, complete the registration form (Click here for link or download from below) and return with check payable to Hopkins County Genealogical Society, Fall Seminar, to PO Box 624, Sulphur Springs, TX 75483.
For more information, call HCGS at 903-885-8523 or send an email to [email protected].
The HCGS website, https://hcgstx.org/, also has details about the fall virtual "lock-in" from 9 a.m. to 6 p.m. Friday, Oct. 21, 2022, the society and available resources for genealogical research.