Sulphur Springs City Manager Marc Maxwell Tuesday evening, Sept. 6, 2022, presented to to the City Council in a Memorandum as well as aloud the following monthly manager's report:
CLAIMS
We did not have any workers compensation claims in August. We had one minor liability claim in August.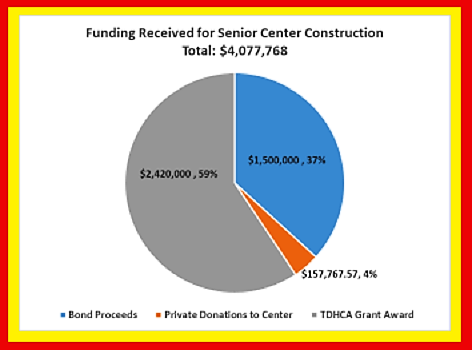 SENIOR CITIZENS CENTER
We have been awarded a $2.4 million grant from the Texas Department of Housing and Community Affairs (TDHCA). This does not mean that we can get started on the project yet. We must first sign a contract with the TDHCA.
Before TDHCA provides a contract for our signature, they must finish their environmental clearance process which involves 2 different comment periods, the last of which will conclude September 28.
After that TDHCA says it will take about a week to prepare the contract and forward it to the City. If all goes as planned, we should be able to sign the contract in early October.
It is important to note that if we spend any money on the senior citizen center before the contract is signed, that money will NOT be reimbursed by the grant.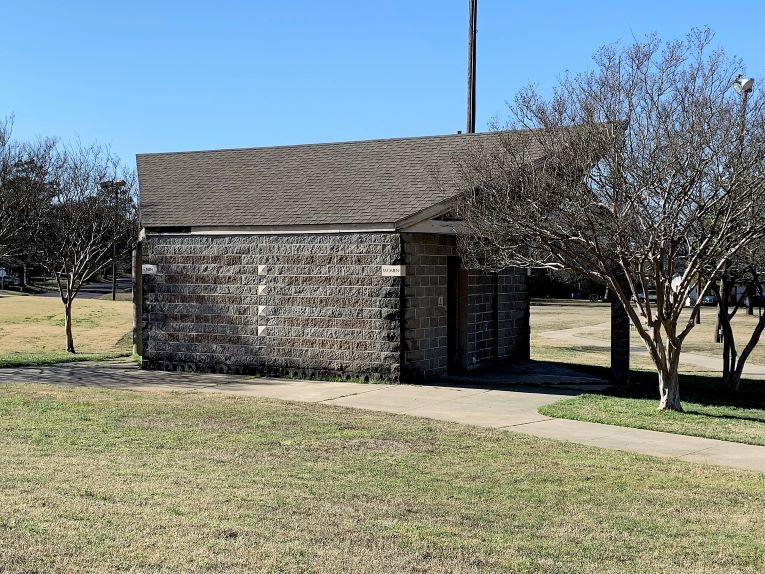 PACIFIC PARK
The new bathroom has been installed. It is made entirely of concrete, even the roof. You could roll it down a hill and pick it up and use it. The installers told us that actually happened once.
The old bathroom has been demolished.
XLNT Construction should begin construction on the basketball pavilion soon.
COLLEGE STREET
This project is slowly progressing eastward. This contractor is very slow.
REVENUES AND EXPENDITURES
Finance Director Lesa Smith will not present a report on revenues and expenditures as she has been deep in the budget this month.
STREET IMPROVEMENT PROGRAM
Texana Land and Asphalt has resumed paving the streets on our SIP list. I have crossed out the completed streets on the list below: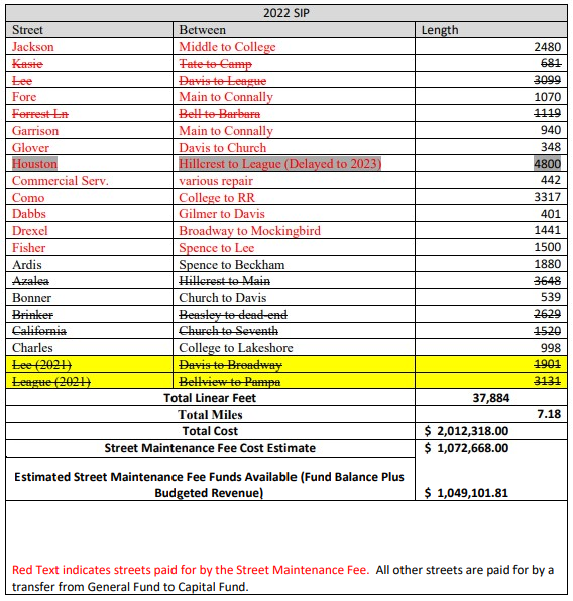 MISCELLANEOUS
Elsewhere around the city, employees:
Reprogrammed school zone lights
Restored power to Highway 11 lift station.
Treated wastewater to a daily average total suspended solids reading or .16 mg/L.
Repaired 40 water main ruptures.
Replaced 8 water meters.
Repaired a fire hydrant that was struck by a vehicle.
Unstopped 22 sewer mains.
Washed 75,000 feet of sewer mains.
Repaired 1 sewer main.
Hauled 386 tons of sludge to the landfill.
Sold 193 million gallons of potable water.
Sold 5,328 gallons of AvGas and 13,593 gallons of JetA fuel.
Checked out 3,766 items from the library plus 742 eBooks.
Responded to 270 fire/rescue calls including 3 structure fires and a vehicle fire.
Performed preventative maintenance on 79 fire hydrants.
Cleaned and repaired the Hopkins County Veterans Memorial fountain.
Repaired 168 potholes.
Made 29 extensive street repairs following utility repairs.
Replaced a few stop signs, speed limit signs and slow, children playing signs.
Cleaned out stormwater catch basins 3 times.
Removed 2 fallen trees from the street.
Demolished and removed structures at 631 sunset, 409 S Moore, and 327 Magnolia.
Responded to 251 animal control calls.
Achieved an 80% adoption rate.
Made 11 felony arrests in the Special Crimes Unit.
Responded to 42 accidents, wrote 615 citations, recorded 38 offenses, and made
62 arrests on the Patrol Division.
Conducted 56 building inspections, 23 electrical inspections, 13 plumbing inspections, 3 mechanical inspections and issued 18 building permits.