Approximately 40-50 turned out Tuesday morning at Pioneer Café for a meet and greet with Dan Patrick, incumbent Republican candidate seeking reelection as lieutenant governor. Patrick rolled in around 8 a.m. Sept. 27, 2022, as part of a bus tour of the Northeast Texas area. He began his bus tour in late August and plans stops in 131 cities before he finishes up.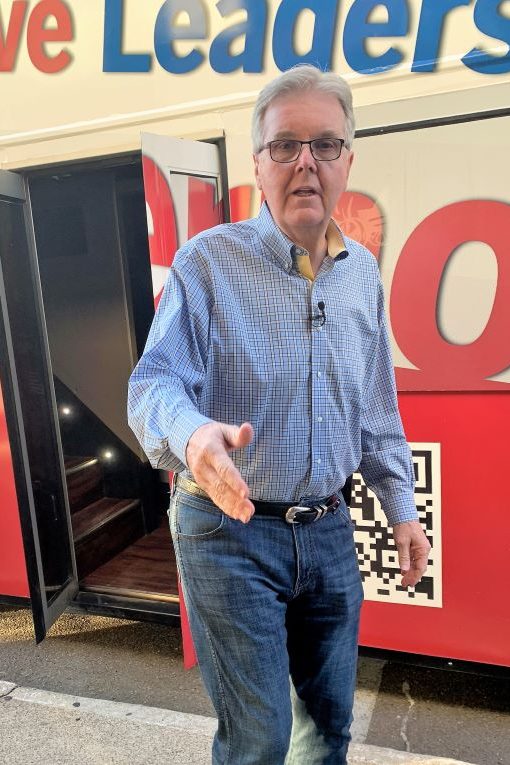 The incumbent made his way around the room, shaking hands and taking a moment to speak with those present, including several local elected and influential Republicans.
During his visit in Sulphur Springs, Patrick discussed briefly with local media the importance for all eligible Texans, especial rural Texans, to get out and vote. The election hinges on the vote from small towns. He asks citizens to vote Red, to prevent Teas from being changed to be like California. He is against the destruction of the oil and gas industry and for strengthened border security.
Early voting begins Oct. 24 and continues through Nov. 4, with Election Day on Nov. 8, 2022. The last day to register to vote in the November elections in Texas is Oct. 11.
Patrick was first elected as lieutenant governor of Texas in 2014, began serving in 2015, was re-elected in 2018 and seeks another term.
The Republican incumbent candidate encourages all Texans to get out and vote, especially small town and rural Texans on whom several elections could hinge. Before he was elected lieutenant governor, Patrick was twice elected to the Texas Senate, representing part of Houston and Northwest Harris County. DanPatrick.org also states the incumbent is a small-business man, a former radio host, television anchor, sportscaster, musician, Christian author and movie producer.
Patrick has been married to wife Jan, a former schoolteacher, for 47 years; they have one son, Ryan; one daughter, Shane; and seven grandchildren.
Patrick faces Libertarian challenger Shanna Steele and Democratic challenger Mike Collier for the office of lieutenant governor on Nov. 8, 2022, ballots. A rally was scheduled at noon Sept. 27, 2022, for Collier at Sulphur Springs Country Club.