Downtown Sulphur Springs will smell like a steak house tomorrow, thanks to the efforts of the 30 grilling teams competing for the cash prize and bragging rights during the 2022 NETBIO Cattleman's Classic and Ribeye Roundup, which kicks off at noon.
The Ribeye Roundup, held the first Saturday in October, typically features 30 cook teams competing, offering their best ribeye steak, with a cash prize going to the top rated team. This year, the event will also feature a Junior Championship Steak Cookoff, with youth divided into two age divisions.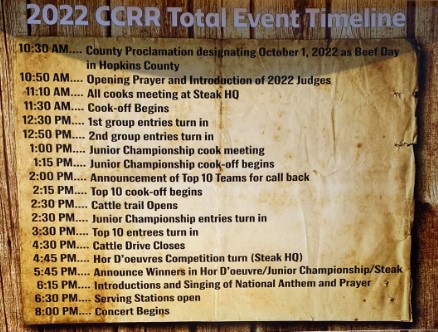 Those able to procure one of the select number of tickets, which had sold out by Monday evening, will get to enjoy the tasty grilled beef, grown by area ranchers as part of the Oct. 1 cook-off.
Even if you didn't manage to snag tickets for the steak, there's still plenty to do downtown, including eat in one of the restaurants Saturday evening. In addition to the grilling teams, Celebration Plaza will also be hosting beverage vendors, and educational opportunities throughout the day Oct. 1, 2022.
For instance, The Cattle Trail, scheduled from 2:30 to 4:30 p.m. Saturday on Celebration Plaza, will feature several informational stations and presentations by local ranchers and agribusiness representatives. Those who complete the trail, adults and children, can receive prizes. According to Extension Agent Mario Villarino, some of the cooking teams also anticipate having small samples available throughout the afternoon for those completing the trail.
In the evening, live entertainment will be provided by Walker Ryder, and winners will be announced. After the meal, Bobby Irwin of Quitman, the 2021 National FFA Talent Contest winner, will provide a concert — free to everyone downtown Saturday evening.
Ultimately, the day serves as a showcase for the beef industry, which has a tremendous impact in Northeast Texas.
Currently, more than 400 beef cows produce more than 32,000 calves with net revenue of more than $38.4 million per year, Hopkins County Judge Robert Newsom noted in a proclamation issued Friday morning during Hopkins County Commissioners Court. officially declaring Saturday, Oct. 1, 2022, as Hopkins County Beef Day.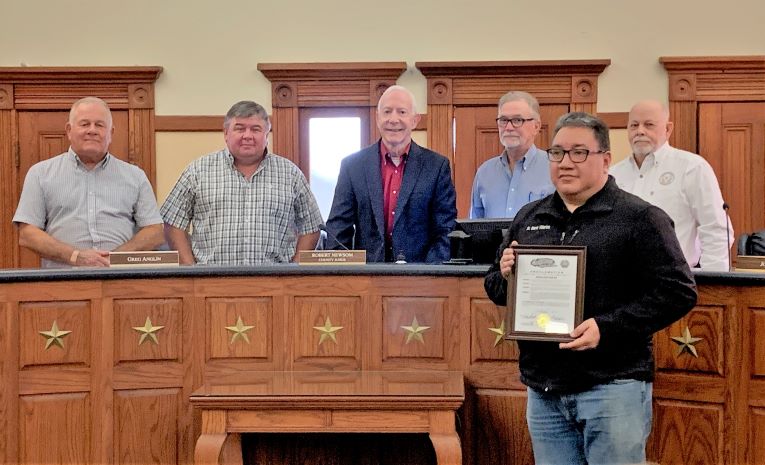 Newsom said the Commissioners Court is proud to recognize "the men and women dedicated to beef production in Hopkins County."
The Cattleman's Classic is put on by NETBIO (North East Texas Beef Improvement Organization), a nonprofit organization comprised of independent cow-calf producers and agribusiness representatives working together to enhance the beef industry and the local economy by improving cattle genetics, management practices, enhanced production, and added value of product.
NETBIO has marketed more than 400,000 preconditioned calves for gross sales of more than $300 million.
Newsom encourages everyone to join in the Beef Day observance Oct. 1, 2022, by helping to recognize "the many men and women who have made the beef industry one of the most important agricultural industries in Northeast Texas.
The judge presented Villarino with a framed copy of the Beef Day proclamation to display.