More than 50 people gathered between the Veterans Memorial and courthouse steps, waving flags, patriotic signs in hand, to offer thanks to three local veterans for their dedication and service. The Veterans Honor Flight Sendoff has become a tradition in Hopkins County, another way local residents can show respect and appreciation to the honorees selected to participate in the special weekend in Washington, D.C., designed specifically for veterans.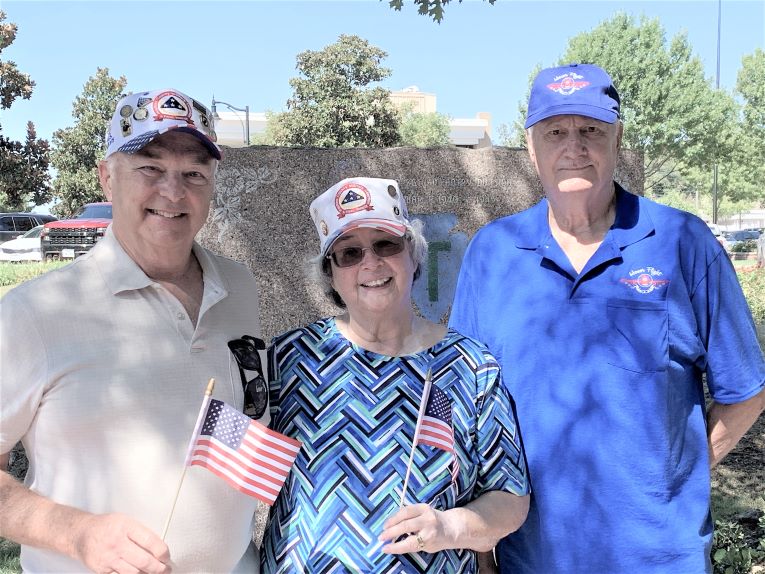 Thee Hopkins County veterans selected for two upcoming flights were honored at the Sept. 22 Veterans Honor Flight Sendoff from Celebration Plaza.
On Sept. 23, 2022, Gerald Heard of Sulphur Springs will board Honor Flight 48 from Love Field, which is slated to return Dallas Saturday night, Saturday, Sept. 24. Heard is a Vietnam veteran.
Veterans Fay Huffman and Steve Huffman of Pickton were honored during the Honor Flight Sendoff Thursday. Their flight isn't until Oct. 21-22, however. When someone thanks them for their service, Steve is quick to let you know that it was their pleasure and honor to serve.
Judy Rawson Heaps has been working on the DFW Honor Flight Board since she took her dad, Jean Rawson on the very first honor flight in May of 2009. She and Lynda Hager coordinator locally to make sure the community knows about any upcoming DFW Honor Flights with county veterans participating as honorees, so as many as possible attend the Sendoff to make the trip that much more memorable for each honoree and to allow the community to show respect for the men and women who have in the past fought for the freedoms enjoy in the USA.
Honoree Heard, a US Army veteran having served during Vietnam, will be accompanied by his son, Jason. Both are from the Sulphur Springs.
Fay and Steve Huffman are both Vietnam veterans as well. Faye served in the Air Force and Steve in the Navy. They've asked their son and daughter, David of Grand Prairie and Yolanda Cottrill of Dublin, Ohio, to join them on the Honor Flight as their guardians.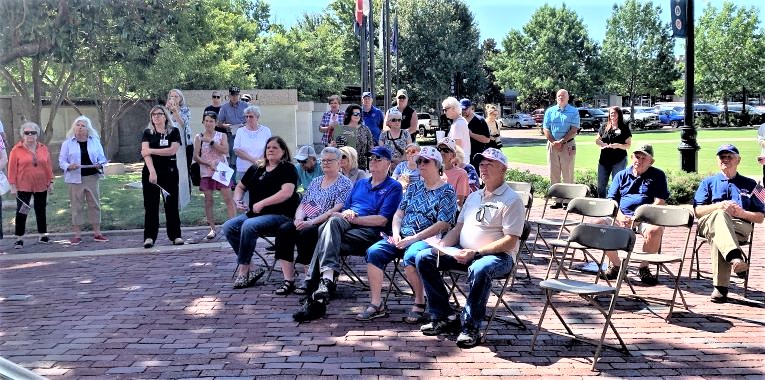 Each honoree selected to take part in a DFW honor flight is allowed to select one person to go with them to help them carry their gear and help out wherever possible to make the trip as worry-free and enjoyable as possible for their veteran. If there the veteran does not have anyone who is able to go with them, they have only to let the Honor Flight Board know and they will help find or assign a volunteer to serve as a guardian/support for the veteran. There are also medical personnel along who give of their time, just in case a veteran honoree needs medical assistance.
These 36-hour flights are offered at no cost to the honoree, but others participating do so at their own cost. This weekend's DFW Honor Flight includes 14 Marines — 10 honorees and 4 others volunteering as guardians for any who does not have someone who is able to go with them and to help take care of the honorees — who are giving their time to serve their brothers and sisters in arms.
The Hopkins County veterans then join the other veteran honorees and guardians, typically very early the next morning, in Dallas to begin their flight to DC, where they will be taken to see the Veterans Memorials erected to honor the fallen. For many, this is a moving time, providing each veteran with an opportunity to see the names of those they served with forever remembered for their sacrifice or perhaps even a brother, father or grandfather who gave their lives for our freedoms. A banquet type event also typically is held during the Honor Flight for the honored guests.
Prayers of thanks for protection and safety for these veterans were offered near the beginning and end of the DFW Honor Flight Sendoff. First Baptist Church Pastor, Dr. Jeff Gravens and Hopkins County Judge Robert Newsom provided those on Sept. 22.
County Treasurer/Veterans Service Officer Danny Davis lead the pledges to the USA and Texas flags. The National Anthem followed. The Military Salute song, which includes music from each branch of the US Armed Forces, is played, and all veterans present asked to hand up or really mess things up.
Lonnie Fox provided sound and music for the occasion, Polly Swatsell provided and handed out small USA flags to those wishing to show patriotism and support. Newsom provided the opening an
Those who did not get to make the trip with their hero can follow along on the Honor Flight DFW page https://www.facebook.com/HonorFlightDFW Facebook