Hopkins County United Way showed appreciation Wednesday to those with "A History of Helping Others." The Lead Donor/CEO Appreciation Luncheon, held Sept. 28 at The Venue, each year is the official kickoff of HCUW's annual fundraiser.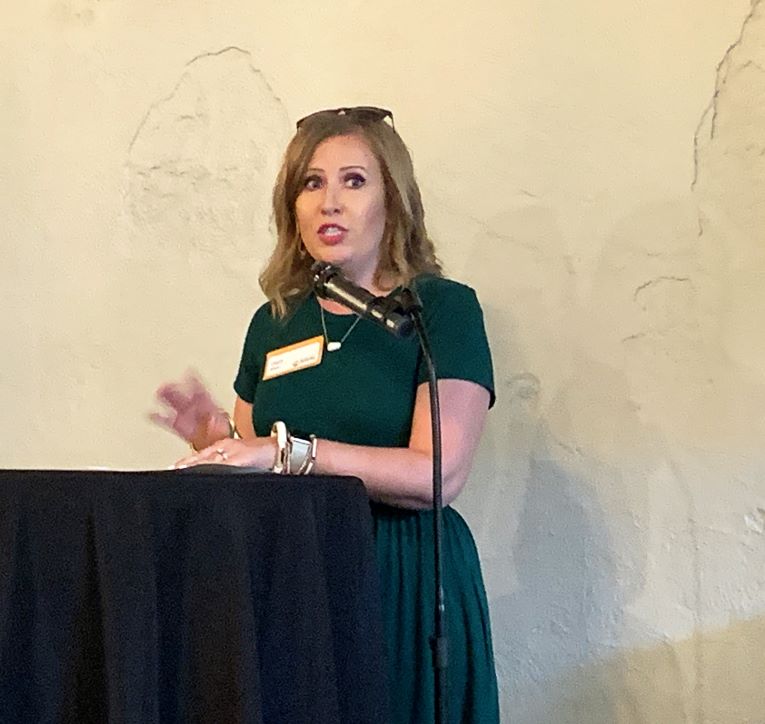 In Appreciation
"United Together" the community contributed $212,000 to the 2021-2022 campaign, which benefits 17 local nonprofit agencies that serve people in every segment of local society of local society. Not only was the 2021-2022 campaign total $62,000 over the annual goal, 2021-22 collections exceeded all previous campaign highs, according to Kristy Landers Moseley and John Sellers.
"You've made United Way very successful, raising the money to help our organizations. I know you all probably know this, but 99% of everything raised stays right her in Hopkins County. That's amazing," said Moseley, who served as HCUW 2021-22 Campaign Chair and currently serving as HCUW President. "
This enabled HCUW to give additional funding to the 17 nonprofits to provide even more services or programs for Hopkins County community.
"I am extremely proud and excited about that. We are very grateful to you guys, to the companies this year and every year. Thank you, lead donors," Moseley said.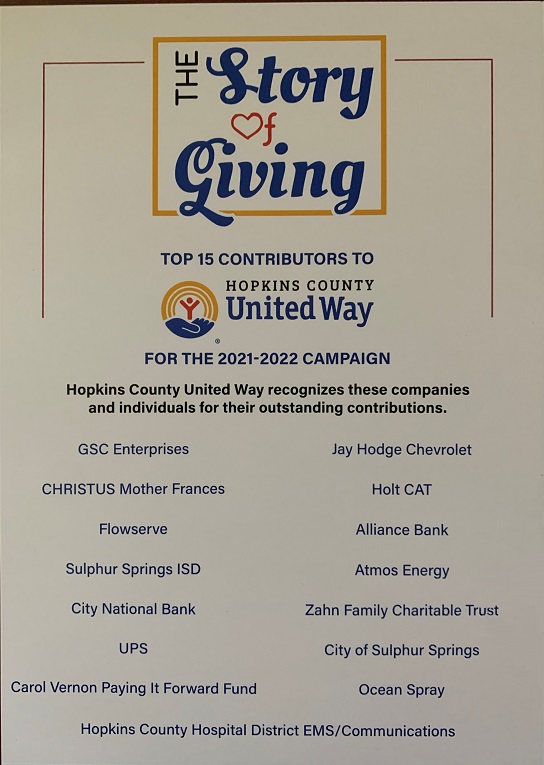 "This year's theme is A History of Giving. You have a history of giving," 2022-2023 HCUW Campaign Chair Emily Glass told the room filled with representatives from companies and individuals who made outstanding contributions to the 2021-2022 campaign. "We are celebrating you."
Glass said hanks to all local industries' continual support, HCUW is able to help meet the immediate needs of county residents, including the 12.7% who were reported to be below the poverty line at the 2020 census, 19% of whom were under age 18, as well as the 21% of county residents under 65 who had no insurance and 63% of SSISD household who qualified for free and reduced lunches before COVID.
The agencies supported by HCUW are among those providing services which help many of these individuals meet basic needs.
Glass concluded without these and every donation made to HCUW the annual drive would not be the the success it is annually.
"Thank you very, very much. Our goal is $150,000 for the upcoming campaign. I know with your help we will be success," Glass said.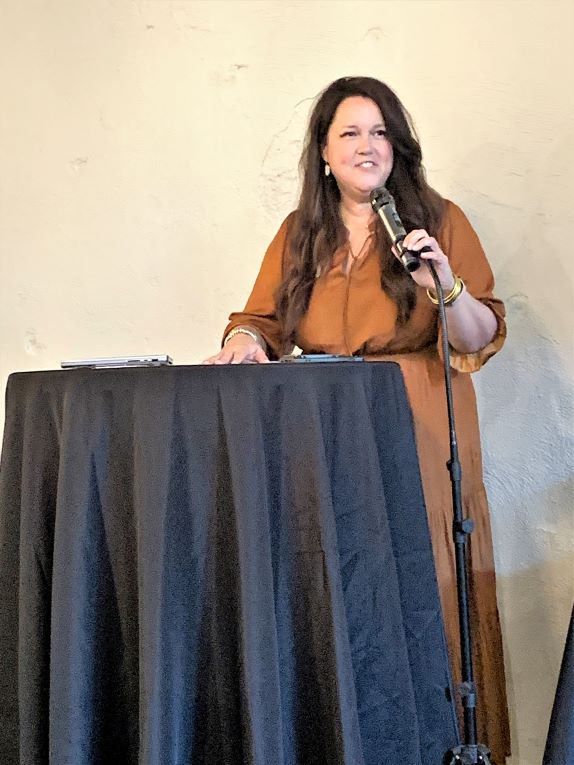 Glass also offered thanks to Moseley for helping in any and every way possible, as well as to HCUW Executive Secretary Susan Berning, for approaching each campaign, meeting and person donating their time and/or funds to HCUW with an encouraging servant's heart; the United Way Budget and Allocations Committee for their willingness to hang on through the 2-day emotional ride of hearing requests from nonprofits for funding and with true servant hearts, advocating for the nonprofits; to all past and present UW chairs, officers, board and committee members for the time they gave to make HCUW a continued success since 1955.
Acknowledged as this year's Board of Directors were Chuck Askins, Emily Glass, Beverley Owens, Wade Bartley, Charlotte Henderson, Bill Owens, Larry Crowson, Mike Horne, Dinh Tran, Debra Evans, Sherry McGraw, Hillary Young, Markeda Fisher and Kristy Mosely.
The HCUW Budget and Allocations Committee includes David Burns, Ashley Crump, Emily Glass, Tommy Harrison, Charlotte Henderson, Mike Horne, Lindsey Johnson and Kristy Moseley.
The 2022-2023 HCUW officers offered thanks to Alliance Bank for sponsoring the lunch, Birthwright's Barbecue for catering it, Latsons.com team for campaign materials, Lonnie Fox for sound equipment, Texas A&M AgriLife Extension for allowing HCUW to hold regular meetings at the office, The Venue at 219 for hosting the lunch and VOSH Graphix for compiling the campaign video shown at the kickoffs and available to show others about HCUW.
The Hopkins County United Way Lead Donor/CEO Appreciation Luncheon was hosted Sept. 28, 2022, at The Venue at two nineteen

Hopkins County United Way Boar Directors Sherry McGraw and Hillary Young prepare drinks for the The Hopkins County United Way Lead Donor/CEO Appreciation Luncheon

The 2022-23 Hopkins County United Way Lead Donor/CEO Appreciation Luncheon was catered by Birthwright's Barbecue

The Hopkins County United Way Lead Donor/CEO Appreciation Luncheon Sept. 28, 2022

The Hopkins County United Way Lead Donor/CEO Appreciation Luncheon, held Sept. 28, 2022, at The Venue

The Hopkins County United Way Lead Donor/CEO Appreciation Luncheon

The Hopkins County United Way Lead Donor/CEO Appreciation Luncheon

The Hopkins County United Way Lead Donor/CEO Appreciation Luncheon
History of Giving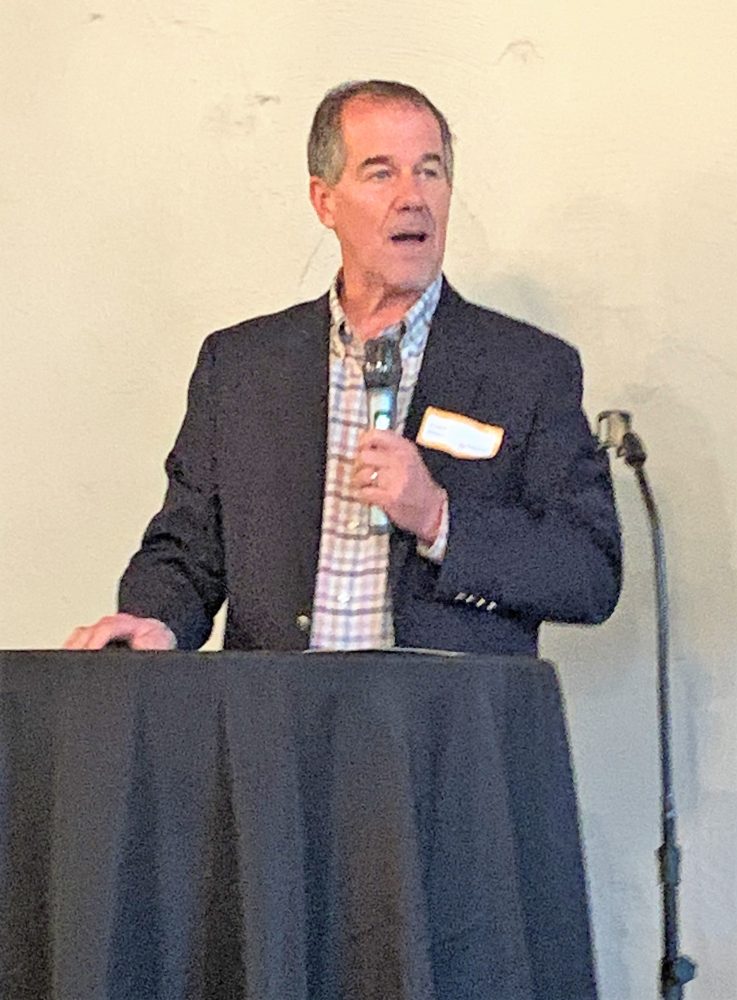 Glass asked fifth generation Hopkins County resident, local historian, longtime HCUW supporter and Sulphur Springs Mayor Pro Tem John Seller to be give the keynote address at the the Lead Donor/CEO Luncheon Wednesday. In addition to contributing, Sellers has served in a number of leadership positions with United Way, including as HCUW chairman 14 years ago, then president.
Sellers noted the 1950s was a pivotal time in local history. The local hospital was opened in 1949, with the physicians operating a few private hospitals closing their doors and going to work at the hospital, a show of unity and support in the community.
The city got its first dial telephone in the fall of 1954; Interstate 30, known then as the Highway 67 bypass, was opened, providing straight travel to Dallas, without any traffic lights; a zoning ordinance was adopted in 1956 by the City of Sulphur Springs was implemented ahead of a new dairy processing plant; a pledge was made to construct a new lake — Century Lake and get it done in a decade. Three counties created the Sulphur River Municipal Water District. During that era, night watchmen got their first walkie-talkie radios, according to Sellers.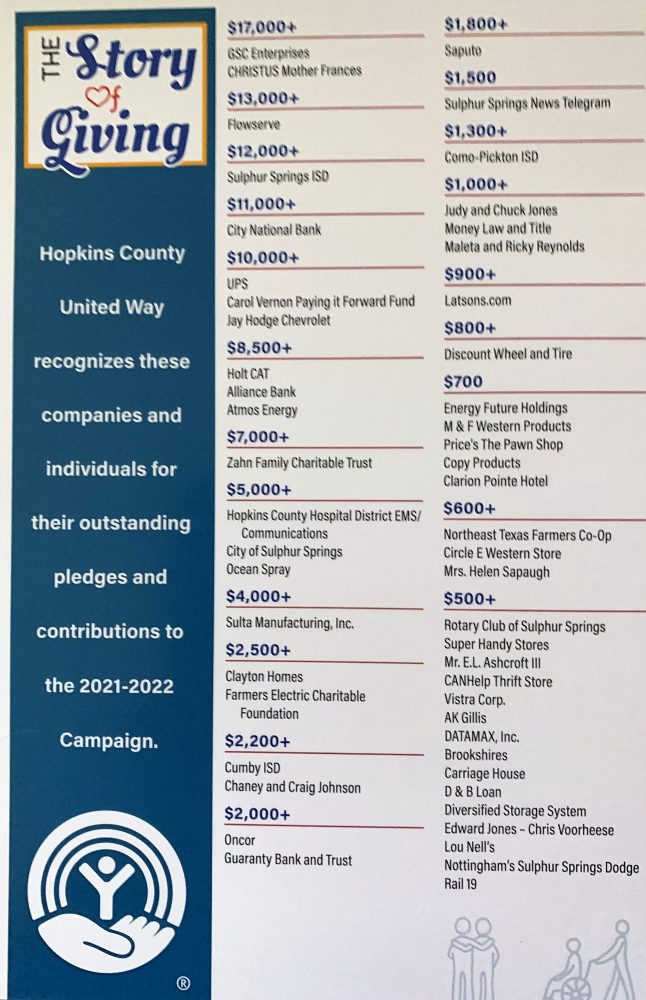 The history of giving United Way goes back 67 years, to the organization's start in 1955 as the United Fund, thanks to the work of a group of civic leaders which included KSST's Bill Bradford and the local newspaper publisher. After research into the United Fund and approval from local businesses, the organization was formed, a way to raise more money to do the most good for so many different organizations all at one time.
The first year, the United Fund set a goal to raise $29,500 in one week (the equivalent of raising about $300,000 today) to benefit 8 local agencies in October 1955. A kickoff dinner was held Oct. 6, 1955, with a victory drive planned on Oct. 13. The local newspaper ran a front page editorial about the United Fund.
Community members were challenged to donate the equivalent of just one day's worth of pay to help others in the community. In North Hopkins 25 rose to the challenge, and all total 108 teachers responded, contributing a day's pay to the United Fund.
The group ended up expanding the campaign to Nov. 1, but in the end the 24 teams consisting of 350 solicitors raised $200 over the projected goal, according to Sellers, who gained access to Bradford's notes on the topic when he asked for help in researching HCUW's history prior to accepting the office of HCUW campaign chair 14 years ago.
"They stayed after it and by Nov. 1 they were over by $200. It was the beginning to a great start and a great tradition," Sellers said.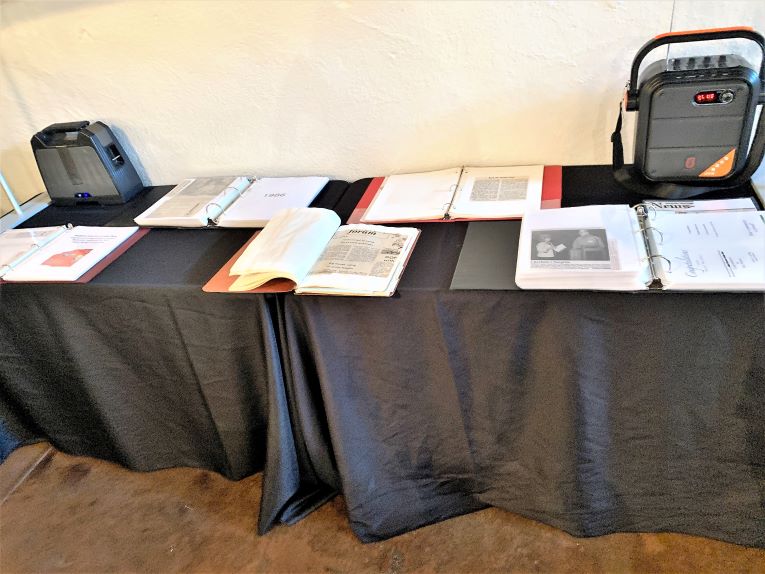 A New Challenge
Sellers challenges those who wonder why give to United Way to keep in mind the parable about the Good Samaritan. Two passed the beaten, bloodied naked man. However, the enemy of the Jew, a Samaritan, stopped. Instead of asking, "'What would it mean to me if I help him,'" the Samaritan asked 'What would happed to him if I didn't help him?'
Only 1% of the $150,000 campaign goal leaves Hopkins County, the amount paid to United Way Worldwide for involvement in the cooperative organization. The rest remains in the community to help people of all ages and walks of life, from those who need help with basic needs, emergency assistance, dealing with trauma from abuse or trauma, in need of therapy for disability or disabling situations, education and intervention and enrichment through the following 18 local agencies HCUW has allocated funding from the 2022-2023 campaign.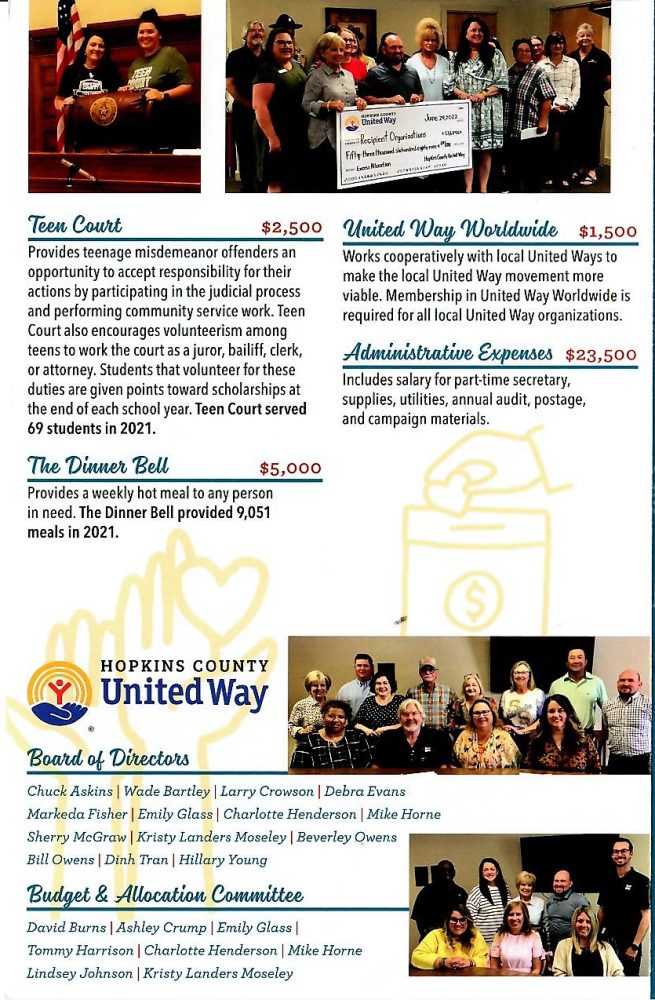 Additional Information
HCUW volunteers last week began collecting packets, which have begun going out into the community. Any new business that has not been contacted and would like to contribute or more information about HCUW is encouraged to contact Emily Glass or Kristy Landers Moseley, any campaign worker, or calling Executive Secretary Susan Berning at Campaign Headquarters at 903-243-4066, to check out the United Way website or Facebook page, or mail donations to HCUW with a name and address to campaign HQ at PO Box 735, Sulphur Springs, TX 75482.
Donations are also accepted via PayPal on the HCUW Facebook page and website, https://hcuw.org/; or credit card via the United Way Worlwide website. Queries may also be sent to [email protected].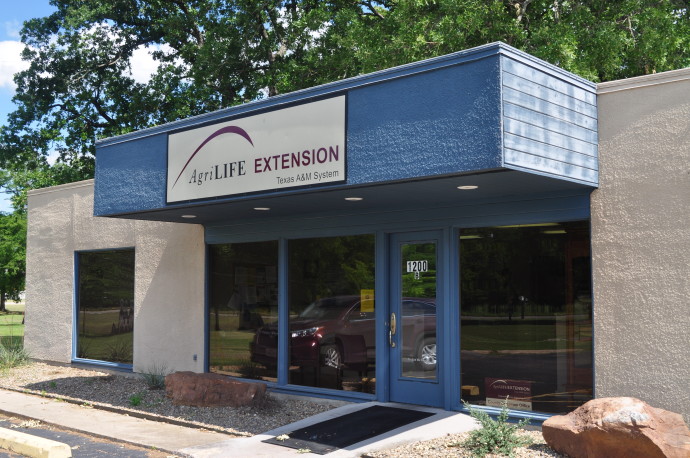 Upcoming
Report meetings will take place at the Texas A&M AgriLife Extension office beginning at 9 a.m. on the following dates:
Tuesday, Oct. 4
Tuesday, Oct. 11
Tuesday, Oct. 18
Tuesday, Oct. 25
Tuesday, Nov. 1
Wednesday, Nov. 9