Vehicle, 20 Others Reportedly Stolen From Ennis Dealership
The second suspect who fled on foot into a wooded area following a vehicle pursuit Tuesday night in Sulphur Springs has been identified. The vehicle used in the incident was one of more than 20 reported to have been stolen from an Ennis dealership, according to Hopkins County Sheriff's Office reports.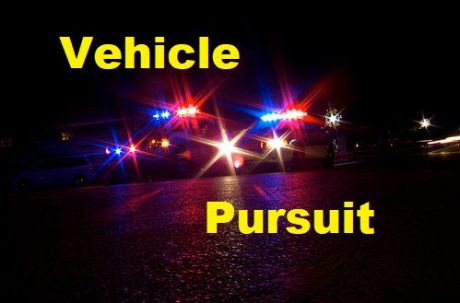 Because one suspect from the chase remained at large, Sulphur Springs ISD notified parents and staff Wednesday morning that district campuses were in lock-down mode as a precaution.
Hopkins County Sheriff's Office deputies were made aware Tuesday, Sept. 20, 2022, a Dodge Challenger displaying a license plate that came back to a Kia Soul was traveling on I-30 east headed toward Sulphur Springs. The white car was also determined to have been stolen as well, deputies alleged in arrest reports.
Deputies spotted the car as it took Exit 127 off I-30 onto Jefferson Street. A traffic stop was initiated on the 2022 model Dodge Challenger on Jefferson Street near Weaver Drive Tuesday, Sept. 20, 2022, HCSO Deputy Joshua Davis noted in arrest reports. The driver allegedly fled from law enforcement in the vehicle, continuing to attempt to evade officials. The car traveled onto Ramsey Street, and ended up in a back yard between College and Putman Streets, where Davis reported seeing two black males exit the car and take off running.
Davis chased the passenger, calling out for the man to stop. The deputy reported catching up to Eddie Lamar Ringo Jr. at 10:18 p.m. Tuesday; the 24-year-old Pine Bluff, Arkansas man had reportedly run into "a thick wooded area" on College Street at Ramsey. When asked for the driver's information, Ringo allegedly told the deputy he had never met the driver before, and claimed the driver had picked him up at a gas station in Arkansas.
Ringo was transported to HCSO jail, where he was interviewed by the arresting deputy about the incident. The Arkansas man reportedly initially told police he did not know the man who had been driving the Challenger, and had never met him before. When the deputy told Ringo he believed he was lying, the 24-year-old allegedly claimed he had only seen the man around but did not know his name, deputies alleged in arrest reports.
Ringo was booked into Hopkins County jail at 4:14 a.m. Wednesday, Sept. 21, 2022, on a misdemeanor evading arrest or detention charge and a third-degree felony hindering apprehension of a felon charge, Davis alleged in arrest reports.
Meanwhile, additional officers from around the city converged in the area of the stolen car as well as last known direction the driver was observed running toward. The suspect Tuesday night was reported to have been last seen wearing a red shirt and green pants. He was reported to have lost his shower slides and at least one sock while fleeing authorities. He was reported to have last been seen heading south, then southwest into a nearby thicket to the west, near where the passenger was taken into custody on College at Ramsey Street, according to sheriff's reports.
A perimeter was established in the area, with officers methodically searching within the area. Officials' efforts, including that of a trained police canine, were reportedly hampered by the thick copse of trees in the area. Around 10:45 p.m. Tuesday, a thermal imager was being utilized in the area to try to detect the suspect's heat signature in the dark, wooded area.
Authorities around 11:40 p.m. responded to what were thought to be the sound of gunshots southwest in the area where the pair had run. At midnight authorities were still searching the area, including south on College Street, back to Putman and Ardis Streets. Deputies checked out a report of someone with a flashlight on Beckham Street headed toward Maxwell Street. Officers, at one point, were contacted about someone knocking or banging on a wall and window in the Caldwell Street area, then dispatchers reported receiving more than one call reporting windows and doors being hit or knocked on in the area of Ardis and WA Streets, just off MLK, east of Oak Avenue. One witness reported seeing a man in a red hoodie around 11 p.m. Tuesday at an Gilmer Street car lot.
Officials were still searching for the man after midnight. The driver of the Dodge Challenger, a car thought to possibly be a new car taken from a dealership or car lot, remained at large late Wednesday morning.
Sulphur Springs ISD sent alerts to students' parents and guardians around 11 a.m. Wednesday, and notified staff that the district would be in lock-down mode as a precaution due to the suspect remaining at large.
By midday Wednesday, Sept. 21, 2022, HCSO reported "We were later able to identify the driver as Markevus Taggart BM 08/10/2002. Both are from the Pinebluff Arkansas area." The second suspect was last seen in a red hooded shirt, green shorts and thought to just have one sock on, according to HCSO.
"Warrants will be issued for the offenses that occurred in our area in relation to the fleeing and use of the stolen vehicle. Based on the information we have, we believe the suspect is no longer in the area," the Sept. 21, 2022, HCSO press release stated regarding the second suspect.
The Dodge Challenger also was determined to have been "stolen along with 20 other cars from a dealership in Ennis. The entering agency will continue the investigation into the stolen vehicles."
The passenger in the chase, Eddie Lamar Ringo Jr. who is also shown in jail reports to be known by "MTF Mista," remained in Hopkins County jail Thursday, Sept. 22, 2022. His bond was set at $30,000 on the hindering apprehension charge and $5,000 on the evading arrest or detention charge, according to jail reports.

---
The Hopkins County Sheriff's Office is located at 298 Rosemont St., Sulphur Springs, TX 75482.
Non-emergency calls can be made to (903) 438-4040.