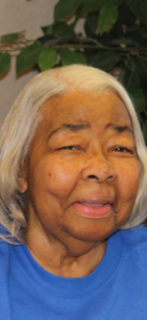 Fannie Marie Dial was born May 12, 1936, to the late Gurthie Pogue Dial and Sam Dial Sr. She was the 18th of 19 children. She was lovingly known as "Baby Sister," "Aunt Fannie," "Mother," "Ma Dear," Dear, "Mother-in-Law" and "Princess" by those who loved her. Fannie received her call home on Tuesday, September 6, 2022, from her labor to reward. She was a true servant and worked faithfully until her health failed her and would not allow her to go on. The Blessing in Pastor Harrison ministering online each Sunday allowed her to continue to witness to the Word as it was preached.
At the age of 12, Fannie joined the East Caney Baptist Church and sang in the choir and was the reporter of her Sunday School Class. She was proud to let it be known that Sis. Beatrice Sims and Deacon G. C. Washington were her teachers' and her Pastor was N.N. Rogers, while living in the East Caney Community. She loved to share of her childhood friend, Callie Jean Young and she name her along with Norma Jean Vaughn as her "Best Friends". Fannie also enjoyed playing basketball and bowling as she grew up and in her young adult days.
She worked for the H.D. Lee Jean Company for 19 years until they closed and then, she began working for Hopkins County Memorial Hospital. She worked for the hospital for 5 years until she found her real love in life and that was working with children. Fannie worked for Draughn's Playschool and Kindergarten for 5 years and from there, she became and employee of Sulphur Springs Independent School District, for 18 years, she served the students of SSISD and loved on them daily. She was a monitor on the bus and worked on the campuses of Austin and Travis Elementary until she chose to retire at the young age of 80 years old. The love she had for the students at the school was much like the love she showed to her children, grandchildren, great-grandchildren, and great-great grandchildren. She loved and she loved BIG!
On June the 28th, 1952, she married the love of her life, D. B. Berry and United with the Cherry Grove MBC and served faithfully until her health no longer allowed.
They were married for 34 years and to this union, six children were born, Harold E. Berry, Jerry L. Berry, Sharron M. Berry, Vanessa Berry, Teresia L. Berry and Dywane F. Berry.
Preceding Fannie in death were her parents, Sam and Gurthie Dial; her husband, D. B. Berry;, three children, Teresia L. (Terrie) Berry Camp, Jerry (Pete) Berry, and Sharron M. (Boney) Berry; grandson, Jordan Hurley; granddaughter, April Harrison Moran; and her 18 siblings —brothers: Son Dial, F.L. Dial, Bruce Dial, Abe Dial, Oscar Dial, Magnus Dial, Austin Dial, T.F. Dial, Sam Dial Jr., Fred Dial, Anthony Stokes, and John Stokes — and sisters — Equilla Peoples, Pearl Ford, Lillian Malone, Clara Jones, Mynder Lee Dial and Verniece Dixon.
Leaving to celebrate her life and cherish her many memories are her Children, Harold Berry (Roslyn), Vanessa Berry Abron of Sulphur Springs, Texas and Dywane Berry (Yvonne), Rockwall, Texas; Grandchildren: Seddrick Berry, Damiyon Berry, Kristy Berry, Christopher Berry, RaChandra Berry, Tarvaris Abron, Triston Abron, Jerric Berry, Jaron Berry and Jordan Berry; nine Great-Grandsons; eight Great-Granddaughters; and Two Great-Great-Granddaughters.
Funeral service will be held at 2 p.m. Saturday, September 10, 2022, at Morning Chapel Missionary Baptist Church. Interment will follow at North Caney Cemetery. Visitation will be held from 6 to 8 p.m. Friday, September 9, 2022, at West Oaks Funeral Home.
Arrangements are under the direction of West Oaks Funeral Home.
---