The 2022 Homecoming Week is in full swing in Sulphur Springs, kicking off Monday with many Sulphur Springs ISD students and staff donning the designated attire to correspond with the fun dress up days, and the announcement of the 2022 Homecoming Nominees at SSHS.
Each campus has adopted different daily dress up themes, to allow all students and staff to display their school pride and Wildcat spirit during the 2022 Homecoming Week..
SSHS
This week's dress up themes at Sulphur Springs High School are primarily focused around movies, movie themes or actors. Monday, students and staff were encouraged to dress as characters from High School Musical Day. Tuesday was Top Gun Day. Wednesday is Napoleon Dynamite Day and Thursday will be Adam Sandler Day. On Friday, everyone at SSHS is encouraged to wear their brightest gold Wildcat gear for Gold Out Day.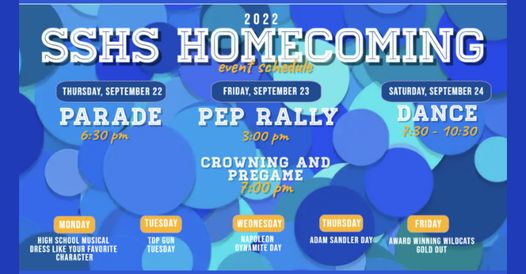 This year's SSHS Homecoming Nominees include:
Addisyn Wall, daughter of Jessica Hogan and Geoffrey Wall
Tia Nash, daughter of Elvria Dial and Nate Mingo
Jadyn Harper, daughter of Shaniqua Harper and Bam Jackson,
Miley Fisher, daughter of Stan and Brandy Fisher
Olivia Worth, daughter of Jessica and Chris Worth
Ja'Yden Holly, daughter of Christopher Holly and Sonja Rush
Jayla Abron, daughter of Talea and Brian Kelly
Justice Jones, daughter of Chanta Givens and Anson Jones
Martha Gonzalez, daughter of Laura and Gerardo Gonzalez
Angeles Cruz, daughter of Celia Cruz
(View KSST's video interviews with the Homecoming nominees on the KSST Radio 1230 YouTube Channel)
One of these young ladies will be crowned this year's Homecoming Queen during the pre-game Homecoming festivities, which are scheduled to begin at 6:40 p.m. Friday, Sept. 23, 2022, at Gerald Prim Stadium, just before the SSHS Wildcats take on the Liberty-Eylau Leopards in varsity play. Those unable to attend Friday's Homecoming game can tune into KSST Radio 1230 AM (or steam the broadcast from the KSSTRadio.com website) or catch it streaming live on the KSST Radio YouTube channel.
To get students in the proper mood for Homecoming, a pep rally will be held at 3 p.m. Friday, Sept. 23, 2022, in SSHS Gym.
Homecoming nominees will practice on the field beside the SSHS Band hall at 7:30 a.m. Wednesday, Sept. 21, 2022. Those who will be involved in the pre-game activities Friday are to arrive at the field at 6 p.m. to take some pre-game and pre-Homecoming photos.
SSHS students will also have the opportunity to attend a Homecoming Dance, planned from 7:30 to 10:30 p.m. Saturday, Sept. 24, 2022, in the SSHS cafeteria.
SSMS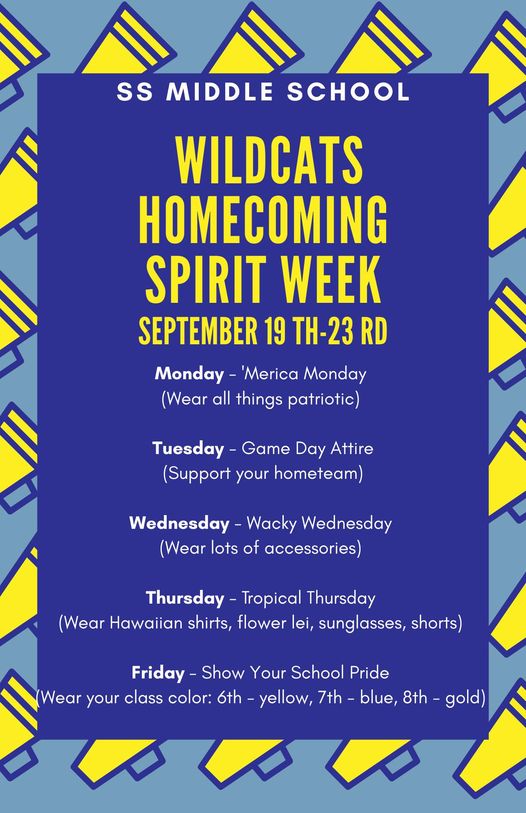 SSMS is observing Spirit Week Sept. 19-23 with designated theme days. Monday SSMS students and staff were encouraged to wear all things patriotic to observe 'Merica Monday. Tuesday they showed support for the home team by wearing Game Day attire. Wednesday has been dubbed Wacky Wednesday, a time to wear lots of accessories. Thursday will be Tropical Thursday, when SSMS students and staff are encouraged to wear Hawaiian shirts, flower leis, sunglasses and shorts. Friday is 6th graders are to wear yellow, 7th graders blue and 8th graders gold for Show Your School Pride Day.
Middle School also will hold a Homecoming Dance from 6:30 to 8:30 p.m. Saturday, Sept. 24, 2022, in the SSMS Gym. Students planning to attend should plan to purchase tickets for $10 each during their lunch period all week at school; tickets will not be available for purchase Saturday at the door. The established attire is casual dress; a cut shirt, jeans or skirt for instance. Dance clothing must adhere to the SSMS dress code.
SSES, Primary, Douglass ECLC Campuses
Sulphur Springs Elementary, Douglass ECLC and the four primary campuses are observing spirit week with dress up days all week as well.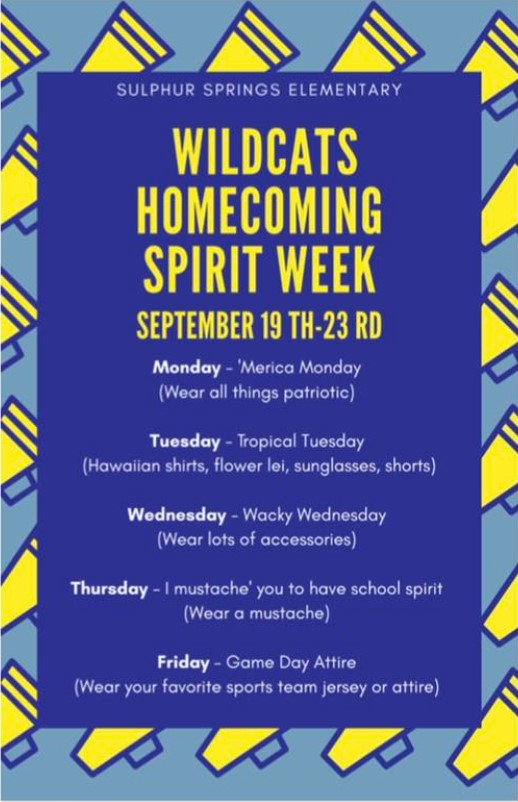 Monday they were encouraged to wear patriotic attire for 'Merica Monday. Tuesday students donned Hawaiian shirts, flower leis, sunglasses and shorts for Tropical Tuesday. Wednesday is Wacky Wednesday, a day those on the campuses serving elementary aged students are encouraged to wear lots of accessories. Thursday will be I 'Mustache' You to Have School Spirit Day; all are encouraged to wear a mustache to illustrate this theme. Friday students are to wear their favorite sports team jersey or attire, or favorite Wildcat Gear for Game Day.
The PTO at these campuses will provide opportunities to help students get in the Wildcat Spirit. At least one campus is offering Spirit Shop before classes, allowing students to purchase Wildcat gear such as blue footballs, blue and gold pompoms, bracelets and gold hand clackers to show their wildcat spirit. At SSES, the PTO is hosting Homecoming Fun Friday, offering face painting, Wildcat decals, Smencils, Wildcat beads and more for $1-2 each during students' recess time.
Homecoming Parade
Also planned this week will be the SSISD Homecoming Parade, a tradition revived by Dial Study Club and presented by Triple Crown Roofing.
Sponsorships from local businesses also make the event parade possible. Any proceeds will go back to the community, according to Glass.
Those planning to participate in or watch the parade will want to note the designated parade route, which will depart from Connally Street at 6:30 p.m. Sept. 22, 2022, from Buford City Park, and proceed down Connally Street along the parade route until the first conveyance reaches North Davis Street. Then, in order to avoid further congesting downtown, the parade will turn onto North Davis Street, continuing to Houston Street. The Homecoming Parade procession will then turn onto Houston Street and head back to Gerald Prim Stadium parking lot.

According to Dial Study Club spokesperson, the parade will include 35 floats, composed by SSISD student organizations and teams from all grade levels who will throw candy and greet parade bystanders throughout the parade route.
Glass said there is always room for more participants and sponsors; direct questions to Emily Glass at 903-243-6222. Those participating in the parade may begin lining up at 5:15 p.m. Thursday, Sept. 22, 2022.