Sulphur Springs ISD is hosting Meet the Teacher and other activities designed to help students get ready for the new school year, which begins Wednesday, Aug. 17, 2022.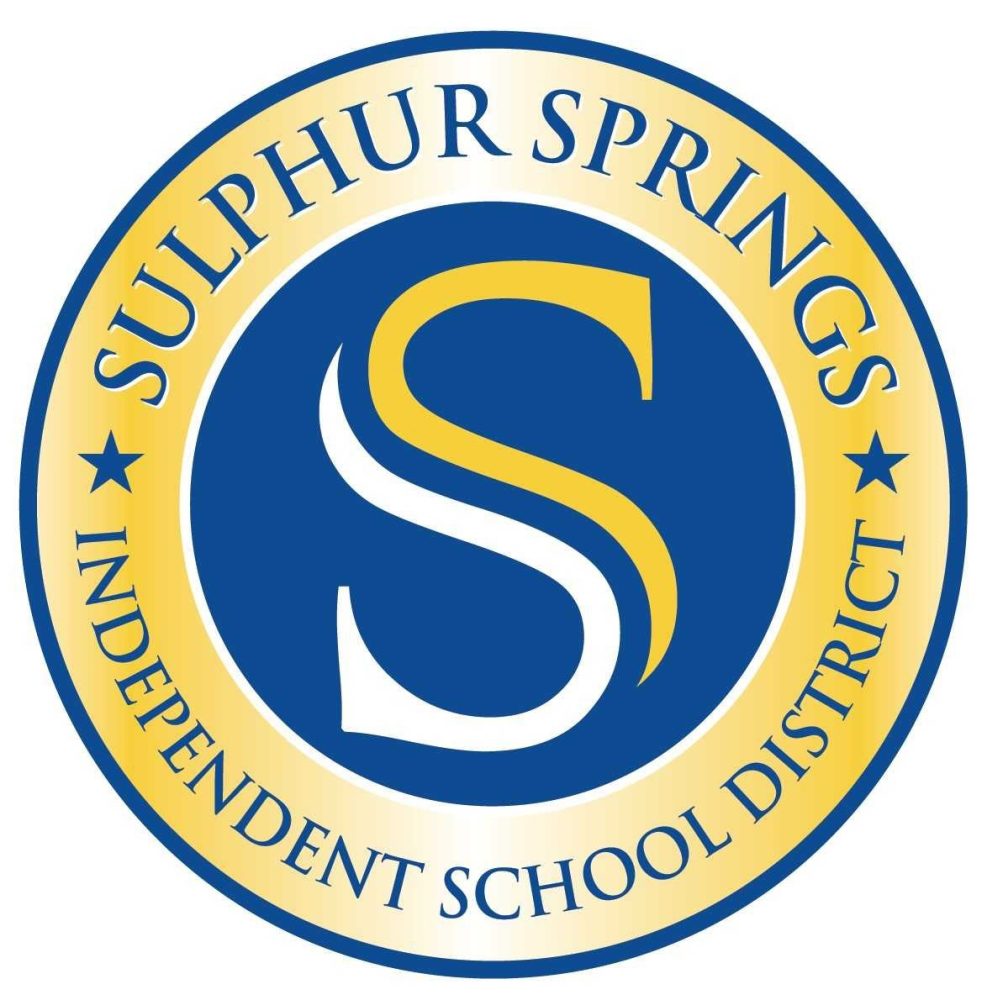 Barbara Bush and Bowie Primary Schools will lead off the Meet the Teacher activities by inviting parents to bring their students by the child's assigned campus during the designated time Tuesday evening.
Families can meet the child's teachers, see their classroom and drop off the student's school supplies during Meet The Teacher activities.
Travis, Rowena Johnson Primary and Sulphur Springs Elementary will host the next Meet the Teacher on Aug. 11, with Douglas ECLC's Meet the Teacher Night following on Aug. 15. Schedules are staggered to provide more time for parents with students on more than one campus to teachers across the district.
SSMS students will be able to pickup their schedules and yearbooks on Aug. 15, and parents who are interested may sign up and obtain additional information about being involved with PTO during Meet the Teacher Activities during that time as well.
High School and Austin Academic Center will hold Meet the Teacher Tuesday evening, Aug. 16, but Freshman Orientation will be conducted at SSHS earlier in the day for 9th graders and students entering the campus for the first time. Students in grades 9-12 will be afforded the opportunity during designated time on Aug. 15 and 16 to pick up school issued laptops. A time will be provided during the first few days of school for students who are unable to pick up their devices during the designated times.
Families, students and community members are then invited to Gerald Prim Stadium for Meet the Wildcats night on Aug. 16.
Below is a schedule of several of those upcoming activities:
Tuesday, Aug. 9, 2022
Bowie Primary

Meet the Teacher 5-6:30 p.m.

Barbara Bush Primary

Meet the Teacher 5-6:30 p.m.
Thursday, Aug. 11, 2022
Travis Primary

Meet the Teacher 5-6:30 p.m.

Rowena Johnson Primary

Meet the Teacher 5:30-7 p.m.

Sulphur Springs Elementary

Meet the Teacher 5-6:30 p.m.
Monday, Aug. 15, 2022
Douglas Early Childhood Learning Center

Meet the Teacher 4-6 p.m.

Sulphur Springs Middle School

Meet the Teacher 5-7 p.m.

Sulphur Springs High School
Tuesday, Aug. 16
Sulphur Springs High School

Laptop Pick Up 8-11:30 a.m.
Laptop Pick Up 1-4 p.m.
Meet the Teacher 5-6:30 p.m. (Laptops may be picked at this time as well)

Austin Academic Center

Meet the Teacher 5-6:30 p.m.

Gerald Prim Stadium

Meet the Wildcats 7-8 p.m.
Registration, Information Updating
Returning Student Online Verification for the 2022-2023 school year is open for all SSISD campuses. If your child was enrolled on the last day of school last year, you will use this to enroll your student for the upcoming year.
Middle School and High School students will not be able to pick up their schedules until their Online Verification has been completed.
Those needing assistance logging into the Family Access account may contact their child's campus.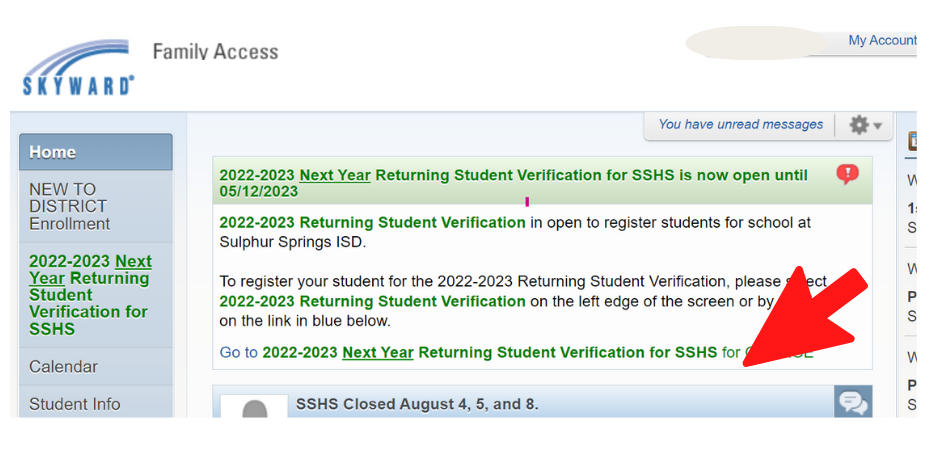 New student registration is open for the 2022-2023 school year.
This registration is for new students entering kindergarten -third grade who did NOT end the 2021-2022 school year in Sulphur Springs ISD. Current Pre-K and Head Start students will complete Returning Student Registration with their Skyward Family Access account.
New to Sulphur Springs ISD pre-kindergarten and Head Start students must contact Douglass ECLC for registration information.
All paperwork must be taken to the Sulphur Springs Administration Building located at 631 Connally St., Sulphur Springs, Texas.
To register a new-to-the-district student:
Make an appointment by clicking the link: https://www.signupgenius.com/go/RoundUp2223
Only a Parent or Legal Guardian (must have appropriate documents) can enroll a child.
Bring all required and/or applicable documents (listed below):

Proof of residency within district. Must be one of the following

Current utility bill
Current rent/Lease agreement/Mortgage statement showing name and address of owner
Income Tax paperwork

Parent or Legal Guardian's Photo ID
Child's Official Birth Certificate
Child's Social Security Card
Child's Up-to-Date Immunization Record
Dr.'s Notes Concerning Allergy/Health Needs
Custodial Documents or Court Orders, if applicable.

Complete the online registration process via Skyward: https://www.ssisd.net/page/New%20Student%20Registration