A brief State Highway 19 motorcycle pursuit concluded with a felony arrest Tuesday night, according to arrest reports.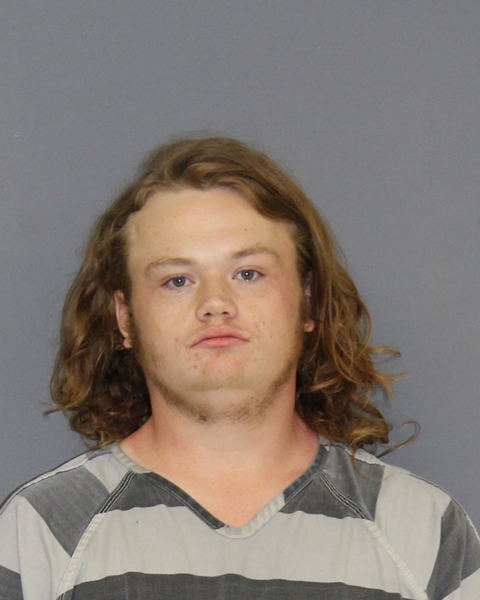 Hopkins County Sheriff's Office Sgt. Tanner Steward reported seeing a Harley Davidson Dyna Street Glide turn south off of County Road 4795 near the spillway onto SH 19 north around 9:40 p.m. Aug. 16, 2022. Steward turned around and attempted to stop the silver motorcycle he reported was traveling at 76 miles per hour in a 65 mph speed zone. He alleged hearing and seeing the bike accelerate as it continued south on SH 19 north.
After notifying communications operators of the situation, Steward followed the bike, which continued at a high rate of speed, with lights and siren active on the patrol vehicle. Steward reported the motorcyclist at one point turned on the bike blinker, but continued south instead of stopping. A short time later, however, the motorcycle came to rest on a shoulder on SH 19 north, Steward alleged in arrest reports.
As the sheriff's officer instructed the man to get off the bike, he noticed man was in possession of a large glass bottle of whiskey. During the course of his investigation, Gavin Gerald acknowledged he recognized the deputy as an officer when he turned around to stop him, but "just did not want to get in anymore trouble," Steward alleged in arrest reports.
The 18-year-old Cooper man was taken into custody and transported him to jail, where he was booked in on a felony evading arrest or detention with a vehicle charge; the bike was impounded. Gerald was released from Hopkins County jail Wednesday, Aug. 17, 2022, on a $5,000 bond on the felony arrest charge, according to jail records.
Deputy Drew Fisher was credited with assisting Steward on the traffic stop and arrest.
If you have an emergency, dial 9-1-1
The Hopkins County Sheriff's Office is located at 298 Rosemont Sulphur Springs, TX 75482. You can reach them for non-emergency matters at (903) 438-4040.