A request made for a special use permit to allow C&C Guardian LLC to construct a manufactured home community at 2113 Main Street, a property currently zoned light commercial, was slated to go before Sulphur Springs Zoning Board of Adjustments and Appeals Tuesday evening, but that meeting has been canceled. Applicant Ross Cody has withdrawn the request, according to city staff.
The action follows a Planning & Zoning Commission meeting in which several residents and business representatives voiced concerns about his proposed manufactured home community at that location on Main Street. Overall, approximately 2 dozen nearby residents and business representatives attended the Aug. 15 Planning & Zoning Commission meeting, which concluded with the P&Z Commission not recommending the Zoning Board approve the special permit request.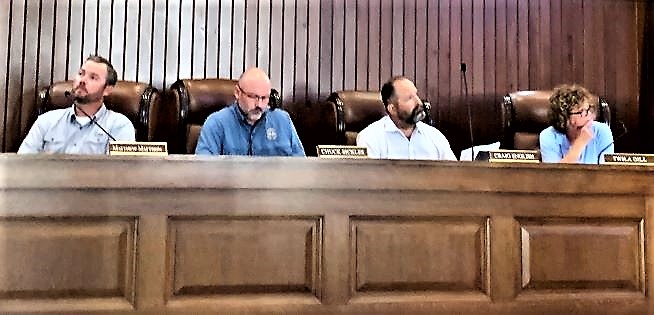 Project Concept
Ross Cody, who was born and raised in Sulphur Springs, where his family members have been entrepreneurs throughout the county. He and his wife were recently able to move back home to Sulphur Springs recently. He's done several things in the past, including working in insurance and equipment businesses, but wasn't sure where he wanted life to take him career-wise. He has been working at Clayton Homes for about 6 months.
"Working at Clayton Homes, the things that makes the difference is getting to help families, families that can only afford $200,000 and that's the max they've got for their family. They've got their warehouse workers here in the community trying to provide for their families. I would love for everybody to be able to afford a $400,000 stately home, but right the economy is not easy for everybody to do that," Cody said.
Cody saw an opportunity to offer some affordable housing by constructing a manufactured home community not far from Clayton Homes on Main Street. Initially, he proposed placing 30 homes on the 10-acres, containing a 40 x 100 foot single-wide lots and middle lots 0.2-acre and northern lots containing 0.23-acre site. Single-wide units would be 16 x 76 feet and double-wide units would be 28 x 60 feet. The park would contain 2 ponds.
He then over the weekend thought on the matter, acknowledging the stigma often attached to manufactured homes: people don't think they hold up well, that they are a trashy community, possible criminal activity. That's not what he wants for his development.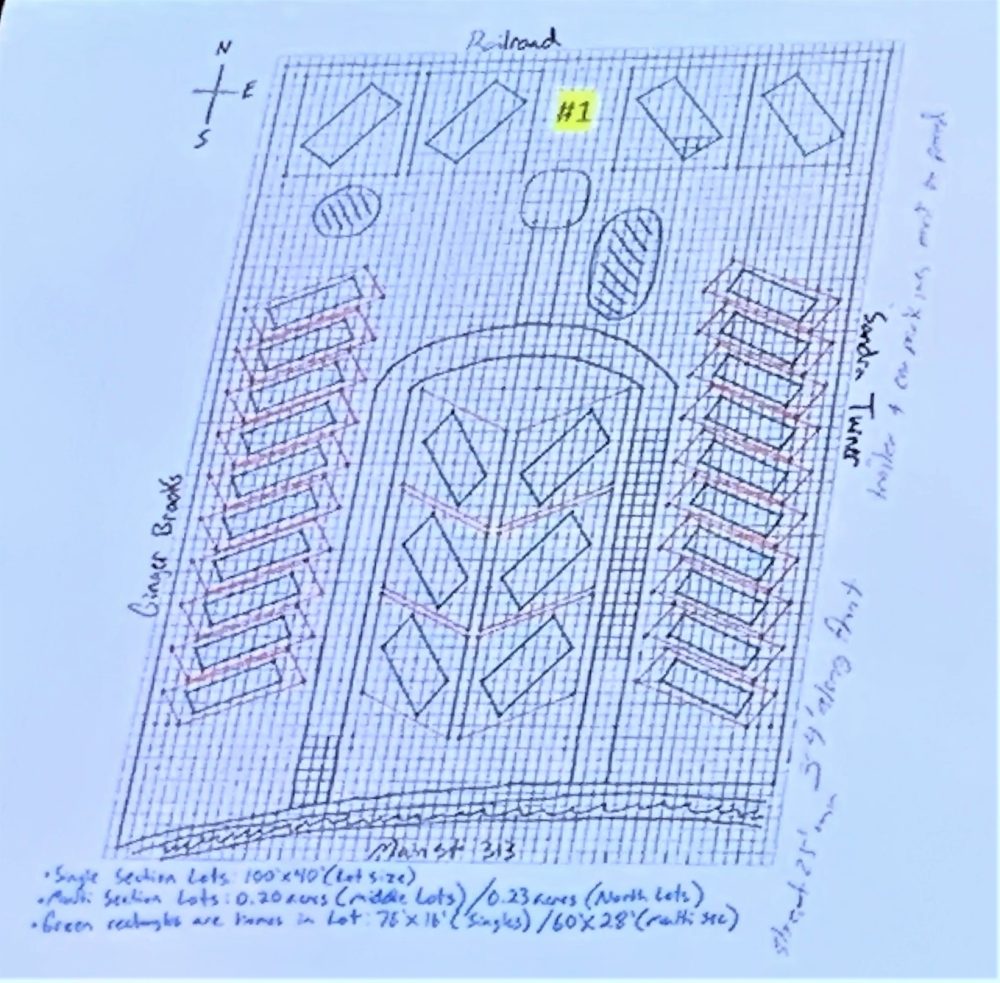 "My purpose was to figure out an option for people in this community to buy a new or 1-year-old homes, Clayton Home-built to put in this community," Cody said.
So, he revised his concept plan, reducing the number of units to 18 multi-section units only, at least 1,500 square-foot but up to 2,000 square-feet, with 3-bedrooms and two baths, valued at $180,000-$200,000. The lots, as proposed in the concept submitted to the city (without engineering), would be 110 x 110 feet, which was be a little over 0.22-acre, the exact same size as in Stone Briar estates, Cody pointed out.
That, he said, would allow people who work in factories to afford housing in town, eliminating the need to live outside the city limits and drive 10 minutes or more to work, Cody pointed out. The community would have two ponds as amenities, where families could fish.
"Thank you all for coming out. It was never my intentions to have a rundown community," Cody said. "It's going to be something that was presentable. There's obviously conditions and restrictions that would go with it."
Planning & Zoning Commission member Craig English asked Cody if his plan calls the house to already be there, and people would simply buy the land and lot or buy the lot then the house.
"How I want to set it up, is I want to help each family individually. I don't want to send 10 out there and it be a lease or rent. I want it to be a family that is approved to get a traditional mortgage just like everybody else is in the city. They can get a traditional mortgage, a 25-30-year mortgage, and they buy the land and they put the home on the land," Cody said.
He was asked who would be responsible for maintaining common areas, such as the two ponds and driveway/road through the community. Cody said it is not his intent to have it set up as a traditional mobile home park, not any currently in the city.
Assistant City Manager/Community Development Director Tory Niewiadomski pointed out that if the lots are subdivided, the city would be responsible for maintaining the road through it, but if it's constructed as a typical mobile home park, that would make the road a private driveway and road, which the city would not be responsible for maintaining.
Cody said he'd planned to start with gravel street until the development is filled then finish it out in either asphalt or concrete. He said he'd be willing to form an home owners association or whatever is necessary to ensure the homes and community is maintained and common areas kept up, and all restrictions and conditions are met. He presented a page with a proposed list of restrictions residents would need to follow. Each owner would be responsible for their lot, but the rest would be up to the owner of the community.
Minimum requirements established by the City of Sulphur Springs for trailer parks include enclosing the park on both side lines as well as the rear of the property, with a fence at least 5 feet tall. The front has to be enclosed, with ornamental fencing or masonry. Each trailer space has to be at least 34-feet along the front space line and a minimum depth of 50-feet. All streets, pads and parking are required to be paved or concreted. Streets within the park must be a minimum of 25 feet, and trailer wheels shall not be removed. Trailer setback would need to be 5-feet from towing connection, 2 feet of side yard and 5 feet or rear yard setback. Niewiadomski pointed out.
Concerns Expressed
The city officials noted that notices had been sent out to surrounding properties regarding the special use permit request from C&C Guardian, LLC, for the manufactured home community concept at 2113 Main St. The city received feedback from 12 in opposition to the proposed manufactured home community, including four from Koby Circle in Stonebriar subdivision. Some of the voiced statements were that the residents moved to that neighborhood to get away from these types of developments.
Concerns too included the quality of housing and how it would negatively impact adjacent property values; the strain it could have on city services, potential crime, safety and security, the assistant city manager pointed out.
There are already four mobile home parks in the city limits: Lakeview, which has 54 units; Parkins, 14 or more units; Galaxy, southeast of the proposed Main Street development, 43 units; and Hillcrest, located south of Galaxy, with 54 units. There's also Travel Time RV, located along I-30, west of the Hillcrest mobile home park. If approved, the proposed manufactured home community would have be the third along Main Street, Neiwiadomski noted.
With four new neighborhoods being built — Ellis Crossing, a 160-unit subdivision under development on State Highway 11 west; 1,150 units development on the west side of Stonebriar, north of the railroad tracks; 14 additional units in Woodbridge Crossing; and The Reserve at Sulphur Springs, a 72-unit senior adult apartment complex on League Street — those submitting feedback feel there are other housing options for families in the Sulphur Springs community, Niewiadomski told the P&Z Commission.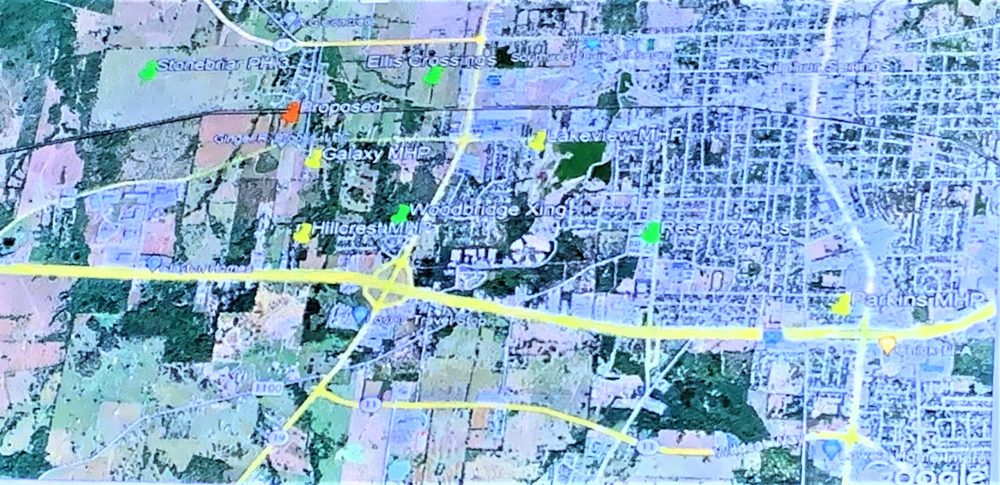 Nine people signed a letter of feedback to the city that also noted there potential safety hazard of having complex at a location accessible only from Main Street, a narrow street with no turn lane and traffic congestion during peak work hours at nearby businesses and residents, as well as a blind curve that has resulted in collisions, including one bad crash more recently. Placement or lack thereof, of dumpsters, which could attract rodents, and potential increase in noise level with more people in the area were also sited in the feedback letter, Neiwiadomski noted.
The city did not receive any response in favor of the proposed Main Street manufactured home community.
Barbara Williams, a Koby Circle resident, said she appreciates Cody's vision and what he is trying to do for workers in the city, and tried to keep an open mind. However, Stonebriar does not have a HOA, but instead has deed restrictions, which come with expectations for high quality homes. The realtors she spoke with at Freedom and Janet Martin Realty advised her that lower income housing such as mobile homes, has a negative effect on home values, and did not wish to see it affect her in such a way.
Williams expressed concern for safety coming out of the blind corner, noise traffic as well as potential stray animals a mobile home community would bring to the area. She said perhaps Cody should think through the options a bit more before presenting the proposal for approval, and hoped the Planning and Zoning Commission would hear their concerns and deny a recommendation for a special use permit.
Elise Douglas said she and Ginger Brooks, who was unable to attend the meeting, opposed the proposal. She asked who would finance a 30 year mortgage for a mobile home, and expressed concerns for continuity of owners of the proposed properties, and that they'd become dilapidated.
Her clients include children coming from difficult circumstances and older adults who need the quiet environment they provide. Just last week, she said, a young client ducked under the table when he heard a truck pass by on Main Street. She's concerned about the potential noise added traffic and 18-30 families would have on those seen at the Main Street office.
Douglas too expressed concern for the traffic situation, citing one severe crash and at least one other recently, which have occurred in that area. They spent part of the morning removing debris left from a crash that had occurred over night from the ditch in front of the Main Street address.
Elise Douglas too cited the lack of either turn lanes or shoulders on the narrow stretch of Main Street and what it might do to property values, especially with taxes going up with increased appraisal values even when the amounts have been protested.
G. Wiedenbeck, who runs 100 MPH Properties, a company that's invested millions of dollars in Sulphur Springs. He said he is not opposed to mobile homes. In fact, he lived in a 12 x 60 foot mobile home from 2000 to 2004. He has people that work for him who live in some of the mobile home parks in Sulphur Springs. He does not see one being located next to Stonebriar as a positive thing; it would impact the customers they build houses for by affecting their property values; it would also "hurt phase 3" of the planned Stonebriar expansion, so in opposing the proposed community he is looking out for their customers.
Chris Gibbins said his family has lived in the area since 1935 and has tracts around the proposed facility. He said 30-year mortgages are not available to him as a lender, and to insure a mobile home the financial institution must have a statement of location and surrender the title, and wheels left on would be an issue — an ordinance violation. Gravel roads would result in unbelievable dust for the people in Stonebriar edition. Ordinances regarding dumpsters or lack there of could be an issue. His parents live near Galaxy and there are problems. Trash was dumped the previous night on Turtle Creek that they'll be picking up over the next few days. Trash trucks tear roads up if dumpsters are placed at the back of the property. He recommended that Cody calculate the value of each lot against the cost for a masonry fence, to see the cost effectiveness of the project concept, and consider a different plan for the use of the property.
Jay Webb, whose business is in the process of developing future phases of Stonebriar subdivision, said the business is opposed to having a mobile home park near the Stonebriar due to the negative impact it would have on the community which is planned to add 1,100 or more homes over the next 10 years or so, their investment in it and those in their customers.
Realtor Carrie Nuckolls said she represents Wiedenbeck and Friddle in existing Stonebriar subdivision, where they've done 8 homes in the last 18 months and anticipate selling about 8 more in the next 12-18 months. As a realtor, when showing property, potential buyers always say they don't want to pay for the property if they have to pass by a mobile home or mobile home park daily.
"I think what Mr. Cody has presented is a beautiful vision. I think it's certainly necessary, but I don't think it's necessarily the best use of the property. When we talk about zoning, lots and acre we talk about 'best use.' It's currently zoned commercial. That is not residential or a mobile home park by any means. Everything around it is heavy commercial, ranch land or single family residential." Nuckolls said.
She said wear and tear on existing utility capacity have been a concern the farther out they are located. Taxes, Nuckolls noted, play a vital role in that.
"If we are talking about use and the best amount of value that property can bring so that the city down the road in 20 or 30 years can support the utilities being used, it is not a cheaper type housing," Nuckolls. "I we talked about negative impact. I think the impact would be negative. I think the community is necessary. I just don't think this is the best location."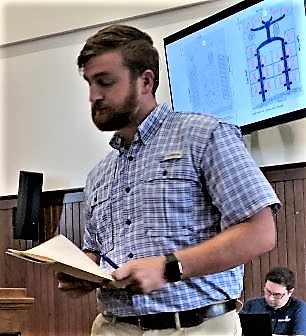 She said people coming into town using the old US 67 (Main Street/FM 313) often note how "rough" the area looks compared to the center of town.
Tenny Tanton, speaking on behalf of her parents who live next door to the site Cody proposed constructing the manufactured home community, said her family has lived in the arear for more than 100 years and are proud of the land their family own. She and her siblings will one day inherent the property. She asked the Planning & Zoning Commission to ask themselves whether they'd like to have the proposed park located next to their land or that of their parents or grandparents when making a decision on whether or not to recommend Cody's request for a special use permit be granted.
"Land owners all the way around are saying no, that this is not what they want in their community. We've dealt with the light industry," Tanton said.
Already people from local businesses come "fly down the road" at shift change, requiring the relocation of her parents' mailbox. Motorists turning into their driveway have to do so very quickly to avoid being rear-ended, and exiting the drive is the same due to the blind curve. Adding a manufactured home community there will only increase traffic and make it that much more dangerous for the added residents, especially kids who live there.
"We do not need that, young couples with kids, on that road. It is a dangerous road," Tanton said.
Ross Cody thanked the Planning & Zoning Commission and those in attendance for their time, adding that "it was never my intention to ruin anybody's property value or diminish anybody's current estates," but an attempt to find an option to provide additional affordable housing close to the city.
Ultimately, the Planning & Zoning Commission said, regardless their decision regarding the request, the final decision whether or not to approve or deny the special use permit will be made by the ZBA. While the city staff and P&Z recommendations may be considered, P&Z Commission Chairman Chuck Sickles said the final say would go to the ZBA.
P&Z Commissioner Craig English made a motion, which Twila Gill seconded, and the commission voted unanimously to deny the recommendation for a special use permit.
City staff Tuesday reported the ZBA meeting, which was to consist primarily of the special use permit request, election of ZBA officers and approval of past meeting minutes, has been cancelled and the applicant has withdrawn the request.