Burn Ban Still Fully In Force In Hopkins County, 1 of 224 In Texas Under Burn Ban
Although some areas over the past week have experienced a couple of good downbursts, the rain was nowhere near enough to offset the drought conditions Hopkins County is still experiencing. Thus, the burn ban enacted July 11, 2022, is still effective on Aug. 10, 2022 and for the foreseeable future for Hopkins County, according to Hopkins County Fire Marshal Andy Endsley.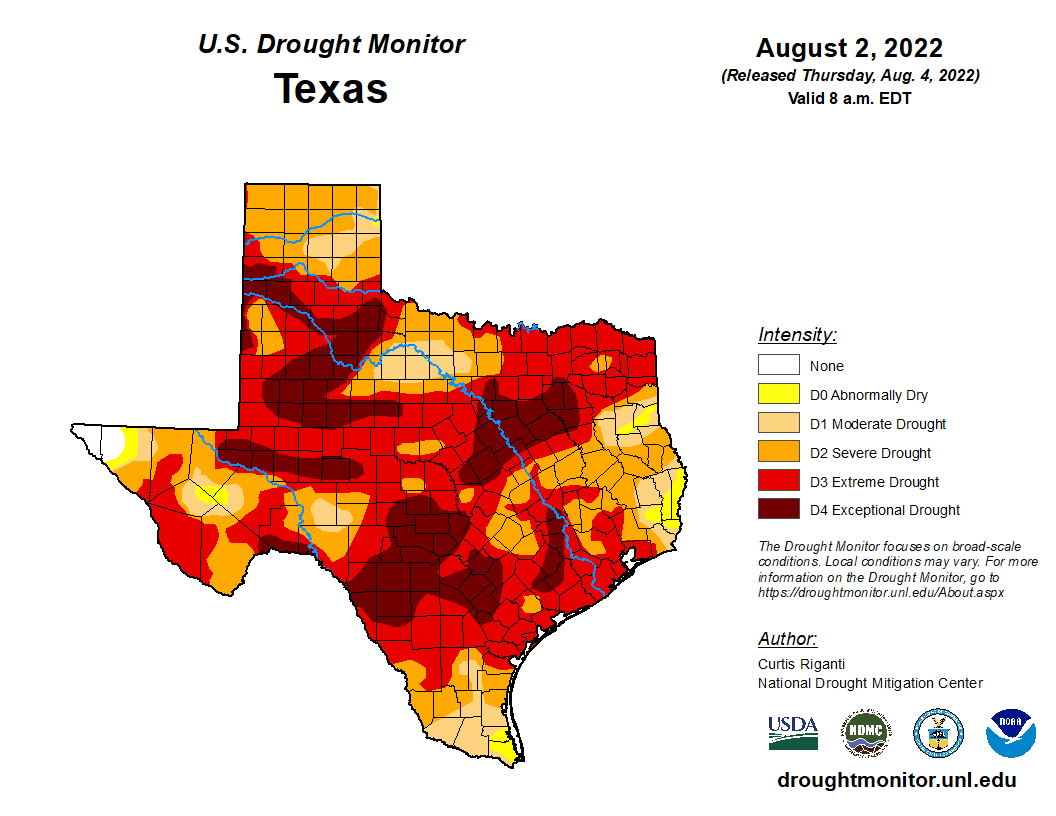 According to the US Drought Index, Hopkins County as a whole remained in the extreme drought range, with one small area in southeastern Hopkins County only listed as experiencing severe as opposed to extreme drought conditions as of Aug. 2, the most recent data available on the US Drought Index as of Wednesday morning, Aug. 10.
The Keetch Byram Drought Index average shows Hopkins County to be 703, ranging from 523 to 776 on the scale of 0-800, where 0 represents saturated soil and 800 an absolutely dry soil. The scale is a value indicating the amount of precipitation it would take to bring the moisture level back to 0 or saturation. Each 100 typically represents an inch of dryness.
A score of 600-800 are associated with more severe drought with increased wildlife occurrence. Intense deep-burning fires with extreme intensities can be expected. Live fuels can also be expected to burn actively at levels of 600-800 on the KBDI scale. That's where Hopkins County is at, in the severe drought category.
The rains over the past few days only lowered Hopkins County's KBDI score by 41 points. According to the NOWData, Sulphur Springs received 0.04-inch of rain Tuesday, and only 0.53-inch in July and 1.02-inch of precipitation in June 2022.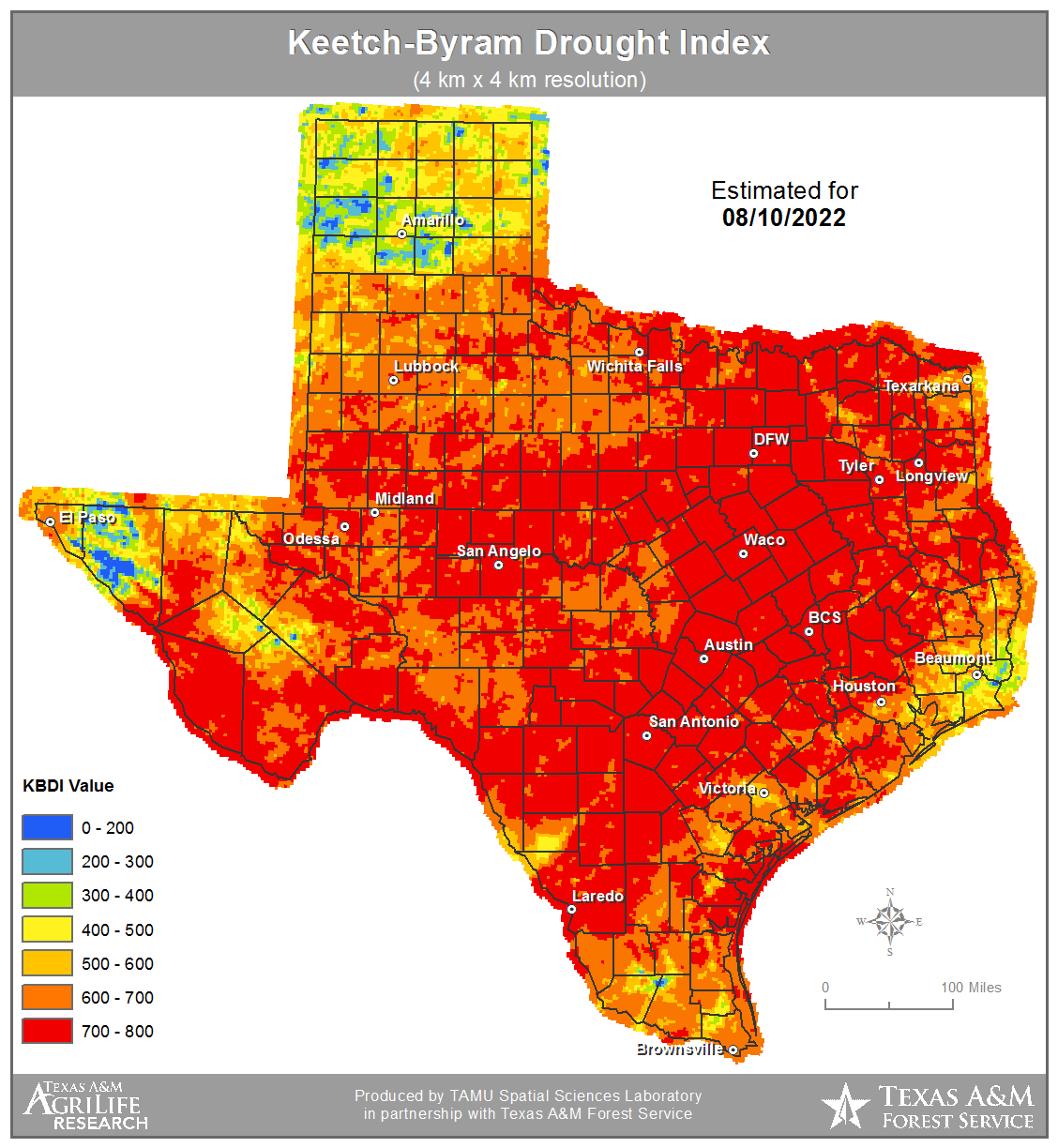 As of Monday morning, county firefighters had responded on 23 burning calls, including 11 that resulted in citations issued to the individuals in violation of the burn ban. Over the past 2 days county firefighters have responded to at least 2 tree fires; and burn ban violations on County Roads 4752, 1170, FM 2560 at CR 2435, CR 4129; grass/field fires on CR 1112 (which resulted in a secondary fire on CR 1100), and CR 1127, according to dispatch reports.
"The drought situation has not improved. With the wind and little bit of rain we've had it has not diminished. This is NOT the time to burn. That is the worst thing you can do right now," Endsley said. "The volunteer fire departments have been a tremendous help battling fires in their district."
The rise in grass, brush and trash fires has risen over the last month, which have resulted in everyone working overtime to get the blaze down and remain until fire are determined to be out. The precinct crews have been very helpful in responding when needed with equipment such as a backhoe to help out. For instance, they were utilized to help bust up haybales that caught fire. The sheriff's deputies have also assisted, following up on burn ban violations when the assistant fire marshal/fire investigator is out at his full time job in another county.
Texas Forest Service also remains vigilant to help everyone as best they can, responding on four occasions in Hopkins County with bulldozers to plow in wooded areas, bust up the earth, which is dry a few inches deep to the root balls of plants, limiting the area a fine can continue to smolder and burn underground only to reignite topside even days later.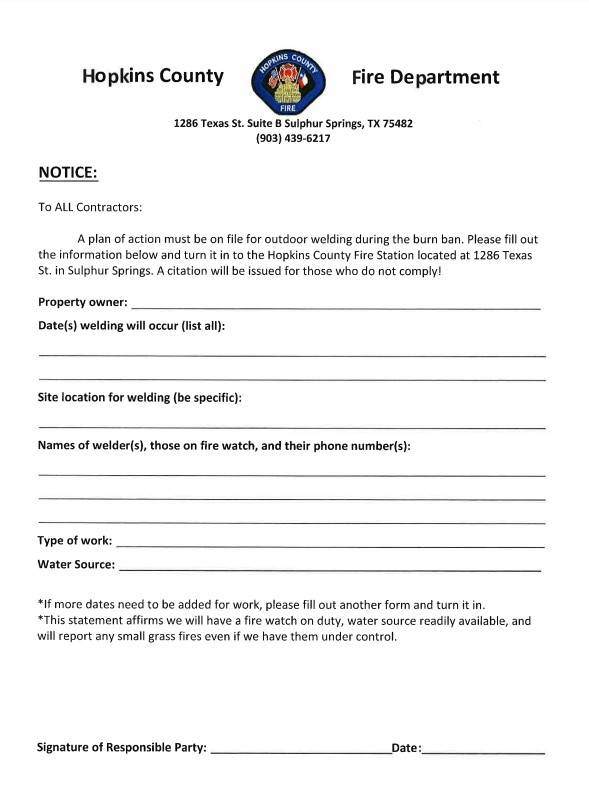 While a tremendous loss to local property owners, especially farmers, Hopkins County has been fortunate so far in that only one abandoned structure has caught fire. That could easily change as drought as drought conditions are not only expected to persist but worsen, making the burn ban necessary to protect property, according to Endsley.
Currently, the only type of outdoor fire allowed is for cooking, and that should be monitored the entire time, flames kept covered, with a water source available to extinguish it should a spark get out and ignite. The fire should be extinguished immediately upon completion of food preparation, to prevent.
Burning in a burn barrel is NOT allowed, nor is burning of trash and brush piles.
The only exception to the burn ban will be for declared professional welding. In order to be compliance with the burn ban, the professional welder must complete a contractors notice concerning burn ban with Hopkins County Fire Department prior to welding. The proper documentation is available for download on the front page of the county website, https://www.hopkinscountytx.org/, or by contacting Hopkins County Fire Department at 1286 Texas Street in Sulphur Springs (just behind UPS off the League Street/Texas Street split north of the stop light at Wildcat/Arbala Road/South League Street intersection). The action plan should be returned to HCFD, 1286 Texas St. as well. A person to stand fire watch is also required.
When welding, all contractors must file an action plan, listing the owner of the property where the welding will be conducted, all dates welding will occur, the site location for welding, the name of the welders to be working as well as those on fire watch, and phone numbers for welders and watchers, the type of work and water source that will be available. If work extends past the dates on the form, another form will need to be completed and submitted. The contractor also has to affirm intent to report any grass fires, no matter how small, even those the contactor's team is able to control, to county officials.
The Hopkins County burn ban will remain in effect for 90 days, or until the area receives several days of appreciable rainfall at a pace the ground is able to absorb and is rescinded by Hopkins County officials. The ban was unanimously approved by all members of Hopkins County Commissioners Court on July 11, 2022, by Hopkins County